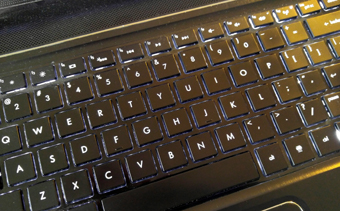 image by Thursday Review
Obama Used Fake Name When
Emailing Clinton
| published September September 24, 2016 |
By Thursday Review staff writers
During Hillary Clinton's tenure as U.S. Secretary of State—the same period during which Clinton used a private email account and an unsecured private server—President Barack Obama communicated with Clinton using an email account with a fake name, possibly as a security measure, according to recently released information about the FBI's probe into the Clinton email scandal.

According to the FBI's investigation, it was top Clinton aid Huma Abedin who first noticed the unknown party in email threads and responses. Abedin, noticing the context and the content of the email, responded aghast to another email recipient asking why the exchange did not meet the criteria of being "secret," and asking for clarification about the unknown participant—revealed only later to have been Obama.

When Abedin was later informed that the fake name was in fact a pseudonym for the President, Abedin expressed concern over the apparent lax security regarding the conversation.

For security reasons, neither the State Department nor the FBI plans to release any of the email exchanges between Obama and Clinton. However, some of those emails turned up anyway in threads which included other recipients of the emails.

Now the Democratic nominee for President, Clinton has been dogged for more than a year with questions about her use of the non-secure server and the private email account, as well as questions over the roughly 30,000 emails which she admits were deleted from that time period. Clinton has repeatedly said that no classified information was transmitted using the private email account, though the Justice Department and the FBI have strongly disputed that claim. Clinton has since apologized for the use of the email account, saying it was a mistake borne of convenience.

The FBI's recently released materials also show that at least one IT staffer for Clinton engaged in routine scrubbing of Clinton's emails, checking them for content and deleting hundreds of emails after about 60 days. This routine purging of emails is contrary to earlier claims by Clinton and her staff at the State Department that only one organized purge of content took place—beginning shortly after she departed her position at State.

Though FBI forensic experts have been able to recover some of the deleted emails, many thousands of emails are still missing, leading some Republicans to suggest that Clinton and her aids engaged in conspiracy. The Clinton campaign has denied this, and stressed that as Secretary of State Clinton followed all State Department security procedures carefully.

Obama's use of a fake name set up on a government account also confounds the long held position by the White House that it was unaware that Clinton was using a private email account in violation of government security rules and government records guidelines.

In late August, an examination by ABC News discovered a thread of emails in which the Clinton Foundation used its influence to gain direct, unfettered access to the Secretary of State during her tenure at Foggy Bottom. Some emails show that Foundation donors—especially those who gave generously—were granted easier access to the Secretary's office than those who had not participated in Foundation fundraising.

Both the Foundation and the State Department have denied any such correlation between giving and access to the office of the top diplomat, but several media organizations which have analyzed the emails show that in some cases a pattern of rapid access was clearly established.

Among the correspondence: a stream of conversations from 2010 in which top State Department official and Clinton confidante Huma Abedin discusses plans for a State Department-sponsored lunch with then Clinton Foundation spokesperson Doug Band. The discussion included how to best arrange for prominent seating for foundation donors at a January 2011 lunch honoring Chinese President Hu Jintao.

Related Thursday Review articles:

Emails: Foundation Brass Lobbied State Dept on Behalf of Donors; Keith H. Roberts; Thursday Review; August 29, 2016.

Clinton Emails Show Pattern of Foundation Donor Access; Keith H. Roberts; Thursday Review; August 25, 2016.