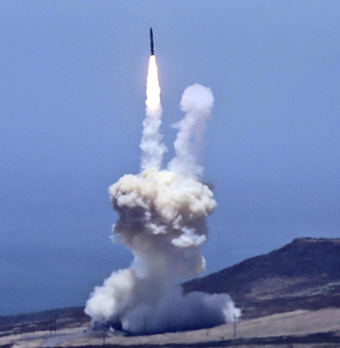 Image courtesy of U.S. Department of Defense
North Korea Tests New
Guidance System
| published May 30, 2017 |
By Keith H. Roberts, Thursday Review contributor
The U.S. military conducted a very public test of a critical anti-ballistic missile system on Tuesday in an apparent direct response to North Korea's increasingly aggressive and active missile and weapons program, and amidst vocal threats from Kim Jong-un that the unpredictable leader intends to use his weapons to attack the United States.

On Tuesday morning, the Pentagon's Missile Defense Agency test fired a ground-based interceptor rocket from Vandenberg Air Force Base. Its target: an unarmed ICBM mock-up missile fired from the Pacific Ocean with its own intended target being the waters just off San Diego, California. Pentagon and White House officials characterized the launch and its intercept mission as a success. The interceptor tracked and struck the incoming "ICBM" target, destoying it completely.

The U.S. demonstration came just 24 hours after North Korea conducted its tenth missile test of 2017. Telling his people that its missile and weapons programs are essential to thwart an imminent attack by the United States and its allies, North Korean leader Kim Jong-un said that Monday's test launch of a new, more advanced rocket is only the latest step in the nation's plan to develop and deploy long-range missiles.

North Korean state-run media announced the test on Monday, only hours after intelligence and military analysts in the U.S. and South Korea detected the launch.

On Monday, North Korea test-fired a missile which included a more advanced guidance system—a precision system more capable of carrying out an automated flight plan and more capable of reaching medium-to-long range targets more effectively. The test launch may have also had as one of its goals the testing of a new, more nimble and versatile mobile rocket launching system.

Monday's test was just one of dozens of similar tests carried out since the start of the year as North Korea—in defiance of international sanctions and United Nations resolutions—accelerates the pace of its weapons programs. Concurrently, intelligence experts in the U.S., Japan and South Korea also say that the North may be only days away from another test of a nuclear device.

Monday's launch sent the missile soaring across part of the Korean Peninsula before it landed in the waters off North Korea's eastern coast. North Korean media said that the rocket splashed down within only a few meters of its intended target in the ocean. Western military analysts have suggested that the rocket fired on Monday was a modified SCUD missile, capable of carrying a small nuclear payload.

Pyongyang said the launch was in response to joint U.S.-South Korean exercises—drills which included the integration of at least one B-1B "Lancer" high-speed bomber into the joint maneuvers. The Lancer can fly at speeds close to Mach 1 at low altitudes, and in excess of Mach 2 at higher altitudes. North Korea called the drills provocative and said that the high speed flights were tantamount to war. The U.S. and South Korea have conducted joint military training and exercises for decades.

Kim Jong-un called his country's missile launch retaliation for the joint U.S.-South Korea military drills, and promised to deliver a larger "package" to the United States, presumably a missile capable of reaching U.S. territory. Some experts believe that North Korea already has the capability to strike U.S. territories in the Pacific Ocean, including Guam. Pyongyang has long stated that its ultimate military goal is to develop and deploy long-range missiles capable of striking the west coast of the United States.

Weapons analysts believe, however, that North Korea is still several years away from sufficiently miniaturizing a nuclear warhead so that it can be placed atop an intercontinental ballistic missile (ICBM). That critical step, which would include a complex integration of advanced technologies, may be the only major hurdle left for North Korea before it has a first strike capability.

The militaries of the United States and South Korea have more joint drills planned for this week and parts of June, though Pentagon officials would not confirm the timing or the locations of the exercises. Two large aircraft carrier strike groups—the USS Carl Vinson and the USS Ronald Reagan—are already in the waters near the Korean Peninsula now.

Monday's missile test comes after months of similar tests, including rockets fired from submarines and the simultaneous launch of four medium-range missiles. Though several tests have failed—including a misfire aboard a submarine and a large missile which exploded only seconds after launch—experts suggest that such missteps are a sign that North Korea is working feverishly to debug its systems and overcome technical problems.

British intelligence officials have suggested that at least two North Korean missile tests this year may have been thwarted as a direct result of cyber intervention by U.S. intelligence experts.

U.S. officials and American allies in the Pacific and Asian regions hope that Tuesday's test of the long-range interceptor system serves as a wake-up call for Kim, or at least stresses the futility of initiating a pre-emptive missile attack on the U.S. and its allies.

Related Thursday Review articles:

North Korea Missile test May be New Type of Rocket; Keith H. Roberts; Thursday Review; May 14, 2017.

North Korea Rocket Engine Test May Be Key Step Toward ICBM; Thursday Review staff; Thursday Review; March 22, 2017.