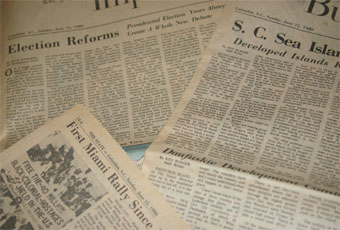 No News is Good News
| Published February 23, 2014 |
By R. Alan Clanton
Thursday Review editor
Our recent review of The News Gap: When the Information Preferences of the Media and the Public Diverge (by Pablo Boczkowski and Eugenia Mitchelstein), drew a lot of comments from readers who suggest that their web-based "news" sources—often in the form of their default homepage, preferred news source, or frequently visited aggregator site—skew the top news and priority items in ways that do not truly reflect their preferences.

The core premise of the book (published by the MIT Press), a massive project which took several years to complete, was that readers and viewers have information preferences greatly inclined toward weather, sports and entertainment, whereas many mainstream news providers tend to skew toward politics, the economy and international events.

This thesis is of course not new. The much-discussed struggle between journalists, editors, producers and their media owners (who are primarily interested in higher ratings, higher subscription rates and higher viewership) dates back many decades, and certainly long before the internet fractured and splintered the news preference patterns of millions of Americans and those of millions more in other nations. And the danger to the long-form template of journalism has been with us since the 1930s. Radio was considered a technologically divergent and highly theatrical form of distraction from the business of "hard" news perfected by newspapers, just as television was widely decried by the information literati for its emphasis on shallowness and visual theater. Each challenged the preeminence of the newspaper.

So it was that the rise of cable TV in the 1980s further fragmented the process, and gave rise to the concept of "infotainment"—news as entertainment—democratizing information preferences (and giving rise to CNN and dozens of other networks) but diluting the import of traditional news with a variety of specialized programming which melded non-news, niche news, celebrity activity and entertainment updates with an explosion of other shows.

Eventually the niche news venues included CNBC, MSNBC and Fox News, which by the end of the 1990s was challenging the notion of objectivity in news delivery by removing the shroud of dispassionate neutrality and replacing it with a more overt form of political reality. By that point, neither conservatives nor liberals were likely to never again agree on a common ground on a vast array of issues.

The internet's victorious rout over all other sources of news—including the iconic newsmagazine (both U.S. News and Newsweek are essentially dead, the former reduced to special ratings editions in which it "ranks" hospitals or colleges, the second folded entirely into a website; Time magazine is among the walking dead, a mere thread of its once formidable incarnation)—further splintered information, and shattered the perception of a shared, public square.

But do the information preferences of the public truly diverge that much from news providers, especially as it is calibrated based on internet numbers and news value? Many of those Thursday Review readers who responded to Earl Perkins review of The News Gap pointed out that their own web-based news services—often in the form of their home page or preferred news page—seemed so heavily skewed toward light infotainment (Hollywood news, musical stars, sports figures, celebrity mash-ups, sexual indiscretions) that it becomes laughable within minutes.

Example: On Thursday one TR reader wrote to us to point and pointed out that the top four image supplemented stories under AOL's "Did You See?" column included, in order, these five "news" items: a short video of a high school basketball player making a highly unorthodox goal; a story about the Florida legal fight over a video of Justin Bieber; a piece on the Bangerz tour and the "disgruntled" Miley Cyrus fans; an item about Cee Lo Green and his role on the reality show "The Voice"; an update on rumors that Ellen DeGeneres might be getting divorced; and an update on an "unflattering" video of an NFL player who was recently arrested.

Buried still further down the page, under items about Victoria Beckham, NBA contract negotiations, Patrick Stewart's recent Twitter activity, and a lottery winner, was a report on the violence—which on that day was hovering at the edge of civil war, in the Ukraine—a crisis that has already resulted in over 120 deaths and may yet drag Russia and other nations into armed conflict.

That twelve hour period on the AOL homepage was mirrored closely by a quick, informal check of the top content of other online services: MSN, CNN, and two major cable provider homepages. Images with stories on those services included Kim Kardashian, Sharon Stone, Taylor Swift, Corey Feldman, and the aforementioned Miley, Ellen, Cee Lo and Justin—all positioned in such a way to make those items seem on an equal footing with the Olympics, the violence in Venezuela and the Ukraine, a United Nations report on human rights atrocities in North Korea, the latest debates about Medicare, the latest twists on a report from the Government Accounting Office about the relationship between the Affordable Care Act and employment, and major stories about the winter weather—the central fact of life for the vast majority of Americans still in the grip of a series of polar vortex-inspired winter storms.

Several Thursday Review readers and followers also commented in social media venues that, in fact, their true preference is for "genuine" news, not the fluff which passes for priority information often heavily stacked toward the top of any given homepage or news service. Was fan dissatisfaction over Miley Cyrus's current tour truly more important than the current debate over Medicare? Was the Twitter activity of the actor Patrick Stewart more newsworthy than the growing humanitarian crisis in Syria?

Was the Miami bond hearing of Justin Bieber really of such importance a few weeks ago that it required the producers at MSNBC to cut away from a discussion between anchor Andrea Mitchell and U.S. Rep. Jane Harman in order to go live to that Dade County courtroom?

In part because of our intention to review other books on this topic (once such upcoming review will be of Dean Starkman's The Watchdog That Didn't Bark: The Financial Crisis and the Disappearance of Investigative Journalism) Thursday Review plans to monitor the news content of the several major news providers and homepages over the next 30 days to track such trends. We encourage our readers to do the same (how's that for fun?—yes, we love nerds!) so that we can follow-up on this subject.

(Thursday Review is not above such mundane drivers of content and content placement: one reader pointed out fairly that on February 18 one of our top stories was a review of the newly retooled Tonight Show with Jimmy Fallon, which had debuted the night before on NBC; this was about one week after an article on the "conflict" brewing at CBS over Big Bang Theory's displacement on Thursday nights this fall when CBS begins airing NFL football—sports, entertainment and business all rolled into one story).


Related Thursday Review articles:

The News Gap: When the Information Preferences of the Media and the Public Diverge; book review by Earl Perkins; Thursday Review; February 12, 2014.

This Just In (Or, How to Break the News); R. Alan Clanton; Thursday Review; January 26, 2014.