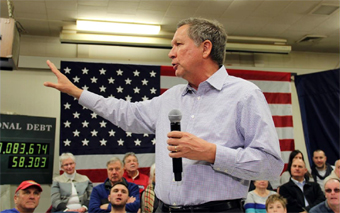 Kasich at town hall event in Milford, New Hampshire/
Image courtesy of John Kasich for President
New York Times Endorses Kasich, Clinton
| published January 30, 2016 |
By Thursday Review editors and staff
If newspaper influence and editorial strength matter to voters, then the venerated New York Times—one of the largest and oldest in the nation—has made its decisions for its choices for U.S. President in the 2016 elections.

The New York Times has endorsed Democratic front-runner Hillary Clinton and Republican dark horse John Kasich. The Times' endorsement of Clinton comes as no particular surprise to political observers or media watchers; Clinton has maintained a solid lead over her Democratic opponents, and the Times article accompanying the endorsements included a belief that her chief rival Vermont Senator Bernie Sanders, lacks the depth and breadth of experience to serve in the Oval Office. Clinton, the paper said, was prepared by the mere fact of her long period serving as a U.S. Senator and during her stint as U.S. Secretary of State.

But the Times' endorsement of Kasich, who is Governor of Ohio, comes as more of a surprise to some. Kasich, who also served as a member of the U.S. House of Representatives before winning election as governor of Ohio by defeating incumbent Democrat Ted Strickland in 2010, trails well behind at least five other candidates in some major polls, and is still regarded by the experts as a long shot. Still, his debate performances have helped to keep his name well within the central conversation among many Republicans, even if he has not drawn the same intense spotlight as the more flamboyant and colorful candidates, such as businessman Donald Trump, Texas Senator Ted Cruz, retired neurosurgeon Dr. Ben Carson, or former HP CEO Carly Fiorina.

Kasich has remained a part of the upper tier debates almost from the start of the debate season, remaining ahead of many others, including former Pennsylvania Senator Rick Santorum, former Arkansas Governor Mike Huckabee, and several candidates who have already dropped from contention, such as Bobby Jindal, George Pataki, Rick Perry and Lindsey Graham. Kasich has also been a formidable presence on those debate stages, often citing his own conservative bona fides (he was a Tea Party favorite in 2010-2011) even as he had attempted to differentiate himself from the more boisterous comments by Trump, Cruz, Florida Senator Marco Rubio, and others. And like New Jersey Governor Chris Christie, Kasich is currently an acting Governor.

The Times' editorial board said that Kasich, despite being "a distinct underdog, is the only plausible choice for Republicans tired of extremism and inexperience on display in this race." The Times also said that Kasich has shown himself "capable of compromise and believes in the ability of government to improve lives."

Kasich can also lay claim to one very important factor: he was, and is now, a popular governor in a state which has in past elections proven critical in the Electoral College. Kasich, who won re-election in 2014 by an astounding 64% to 33% over Democrat Ed FitzGerald. FitzGerald won only two counties in all of Ohio that year, and Kasich pulled off that victory even after he fell into sharp disfavor with the Tea Party for his de facto acceptance of the Affordable Care Act in Ohio. Republicans know that Ohio is a must-win state in recent elections, and Kasich's draw there may prove to be pivotal in a close race with Clinton in November.

Still, Kasich has not won the hearts and minds of the majority of Republicans who say that they are dissatisfied with traditional GOP candidates and "establishment" candidates. Kasich is regarded by some within the insurrectionist movement to be the consummate insider, who calls himself an "inside reformer," says he has attempted to craft solutions which reflect his lifelong quest as a political reformer who can get things done. Kasich has been critical of some of Trump's more famous proposals, including Trump's plan to round up and deport some 12 million illegal immigrants, and Trump's calls to temporarily halt the entry of Muslims into the U.S.

The New York Times endorsement of Clinton, meanwhile, comes just two days before Iowans go to their respective caucus locations to cast the first votes for President in what may be a long primary and caucus season. Clinton and chief rival Bernie Sanders are locked in an extremely close battle in Iowa; several recent polls show them separated by only 2 points, well within the margin of error. Sanders also holds a solid lead in New Hampshire, which neighbors his state of Vermont. Some top Clinton campaign strategists are confident that Clinton's substantial lead in national polls will help the former Secretary of State prevail in the long run, but others worry that if she suffers two back-to-back losses, it may shatter her narrative of strength and inevitability, and help propel Sanders to more victories in future caucus and primary states.

The Clinton campaign is also again in damage control mode after more news of her State Department emails came to light last week, including the revelation that a number of emails contained documents which were classified above even the "top secret" heading or designation. Those emails have either been withheld by the State Department, or heavily redacted. Clinton had hoped the issue of the emails and the server had been put to rest.

During the Republican debate earlier in the week, several candidates blasted Clinton for the email fiasco. Despite the fracas, Clinton has maintained a wide lead in most national polls over her Democratic rivals, and some major national polls also show Clinton with a comfortable lead over her Republican rivals in head-to-head match-ups.

Voters in Iowa go to their caucuses on Monday. Last week, the top Iowa newspaper, The Des Moines Register, endorsed Hillary Clinton and Marco Rubio.

Related Thursday Review articles:

Republican Debate Versus Donald Trump: Who Won in Des Moines?; R. Alan Clanton; Thursday Review; January 29, 2016.

Sanders Releases Medical Records; Thursday Review staff; Thursday Review; January 28, 2016.