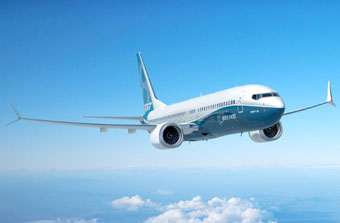 Photo courtesy of Boeing Aircraft
New Airplanes May Mean Lower Fares
| Published Thursday, March 20, 2014 |
By R. Alan Clanton
Thursday Review editor
Last month Thursday Review writer Earl Perkins gave us a long, detailed look at the great Boeing 747, now being largely decommissioned for U.S. use and being built only in limited numbers to fill remaining overseas orders.

In short, most of the major airlines are looking for ways to upgrade their aging fleets and begin putting into use newer, much-more fuel efficient airplanes. Technological advances in the last couple of decades have made for dazzling improvements in the efficiency and design of both airplanes and their engines, and this has left the 747—as well as some of its kindred—as something of a dinosaur; elegant perhaps, but a dinosaur nevertheless.

Fierce competition and seeping market changes have forced the airlines to get smarter, and that means efficiency on a new scale—smaller, lighter planes, better scheduled flights, innovative technology, and much more adaptable schedules and routes. A half-empty 747 is a nightmare for airline bean counters—it cost the airline just as much to fly a 747 at 45% capacity as it does when every seat is filled. Customers are demanding greater flexibility.

In response, orders for many of the newer designs have increased greatly. This will mean that airline customers in the near future will begin flying on those newer planes, but it may also mean some dramatic changes in ticket prices.

To pay for all those new fleets of planes, some airlines may have to briefly raise ticket prices. That's the bad news.

The good news may come very soon after that, with dramatically lower fares as the new airplanes greatly increase the airlines' ability to adapt and fly cheaper—saving fuel, and improving capacity of each flight. Many of the newest planes being built for commercial, cargo and passenger traffic are made of extra-light carbon-fiber and composite materials, use advanced computer technologies and software for the avionics, and will be outfitted with engines that would have been the stuff of sci-fi 25 years ago. And demand for those new planes has risen steadily in the last year.

In fact, orders for the newer airplanes have created a massive backlog for production. Boeing says it has nearly eight years' of orders for its newest models, and its major competitor, Airbus, has a nearly nine year backlog. Each has over 5000 confirmed orders on the books, with new orders arriving constantly.

Boeing's biggest seller is its new 737 Max (see image above), designed for the medium route and short route—and in heavy demand by many of the major and minor airlines. Airbus' most popular model is the A350, which will be lighter than any plane of its size ever made. Both models will be bristling with new technologies, and both will have cutting edge fuel efficient engines.

Those new orders will also spell good news for the economy in general. New airplane orders will mean a substantial period of job security for employees at Boeing plants, and that huge backlog could translate into more hiring. Those orders also indicate confidence by many of those carriers that demand will continue to increase. And once deployed and in widespread use, the newer airplanes might very well trigger a reduction in fares for many passengers, which might also encourage more air travel by potential passengers scared off by high prices.

Boeing is headquartered in Chicago, but its largest manufacturing operations are near Seattle. Airbus is based in Blagnac, France, a few miles outside of the city of Toulouse.


Related Thursday Review articles:

The End of Glamour in the Skies?; Earl H. Perkins; Thursday Review; January 2, 2014.