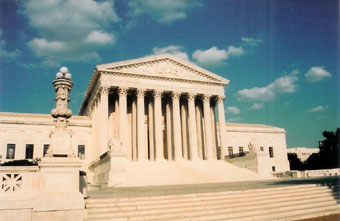 Photo by Alan Clanton for Thursday Review
Trump Nominates Gorsuch to
Fill Supreme Court Vacancy
| published February 1, 2017 |
By R. Alan Clanton, Thursday Review editor
President Donald Trump nominated Neil Gorsuch to serve on the U.S. Supreme Court to fill the vacancy created when Justice Antonin Scalia passed away suddenly last year.

Gorsuch, 49, who currently serves as a judge on the U.S. Circuit of Appeals for the Tenth Circuit, is considered a reliable conservative who will closely follow in the legal footsteps of Scalia—a jurist who served as mentor and scholarly role model for the younger Gorsuch.

Gorsuch's nomination comes as a victory for traditional conservatives who wanted to gain Trump's ear on the subject of the balance of the highest court in the U.S.—a nine member body which has maintained a slight conservative majority for more than a decade now. Scalia's death momentarily threw that balance into question, and gave then-President Barack Obama the opportunity to alter the tilt in 2016. Republicans in Congress, however, blocked Obama's center-left pick—Merrick Garland—by refusing to give him a hearing before lawmakers and citing the vague precedent that lame duck Presidents do not get to choose Supreme Court justices in an election year.

Gorsuch, a Columbia undergraduate, a graduate of Harvard Law School, and the recipient of a Marshall scholarship to Oxford, is also known as an eloquent and effective writer of opinions, as well as the author of several books. His educational pedigree will likely go unchallenged by Democrats, many of whom will turn their firepower instead to Gorsuch's conservative credentials, most especially his recent rulings in favor of several private companies who successfully challenged Obamacare provisions regarding birth control.

Trump's nominee has also spent time in and around the Supreme Court already: he once served as a clerk for Justice Byron White, a fellow Coloradan with a more moderate voting record. Gosuch, however, is widely understood to frame his decisions on important cases more like Scalia, for whom Gorsuch has repeatedly lavished praise. Though politically aligned with Scalia—known for his sometimes irascible style and contentious opinions—Gorsuch is seen as a conciliator and potential consensus builder more adept at forging agreement than his mentor.

The President's final decision on his first choice for the court vacancy left by Scalia was kept a secret until the final moments. Though there were conflicting rumors about Gorsuch and several other possibilities—most notably Judge Thomas Hardiman of Pennsylvania—even in the hours before Trump's White House announcement Tuesday night, Trump's official nod to Gorsuch remained uncertain until only minutes before Trump spoke to the American people at 8:05 p.m. Eastern Time.

Trump told those in the White House and those watching on television that the process had been "the most transparent judicial selection process in history" and said that the choice of Gorsuch reflected his desire to find the best qualified legal mind to serve on the Supreme Court.

Gorsuch is widely understood to be an adherent of the legal concept of originalism—the canon that says judges should stick to the most basic and most direct interpretations of the constitution and its first ten amendments, and that federal judges should refrain from further re-interpretations or re-evaluations of original intent. And Gorsuch, like Scalia, is also a proponent of narrow and neutral reading of the law or case being presented—and only in that context. Like Scalia, Gorsuch is known for eschewing attempts at legislative mechanisms from the bench, a tact which legal analysts point out tends to skew his decision-making toward conservative outcomes.

During his brief remarks at the White House, Gorsuch gave a hint that he intends to stay the course of his intellectual and philosophical beliefs regarding originalism.

"It is the role of judges to apply—not alter—the work of the people's representatives," Gorsuch said, "A judge who likes every outcome he reaches is very likely a bad judge."

Conservatives in Washington and elsewhere applauded Trump's decision, and cited Gorsuch's well-known scholarly background, impeccable legal credentials, and speaking and writing skills as evidence that the silver-haired 49-year-old federal judge is readily qualified to sit on the Supreme Court. If approved by the Senate, his relative youth means that Gorsuch could remain as a bulwark of conservative opinion and voting for decades.

This will, of course, mean that his selection by the President will not be without controversy, and will not proceed through the Senate without a fight. Democrats, especially the more liberal members of Congress will certainly oppose Gorsuch on the grounds that he is a de facto clone of Scalia—nemesis to progressives frustrated by a court which tends to skew toward the right on many critical decisions, especially on social issues. Obama and many Democrats in Congress had hoped that Scalia's passing last year would open the opportunity to create a more liberal court. In a risky gambit in 2016, Republicans in Congress rejected any discussion of hearings, effectively tabling the issue until after the election.

The brief but celebratory announcement in the White House—marked by conciliatory words by President Trump and frequent outbursts of applause from his top staffers and supporters and guests—masked the reality of the fight ahead for Gorsuch, who will no doubt face tough questions from Democrats on Capitol Hill, many of them still stinging after the GOP-controlled Senate refused to hold hearings last year on Garland.

Senate Minority Leader Chuck Schumer (D-N.Y.) has said that Gorsuch can expect tough treatment by Democrats and liberals in Congress. Gorsuch's approval by the Senate will come only after he is able to win over the approval of some Democrats. Trump invited more than two dozen top Democrats to attend a White House reception for Gorsuch, but most declined, choosing instead to hunker down for what they believe will be a contentious fight ahead during confirmation hearings.

If given the nod by the Senate, Gorsuch would become the second youngest Supreme Court justice since Reconstruction and the youngest since Clarence Thomas was chosen by then-President George H.W. Bush in 1991. Gorsuch was born in Boulder, Colorado. An Episcopalian, Gorsuch would be the Supreme Court's only protestant jurist; all other justices are either Catholic or Jewish. His legal pedigree includes family: his mother was Anne Gorsuch Burford, a Republican lawmaker and federal judge who was chosen by President Ronald Reagan to become the first woman to hold the top spot at the Environmental Protection Agency.

Related Thursday Review articles:

The Scalia Replacement: Expect an Epic Fight; Keith H. Roberts; Thursday Review; February 15, 2016.

West Texas Judge Consulted With Scalia Physician; R. Alan Clanton; Thursday Review; February 16, 2016.