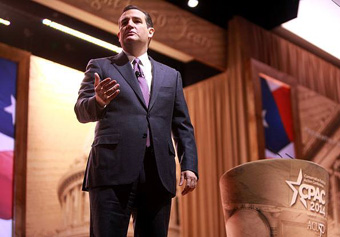 image coutesy of Gage Skidmore
National Review to Endorse
Ted Cruz
| published March 12, 2016 |
By Thursday Review staff
It may seem of little consequence to the average Jane and Joe voters of Florida or Ohio, but to those who consider themselves hip on political news, it was a big deal.

A leading magazine of conservative thought and policy for decades, National Review, has endorsed Texas Senator Ted Cruz in his bid to become the Republican nominee in 2016. National Review only weeks ago featured a cover story blasting GOP front-runner Donald Trump, and included in that edition were anti-Trump opinion pieces by some 20 well-known writers, commentators, intellectuals and former policy-makers.

The magazine's editor, Rich Lowry, told Politico on Friday that the endorsement comes as necessity—Cruz may be the best hope that traditional Republicans and establishment Republicans have to halt the seemingly unstoppable ascendancy of Donald Trump. National Review has been a vocal and activist leader of the anti-Trump movement in recent weeks, in essence endorsing former GOP nominee Mitt Romney's strategic plan to deprive Trump of the delegates needed to win nomination by pouring resources into each state and backing only the candidate best suited to win in each primary and caucus. Then plan—based on starving Trump for additional delegates—would mean a brokered convention in Cleveland.

National Review has said that populist Trump is grounded in neither conservative ideology nor a consistent value system reflecting the U.S. constitution. The magazine has also criticized Trump's bullying and "strongman overtones," which it says are not consistent with the American experience.

National Review's endorsement of the often-anti-Washington, anti-establishment Cruz may have been a painful and difficult decision for the editorial team to have made. It is not entirely clear that Cruz would have, under normal circumstances, been the magazine's first or even second choice. Florida Senator Marco Rubio, now caught in a fierce battle for support in his home state and looking to overcome polling deficits in Florida which show him trailing Trump by eight to 14 points, was likely expecting to receive the endorsement of the conservative magazine.

But National Review, like many within the mainline of traditional conservative thought, sense that Rubio is operating on borrowed time. If Rubio loses in Florida on Tuesday, it is unlikely his campaign can proceed forward into future primaries and caucuses. That leaves only Ohio's John Kasich, a generally more centrist and pragmatic Republican in the style of Ronald Reagan, and Cruz—consistently conservative despite what many in Washington regard as a grating, uncompromising, even combative personality and style.

Cruz has gained some traction in recent days with a few other endorsements, including the one he received from former candidate and former HP CEO Carly Fiorina earlier in the week. Fiorina was once a rising star among the heavily crowded field last summer and into early fall. At one time she appeared to be one of Trump's principal challengers, and briefly surged to within four or five points of Trump in some polls.

Another one-time polling leader, retired neurosurgeon and author Dr. Ben Carson—who came the closest to toppling Trump late last fall when he pulled alongside the billionaire in a dozen major polls—this week endorsed Trump. In a debate earlier this week Trump hinted that as President he will have a major role for Dr. Carson in a Trump administration, possibly in education.

Lowry says that Cruz has the best shot at toppling Trump before the convention, and even if Cruz is unable to overtake Trump in the delegate count, the editors of National Review believe that Cruz may have the ability to prevail if a floor fight is required to produce a nominee in Cleveland this summer.

Related Thursday Review articles:

Republicans Debate in Miami in Insult-Free Forum; R. Alan Clanton; Thursday Review; March 11, 2016.

National Review Blasts Trump; R. Alan Clanton; Thursday Review; January 22, 2016.