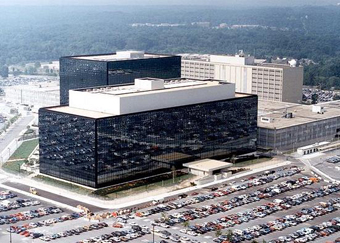 Image courtesy of University of Maryland
NSA Employee Indicted For Theft of Thousands of Documents
| published February 9, 2017 |
By Keith H. Roberts, Thursday Review contributor
A contractor who worked for the super-secretive U.S. National Security Agency and for the CIA for nearly two decades may have stolen more classified information than the data purloined by NSA worker Edward Snowden.

Harold Thomas Martin, now 52, was indicted this week in connection to a trove of classified material which he has apparently cached at his home in suburban Maryland. Martin was first arrested in October. His indictment came after a grand jury determined he had been deliberately stealing the sensitive data for years, much of the material related to military and defense operations and covert intelligence.

Martin took secret information belonging to the CIA, the NSA, the U.S. Central Command, the U.S. Cyber Security Command office, and the National Reconnaissance Office. Much of what he has been charged with stealing came from the NSA's Fort Meade headquarters, in Maryland.

Officials are describing Martin's activities as the largest such theft of classified data in American history, rivaling or surpassing the quality and quality of material stolen by Snowden. Both Martin and Snowden had worked for the government contractor Booz-Allen-Hamilton, though Martin worked for a half dozen government contractors during the period in which prosecutors say he systematically pilfered the secret materials.

Martin now faces 20 counts of willful theft and retention of defense documents and sensitive data, and according to legal experts, if convicted, could face decades in federal prison. It is not immediately clear if Martin shared the stolen information with other parties or planned to distribute it to foreign governments or the press, or to other intelligence sources around the world.

U.S. Attorney Rod Rosenstein described Martin as systematic and indiscriminate in his theft of classified data.

"For as long as two decades," Rosenstein said, "Harold Martin flagrantly abused the trust placed in him by the U.S. government."

Martin, who left the U.S. Navy in 1993, began working for various government contractors as early as 1993. Prosecutors and law enforcement believe that his thievery of classified data began in 1996, and among the materials found in his Glen Burnie home were operational handbooks and codebooks dating back to 1997. More recently, Martin had been hoarding documents and handbooks related to hacking and cyber security, including hacking playbooks developed by the NSA's most adept hackers and cyber spies.

Martin's arrest in October raised red flags with government oversight and watchdog agencies when it was revealed that Martin—like his more well-known counterpart Edward Snowden—had also been an employee of Booz Allen Hamilton. Booz Allen supplies government agencies with thousands of contractors many of them in fields relating to technology, communications, electronics or cyber-security. Some in Congress want to know more about the screening and hiring practices of Booz Allen, and if flaws in the company's vetting processes have led to the firm providing the NSA and other agencies with potentially rogue employees.

News reports say that Martin is now scheduled to appear with his attorneys in U.S. District Court next week. Related Thursday Review articles:

Reining In the NSA, Sort Of; R. Alan Clanton; Thursday Review; January 17, 2014.

Turnkey Tyranny: Or, If I Haven't Done Anythin Wrong I Have Nothing to Fear, Right?; Kevin Robbie; Thursday Review; January 6, 2014.