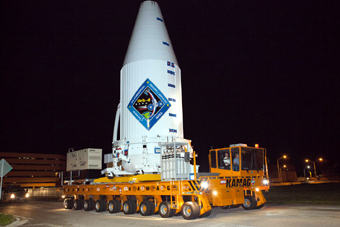 Image courtesy of NASA/United Launch Alliance
NASA and Orbital ATK Prepare Cygnus for Launch
| published December 1, 2015 |
By Keith H. Roberts, Thursday Review contributor
NASA and partner company Orbital ATK say that if all goes well the Cygnus resupply spacecraft, sitting atop an Atlas V rocket, will lift off from launch complex 41 at Cape Canaveral on Thursday, December 3 at 5:55 p.m. Eastern Time.

The Cygnus will is loaded with more than 7,000 pounds of supplies for the International Space Station, including food, water, scientific gear and experimentation hardware, replacement parts, batteries and other materials. Also aboard will be several computers and software, including some provided by Microsoft, several high pressure high capacity oxygen and nitrogen tanks for use in the space station, and a new safety jetpack for spacewalks.

Among the scientific materials: key components to support experiments in space, including equipment for the study of bacteria and micro-organisms in space. Some 250 science experiments and space research projects will be conducted between the combined crews of Expedition 45 and Expedition 46.

The new Cygnus capsule has been redesigned and retrofitted to make room for almost 25% more interior storage. The December 3 launch will be followed a few days later by its rendezvous with the International Space Station, at which time NASA astronaut Kjell Lindgren will use the Canadian-made robotic arm to capture Cygnus at about 5:30 a.m. on December 6.

NASA says it will provide live TV coverage and live streaming of the launch on December 3, as well as the rendezvous and capture on Sunday, December 6.

Related Thursday Review articles:

Spacewalk to Repair Cooling System; Thursday Review staff; Thursday Review; November 10, 2015.

What's Different About This Selfie?; Thursday Review staff; Thursday Review; October 29, 2015.