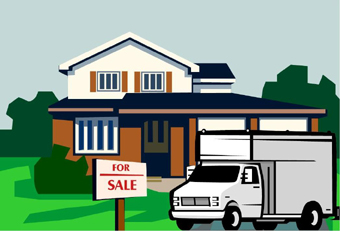 Movers & Criminals
By Earl H. Perkins | published Tuesday, January 14, 2014 |
Thursday Review Associate Editor
Certainly many people throughout the United States have either been ripped off by movers or know of someone who's been threatened.

The federal government has been careful not to accuse organized crime of controlling the industry, but the U.S. Department of Transportation is slowing fraud and extortion among many movers, according to the Miami Herald.

DOT recently shut down five companies, three based in South Florida, for holding people's belongings hostage until they paid extra fees, often totaling thousands of dollars.

The practice has been ongoing for several decades, but following a lengthy investigation, officials shuttered three businesses owned by Christopher Michalski of South Carolina. Allegiant Van Lines of Davie, Florida, Northern Van Lines of Cooper City and Northeastern Van Lines of Pembroke Pines must cease operation for at least one year. United West moving and Storage Inc., based in Anderson, South Carolina, and Direct Movers Inc., of Pikesville, Maryland, were also closed.

"It's extortion," Anne S. Ferro, administrator for the Federal Motor Carrier Safety Administration, recently told the Herald. Her agency helps consumers who have been adversely affected by interstate moving companies.

"The individual homeowner or renter has agreed for the company to pick up their personal property and belongings, sometimes a lifetime of memories, and the company refuses to deliver the goods," she said. "We call it holding the customer's goods hostage."

The Moving Fraud Task Force started its investigation in August, 2013, following the receipt of more than 100 complaints.

Mary Muniz' story mirrors many of the complaints filed with the agency. She, her husband and two disabled brothers, were preparing to move from Covington, Washington to Austin, Texas last May, so she signed a $3,500 contract with Allegiant to haul her belongs. When the movers showed up in Washington, the fee was suddenly $7,000.

"I had already sold my home and I had to be out that day," she said. "I had no choice."

When the movers arrived in Texas with her valuables, they suddenly demanded another $300 in cash to unload. She also noticed several items were missing or broken, and Allegiant has seen fit to avoid her phone calls since then.

Chad Gillian of Jacksonville, Florida, was also ripped off by the same carrier last year. The company shipped his goods south from Aurora, Colorado, for $8,800, plus $1,000 in replacement insurance.

He paid for a large van, but Allegiant sent a smaller van and then demanded an additional $1,200. He was starting his new job almost immediately and didn't have the time to hire another mover, forcing him to pay the higher fee.

Allegiant was fined $8,800 for the violations, while the other two companies must pay a total of $31,000.

When you are choosing a moving company, protecting yourself is probably the most important thing to consider, according to Pamela Smith of the Moving News.

Most folks assume when given a quote that it contains the price for moving, and that it won't change dramatically after the move is completed. Brokers often say they are company employees and the goods will arrive on a certain date, which is often untrue.

You need to know the most common fraud and extortion schemes being perpetrated on the general public so you and your loved ones aren't victimized.

Most moving frauds occur over the internet, because scammers know how potential customers think and take advantage of those tendencies. Unless you work in the industry, you have no idea how much it should cost to ship household belongings. You get a few quotes and pick the one that's least expensive, not realizing you may be forced to pay additional fees later.

The best extortion scenario is the one that involves an up-front deposit, many times only in cash. Cash only is nearly always bad, but a late delivery can also raise red flags. The deliveryman gives a seemingly plausible explanation, so you continue arranging new deliveries which are followed by more excuses. Eventually, you are unable to reach the company by phone or e-mail, and suddenly they have disappeared into the wind.

Please don't let scammers and fraudsters rip you off, when all you want is for your belongings to be relocated safely to a place of your choosing.

"FMCSA investigators are using new tactics to protect people from the predatory companies looking for ways to exploit them," said FMCSA's Ferro. "We encourage anyone planning a move to avoid becoming a victim by learning the red flags of moving fraud and researching any prospective mover's complaint history on our website."

Last July the government announced civil penalties of almost $56,000 were levied against three Chicago-area moving operations following intensified investigations into Illinois movers.

There are more than 5,800 household goods moving companies registered with Ferro's agency nationally. There were more than 3,100 consumer complaints filed in 2012, up from 2,851 in 2011.

The most common complaints continue to be shipments held hostage, goods being lost or damaged, delay of shipments, unauthorized movers and deceptive practices such as unwarranted or last minute overcharges.

If you want to report unsafe and unlawful moving companies, then you should contact FMCSA's nationwide complaint hotline at 1-888-368-7238 (1-888 DOT-SAFT) or visit the database at http://nccdb.fmcsa.dot.gov.

If you seek additional information concerning red flags associated with moving fraud, then try www.protectyourmove.gov.