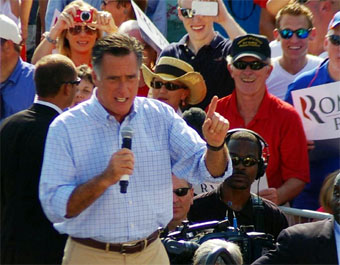 Mitt Romney, photographed in Jacksonville, FL in September 2012
Romney Considering 2016 Bid?
| published January 11, 2015 |
By R. Alan Clanton
Thursday Review editor
He ran for the Republican presidential nomination in 2008, but lost to John McCain. He ran again in 2012, eventually besting his GOP opponents in a crowded, fractious field, but lost narrowly to President Barack Obama. In the typical political insider's view of history-telling, that would be the end of the story. Like Thomas E. Dewey or Hubert Humphrey—you've earned your spot in the American history books, and thanks for the memories.

But 2016 is already shaping up to be something clearly not found in all previous editions of history texts. Mitt Romney, the former governor of Massachusetts and twice a candidate for President, hinted a few days ago that he was considering another run for the White House.

Romney's remarks came at a small fundraising event in a conference room at the offices of New York Jets owner Woody Johnson, a previous heavy-hitter among Romney contributors. At least that's the story emerging from several people who were in the room at the time.

Romney's hints come only a couple of weeks after his wife Ann Romney had assured reporters that the family had no plans for any further political campaigns, and no plans to discuss any plans. But a lot has changed in those two weeks.

New Jersey Governor Chris Christie, a presumed top-tier GOP presidential candidate for 2016, mostly vindicated after almost a year of scandal and investigation regarding the George Washington Bridge brouhaha, is now back in hot water (or lukewarm water, by some standards) for his financial relationship with Dallas Cowboys team owner Jerry Jones, a new controversy sparked by almost entirely by an enthusiastic hug he gave to Jones at a recent Cowboys game—an embrace caught on national television.

Back at home in New Jersey, as residents complain that the governor should be rooting for a local NFL team—the New York Giants, for example, who play home games in the Garden State—questions have come up about several rounds of free tickets given to Christie and his family to attend Cowboys' games. Others are concerned that between his frequent campaign trips to Iowa, Florida and other states, and the heavy travel schedule associated with his chairmanship of the Republican Governors' Association, Christie has become distracted from the business of leading New Jersey at a time when the state's credit ratings have suffered and when Superstorm Sandy damage is still a lingering problem.

Whether Christie's latest crop of troubles prompted Romney to openly talk of another run is not clear. But down in Florida, where two nationally-known figures are considering a first-time run for president, events are moving quickly and—once quietly—now with heavy media attention.

Former Florida Governor Jeb Bush has taken numerous steps toward an almost certain run for President in 2016. On New Year's Eve, he shed his board memberships and directorships, and severed his immediate connection to a number of his investments. Bush also stepped down from several top non-profit roles. A week later, he officially formed a political action committee (PAC), which, under Federal law, allows his to raise money through political donations, as well as deploy the money toward political activities or campaign advertising. Both steps were regarded as indications that his candidacy will become official very soon. Bush has already begun a robust round of fundraising efforts, and—according to those close to both Bush and other top GOP movers-and-shakers—the once popular governor has locked-in hundreds of heavy hitters among the top Republican donors.

Though for all practical purposes he is already a candidate, most political observers believe that Bush will make his campaign official within the next few months.

But Bush is not alone among those in the Sunshine State with presidential considerations under way. U.S. Senator Marco Rubio has also said he is considering a run for President, and last week he indicated to reporters that he didn't see any problem with two candidates emerging from within the same state to make a run toward the White House. Rubio, who is Cuban-American, was selected to give the introductory speech for Mitt Romney at the 2012 Republican National Convention in Tampa. Rubio has also been in the spotlight lately for his sharply critical assessment of President Barack Obama's policy shift toward Cuba, a country which for some 50 years has suffered under U.S. quarantine and trade embargo.

Romney's intimations about a possible run in 2016 come amidst a flurry of GOP activity over the last two months, including similar remarks by other former presidential candidates, such as Pennsylvania's Rick Santorum and former Arkansas Governor Mike Huckabee. At least a dozen other Republicans have said they are considering (or have not ruled out) a run for president in 2016, including Rand Paul (KY), Rick Perry (TX), Paul Ryan (WI), Ted Cruz (TX), and Mike Pence IN). Plenty of other names have also been floated as potential 2016 contenders, including Scott Walker, governor of Wisconsin, Nikki Haley, governor of South Carolina, and Carly Firoina, former CEO of Hewlitt-Packard and a McCain organizer in 2008.

If Romney were to run, it could set up a tough fight for the political cash of some of the party's biggest donors. Bush, since setting up his PAC, has been busy with fundraising activities in numerous states, and according to preliminary material already filed, he has secured the commitment of a number of the same donors who gave generously to Romney in 2012. Christie also hopes to have already paved a solid early road for himself with his frequent visits to Iowa and New Hampshire, his campaign support of numerous Republican candidates in 2014—including Florida Governor Rick Scott—and his work with the Republican Governors' Association. Texas Governor Rick Perry has been raising his game of late with high-profile work regarding border security and immigration, two issues likely to be key flashpoints in the campaigning for 2016.

Romney has on many occasions said he was not considering another run for President, and he has made these remarks to reporters and journalists in both on-the-record and off-the-record circumstances. He has also said publicly that he will enthusiastically support the GOP's nominee.

But one GOP strategist Thursday Review spoke to this past week, someone who requested anonymity because of their close relationship to the family of one possible candidate in 2016, said that things changed after the Republican victories in the elections of November 2014.

"The midterms radically altered the template," this person said in an email, "and now lots of Republicans sense a big opening in 2016. There is opportunity there, and [Hillary] Clinton doesn't look like the sure thing that she was six months ago."

Romney made his remarks about considering another run to a group which included Patrick Durkin of Barclays, Edward Frost of Cushman & Wakefield, and Alexander Navab of KKR. Word of Romney's comments reached the Associated Press within minutes of meeting's conclusion, and spread quickly through social media and the internet.

Related Thursday Review articles:

Jeb Bush's New PAC: Another Sign of Candidacy?; R. Alan Clanton; Thursday Review; January 6, 2015.

Cuba Normalization Sparks Bush, Rubio Campaigns; R. Alan Clanton; Thursday Review; December 20, 2014.