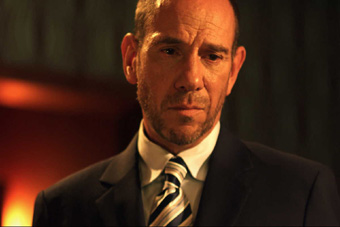 Image courtesy of CBS
Miguel Ferrer Dead at 61
| published January 20, 2017 |
By Keith H. Roberts, Thursday Review contributor
Actor Miguel Ferrer, best known for his longstanding role as agent Owen Granger on the popular television series NCIS: Los Angeles, has died this week at age 61, succumbing to throat cancer after a long battle in which his deteriorating health was tracked by fans watching the hit TV show. Unconfirmed reports of his death late Thursday were confirmed by officials at CBS very early on Friday.

Ferrer—who has spent recent years in his understated by key role on NCIS: Los Angelse—is also known for his portrayal as Bob Morton, the self-serving designer and engineer who helps to create the cyborg cop in the movie RoboCop, and as FBI forensic pathologist Albert Rosenfield in the cult TV series Twin Peaks. In a statement released by R. Scott Gemmill, the NCIS producers and directors mourned the loss of a skilled actor and performer.

"NCIS: Los Angeles lost a beloved family member," the statement read, "Miguel was a man of tremendous talent who had a powerful dramatic presence on screen, a wicked sense of humor, and a huge heart."

Fans and TV press have been tracking Ferrer's slowly deteriorating health for months, especially after reports that he had suffered a minor stroke in late November, and fan comments on his somewhat slurred speech in the most recent episodes. Writers and directors had incorporated Ferrer's health issues and his battle with cancer into the show's plotline, with the character of agent Granger also facing weekly health concerns. Ferrer, already lean and thin, also appeared to have lost weight in many recent episodes.

Ferrer, who was born in 1955, is the son of actor and stage star Jose Ferrer and singer-actress Rosemary Clooney. Born in Santa Monica, Ferrer began acting as a young man. He picked up scores of small parts on television and in films throughout much of the 1980s, before being picked by director David Lynch for the series Twin Peaks. That role—as FBI pathologist Rosenfield—greatly altered the trajectory of his career in Hollywood and gave him the clout to get bigger and better parts, such as his seven year-stint on NBC's Crossing Jordan.

His role as a veteran federal agent on NCIS: Los Angeles became one of his most famous, as the supervising agent of few words, a powerful stare, and a laconic sense of irony, coupled with a air of authority not to be trifled with.

Ferrer hails from a large extended family of actors, musicians and Hollywood regulars. Among his first cousins are George Clooney, Carlos Campo and Adelia Clooney. His father, Jose Ferrer, actor, producer, musician and director, was the first Hispanic-American to receive an Academy Award for best actor for his portrayal of Cyrano de Bergerac in 1947. The senior Ferrer was twice married to Rosemary Clooney.

On Friday, George Clooney paid tribute to his cousin's exceptional talent and large heart, while also making a nod toward the major political changes which will reshape Washington and the globe on the day of Donald Trump's inauguration as President.

"Today, history will mark giant changes in our world," Clooney said, "but lost to most will be that on that same day Miguel lost his long battle with throat cancer." Clooney added that Miguel "made the world brighter and funnier."

Related Thursday Review articles:

Michael Weatherly Leaving NCIS; Keith H. Roberts; Thursday Review; January 6, 2016.

Actor Bill Nunn Dead at 63; Keith H. Roberts; Thursday Review; September 26, 2016.