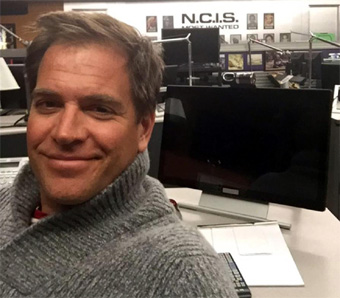 Image courtesy of Michael Weatherly/Twitter
Michael Weatherly Leaving NCIS
| published January 6, 2016 |
By Keith H. Roberts, Thursday Review contributor
Late yesterday the actor Michael Weatherly sent out a Twitter message to his followers which read "DiNozzo is a wonderful, quixotic character and I couldn't have had more fun playing him over the past 13 seasons."

With that, the 47-year-old Weatherly announced his exit from the popular television series NCIS. Weatherly also thanked CBS chief Les Moonves for the opportunity to be a part of the cast, and thanked his friends at CBS and his fellow cast members of the highly-rated weekly show. Weatherly will remain with the show until the end of the regular season later this year.

Weatherly portrays Anthony "Tony" DiNozzo, a role which began with several episodes in the CBS series JAG, but which was spun off into the entirely new show NCIS. NCIS itself was—and remains—prolific, spawning several other variations using some of the characters, interconnected plot devices, and overlapping themes. Weatherly has frequently turned up in guest appearances in all of the related NCIS shows, but his home has been the original series begun in 2002.

The actor made no clear announcement of his intentions, stating only that it was time to move on. His Twitter messages and comments on social media indicate that he is leaving the series on good terms, calling the cast and crew of NCIS "family."

Born in New York City and raised in nearby suburban Connecticut, Weatherly landed his first acting gig in the late 1980s, when he was cast as Theo Huxtable's roommate on the highly popular The Cosby Show. He later appeared in movies like The Last Days of Disco and Meet Wally Sparks before landing his next big television role in the series Dark Angel, a performance which won him several awards and accolades.

In a bit of interesting Hollywood trivia, Weatherly was cast as the actor Robert Wagner—largely for his striking resemblance to the older actor—in the movie The Mystery of Natalie Wood. Later, Robert Wood was cast as Weatherly's dad in NCIS, a role which Wagner has revisited in several episodes.

Related Thursday Review articles:

China Hammers Big Bang Theory; Thursday Review staff; Thursday Review; February 20, 2015.

The End of the Abbey; Earl Perkins; Thursday Review; April 2, 2015.