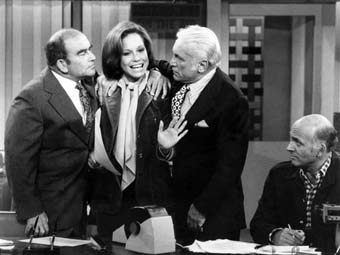 Image courtesy of CBS Television
Reflections on the Passing of
Mary Tyler Moore
| published January 31, 2017 |
By Thursday Review editors and staff
Her death on January 25 sent waves of sadness through two entire generations of television fans, as well as millions of moviegoers who were enthralled by her appearances in films like Ordinary People.

According to official reports and her death certificate, actress Mary Tyler Moore's passing came as a direct result of cardiopulmonary arrest and aspiration pneumonia, with diabetes—a condition she was first diagnosed with when she was very young—as a contributing factor.

Mary Tyler Moore was laid to rest this past weekend at a small private ceremony in Fairfield, Connecticut. A statement from her publicist Max Buxbaum described Moore as a lifetime advocate for the Juvenile Diabetes Research Foundation and a "fearless visionary who turned the world on with her smile."

Moore, whose portrayals of housewife Laura Petrie on the Dick Van Dyke Show and single career woman Mary Richards on the Mary Tyler Moore Show reflected the coming sea change for American women, died last week at the age 80 in Greenwich, Connecticut in the company of several family friends and her husband, Dr. S. Robert Levine.

To call Mary Tyler Moore an icon would be an insult to the oft-overused term. She was instead, at the mid-point of the 20th century and in the golden age of television, arguably the most famous harbinger of change for women ever presented in two of the most popular sitcoms ever developed. According to Virginia Heffernen of the New York Times, in the 1960s and 70s, Moore "helped define a new generation of American womanhood."

Moore, who been dancing or acting since she was a teenager, found modest success throughout the 1950s in small and medium parts in film and television, including a variety of TV commercials. Her big breakout came when Carl Reiner cast her as Laura Petrie in the Dick Van Dyke Show, paired alongside the show's title star. Van Dyke and Moore had important attributes which made their chemistry immediate: both were experienced dancers; both had serious vocal and music training; and each—perhaps as a result of the first two traits—had an impeccable sense of timing, essential most would argue for effective comedy.

During the casting meetings, Reiner also sensed something about Moore's voice and inflections that were unique and infectious. Reiner liked her instantly, and correctly saw her as the ideal companion-comic-foil for Van Dyke. The comedic and familial chemistry worked so well that many viewers of the long-running sitcom assumed that the actor and actress were married in real life.

That the show depicted a stay-at-home wife supporting the backstory of her husband—who in the script is a successful up-and-coming writer of variety television gags—made her role in the real-world developments of American TV even more ironic. The Dick Van Dyke Show ran from 1961 to 1966, a period when the immense tidal forces of change were already reshaping politics and society in the United States, but also when American women were beginning to emerge from the homes in vast numbers to enter the real world of previously male-dominated fields and professions.

The Sixties social changes—which reflected much of the real-world shocks facing the U.S., from anti-war protests to race relations to dramatic changes in popular culture and music—gave way by the end of the decade to other tidal shifts, including full scale demands for economic equality for women.

Enter The Mary Tyler Moore Show, which portrayed a young woman at ease with her singleness even as she crossed the threshold into her mid-30s, and showed her entering the male-dominated world of television news production to forge her own path. Her character, Mary Richards—relocating from her hometown to Minneapolis—has reservations and fears, and she faces deep uncertainties, but she soldiers forward despite an office seemingly powered solely by strutting, preening alpha males largely dismissive of her skills and talents and determination. She is hired almost by accident: applying for a secretarial job which has already been filled, she is offered instead the position of associate producer of the evening news—a position in which she is expected to fail by her colleagues.

Like her earlier pairing with Van Dyke, Moore's chemistry with the other reporters, producers, writers and directors—especially that of her boss Ed Asner—is what made the show both hilarious and poignant. Asner's character, Lou Grant, is craggy, irritable, irascible and unrelenting—not to mention sexist and openly skeptical of his new hire's talent and potential. But he cherishes results, and when he sees that Mary can indeed perform her job as well—or better—than the males in the office, he grudgingly acknowledges Mary's value to the workforce and the team.

Grant's sour posturing often masks his softer, more lovable side, just as Mary's sunny optimism couples with her relentless determination to succeed in a workplace where women—at that point in the early 1970s—had few options for genuine advancement or career success. But succeed she does, and she eventually rises to the role of executive producer and becomes a shining star within the office.

The Mary Tyler Moore show ran for seven seasons on CBS, rising from 22nd in the overall ratings to 7th within just three short seasons, and quickly being picked up by British and Canadian television even before the first season had completed its first run in the United States.

Moore's fellow cast members on The Mary Tyler Moore Show all become television icons as a direct result of the series' power and enormous popularity: Gavin MacLeod as Murray; Betty White as Sue Ann Nivens; Ted Knight as Ted Baxter; Valerie Harper as Rhoda; Cloris Leachman as Phyllis; Georgia Engel as Georgette; and Asner as Mr. Grant. As a testament to the stunning power of the show—one of the most popular of the 1970s—the program spawned at least three direct spinoffs and a half dozen TV specials and made-for-TV movies. Breaking loose on their own were Valerie Harper, whose hit TV show Rhoda ran from 1974 to 1978, Cloris Leachman whose own comedy Phyllis pegged the TV charts at sixth place in the rankings in 1975-76, and Asner in Lou Grant, a one-hour drama which ran from 1977 to 1982 and won more than a dozen Emmy Awards, Golden Globe awards, and a coveted Peabody Award.

All MTM cast members have stressed over the decades that their own successes in television and film were attributable to the immense power of The Mary Tyler Moore Show and its 170 Saturday night episodes.

In 2013 the Writers Guild of America called The Mary Tyler Moore Show the sixth best written TV show of all time. Vince Waldron's book Classic Sitcoms, first published in 1987 and using as its source a poll of hundreds of TV critics and reviewers, ranked The Mary Tyler Moore Show number one on its list of hundreds of classic TV comedy programs. In 2007, Time magazine ranked the MTM Show as one of "The 17 Shows That Changed TV."

Related Thursday Review articles:

Miguel Ferrer Dead at 61; Keith H. Roberts; Thursday Review; January 20, 2017.

Reflections on the Death of John Glenn; Thursday Review editors; Thursday Review; December 11, 2016.