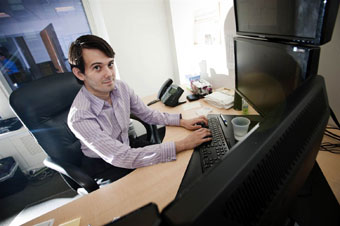 Photo by Paul Taggart/Bloomberg/Getty
Shkreli Replaced as CEO of Turing Pharma
| published December 18, 2015 |
By Thursday Review staff
Some have said it is a case of Instant Karma, and some have even applauded his recent misfortunes. Call it Pharma Karma.

Martin Shkreli, the CEO of Turing Pharmaceuticals, the company which just this year increased the price of the anti-toxoplasmosis drug Daraprim from $13.50 per tablet to more than $750, has been forced out by the company's board of directors—fired as CEO and replaced by another officer, Ron Tilles. Turing described Shkreli's exit as a resignation, though those close to the matter say the parting of way was mutual.

The company issued a politely worded comment of Shkreli's departure.

"We wish to thank Martin for helping us build Turing Pharmaceuticals into the dynamic research-focused company it is today, and wish him the best in his future endeavors," Tilles said in a statement to investors and Wall Street.

Just two days ago Shkreli was arrested by officers of the Justice Department, charged with securities fraud in one of his previous business venture unrelated to Turing or the drug Daraprim. In the unrelated case, Shkreli has been charged with constructing and presiding over what some business and stock analysts suggest was little more than a Ponzi scheme in his management over the hedge fund MSMB Capital Management and a biotechnology firm called Retrophin, Inc.

Shkreli was ousted by the top management of Retrophin last year amidst complaints about his mismanagement of the firm and numerous instances of breach-of-contract. Retrophin later sued him for $65 million.

But it has been his stewardship over Turing Pharmaceuticals and its subsidiaries which sparked the biggest outrage from the public and from politicians. That 5000% price increase, which was announced earlier this year, became what some consumers advocates say was the tipping point in complaints about the runaway cost of prescription medications, as well as the rapidly-expanding side business of medical and prescription fraud.

Shkreli has been famously unapologetic in the business and mainstream press, going so far as to ridicule and taunt even presidential candidates and judges, and telling reporters he has no remorse about raising the prices of numerous lifesaving and maintenance drugs by percentages ranging from 100% to 5000%. Shkreli has come under intense fire for his decision to increase drug prices, and he has become the chief target of those who insist that greed and corruption have taken center stage in the increasingly profitable business of prescription drugs.

The 32 year old Shkreli is also under scrutiny for another of his companies, Kalo Bios, for which he serves as new CEO. Shkreli and a group of international investors bought Kalo Bios last month after the firm had previously announced its intentions to shutter its operation. Shkreli and his fellow investors bought up some 70% of the stock in the hours immediately prior to the company folding.

The Securities and Exchange Commission has halted all trading of Kalo Bios under the company offers clarification of its assets and intentions.

A spokesman for Shkreli said bluntly that his arrest is bogus and none of the charges are valid.

"It is no coincidence," the statement said, "that these charges—the result of investigations which have been languishing for considerable time—have been filed at the same time of Shkreli's high-profile, controversial and yet unrelated activities." Translation: Shkreli's arrest was meant as punishment for his recent price increases.

Daraprim, the life-saving drug at the center of the controversy over rapidly-increasing prescription prices, fights a parasitic condition called toxoplasmosis, which affects people with severely weakened immune systems.

Related Thursday Review articles:

A 1936 Book Explains Why Wal-Mart Will Have a Bad Year; R. Alan Clanton; Thursday Review; October 28, 2015.

A&P Files for Bankruptcy Protection; Thursday Review staff; Thursday Review; July 22, 2015.