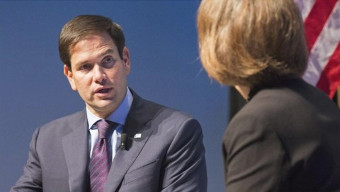 Photo courtesy of Marco Rubio.com
Is Rubio the Candidate to Watch Over the Next Weeks?
| published October 7, 2015 |
By Keith H. Roberts, Thursday Review contributor
Businessman and real estate billionaire Donald Trump is still the front-runner in the Republican race for President, but there are more indications this week that many GOP voters are beginning to consider other options, including a lot of likely Republican voters now looking at two other candidates.

That Trump remains on top is not in dispute. But despite Trump and his spokespersons' feverish efforts to keep the media narrative focused entirely on his lead, Trump's poll numbers have been in slow decline for weeks now—an indisputable factor getting hard for even the boisterous and confidant Trump to ignore. Once in the solid lower 30s, Trump is now in the mid-to-upper 20s among Republicans nationwide.

Two other non-politicians have been on the rise: former HP CEO Carly Fiorina, and retired neurosurgeon and author Dr. Ben Carson. Each has gained steadily in polls over the recent six weeks, and each has gained enough ground to pull within striking distance of Trump, depending on which poll and which set of factors are measured. In large part, Carson and Fiorina have gained at Trump's expense.

In fact, the anti-Washington, anti-establishment sentiment tops out, in most polls and surveys, at about 50% among all like GOP voters. The negative baggage associated with Trump means that his support has likely maxed out, leaving that share of the pie—support for the non-traditional candidates, that is—to be fought over primarily by only Carson, Fiorina and Trump.

This is why some political experts are now saying Florida Senator Marco Rubio is the candidate to watch most closely over the next few weeks. Rubio has, according to most polls, moved into fourth place (in some polls he is in third place), nudging out former Florida Governor Jeb Bush.

Why Rubio? Because the junior Senator from Florida now has the widest appeal across the battle lines which separate much of the decidedly anti-establishment voters, and those who would prefer a candidate with some degree of legislative and Washington experience. Rubio also appeals to multiple components of the GOP base—foreign policy conservatives, spending and taxation conservatives, and those Republicans with a desire to see a candidate with a formidable backstory to run against Democratic front-runner Hillary Clinton on November 2016.

Rubio has been consistently winning the high score in one of the most important questions when any field of party candidates is heavily crowded: the so-called "room to grow" question. Meaning, if a particular voter decides not to vote for his or her first choice, or if that first choice candidate is no longer running for any reason, which candidate would be that voter be most interested in supporting next. Rubio comes out with the highest score in this specialized category.

Put another way, Rubio is the second-most liked candidate—meaning the second choice—of the majority of Republicans, including a cross section of those who are currently supporting Trump, Carson, Fiorina, Bush, Cruz and others.

Rubio has benefitted from what some are calling a mistake-free campaign, as well as solid performances during both Republican debates—one in early August in Cleveland, the other in September at the Ronald Reagan Library in Simi Valley, California. Rubio is also extremely well-liked by foreign military hawks and foreign policy conservatives; Rubio has been ahead of the curve on issues ranging from China's military build-up, Russian President Vladimir Putin's aggressive intention to reclaim the wide sphere of influence lost in the collapse of the Soviet Union, and criticism of what Rubio sees as massive foreign policy failures by the Obama administration—in Syria, in Iraq, in Cuba, in Libya.

At that debate inside the Reagan Library last month, Rubio boldly predicted that Putin would begin using air power and sophisticated heavy weaponry to intervene in Syria on behalf of Bashir al-Assad under the pretense of helping in the fight against ISIS. That statement was largely scoffed at by the Pentagon and the Obama administration, but Rubio turned out to be correct. When the Obama administration crafted a complex deal bringing rapprochement with the long isolated Cuba, Rubio—whose family immigrated from Cuba—called the deal a disaster, and reminded the White House that Raul Castro was not likely to convert from a Marxist dictator to a democrat overnight; days later, Castro essentially said the same thing, declaring that no matter what rewards and allures the offer of friendship with the U.S. might bring, Cuba will remain now, and for decades to come, a Marxist-Leninist state, shorn of freedom of press and freedom of religion.

For some, it is Rubio who most closely resembles the foreign policy legacy of Ronald Reagan. In fact, Rubio's top campaign strategists intend to keep Rubio's message steady and consistent, using what they admit is the same playbook—an appeal to the largest number of Republicans in all states as the catalyst to a solid nomination victory—also used by past GOP nominees, George W. Bush, John McCain and Mitt Romney. "Steady wins the race," Terry Sullivan, Rubio's campaign manager recently told reporters.

In the weeks since Wisconsin Governor Scott Walker suspended his campaign, Rubio's fellow Floridian, Jeb Bush, has seen perhaps the most damage to his numbers, sagging to fourth or fifth place nationally. But Bush's better-than-average debate performance may have also helped him somewhat in one key state, New Hampshire, where a recent NBC News/Wall Street Journal poll showed Bush bouncing back slightly.

In the meantime, the top tier of GOP candidates now consists of Trump—still in the lead nationally, but by varying degrees—followed by Carson, Fiorina, Rubio and Bush. Trump and his top people remain undaunted, and have been hitting back hard against the media assertion that his campaign has stalled since his mediocre debate performance in September's CNN debate. Most people scored Fiorina and Rubio as the biggest winners that night, though the format made it difficult to score winners and losers in a traditional way.

Sullivan also told reporters that Rubio is winning by not scaring anyone, by avoiding the showy, headline-grabbing antics which fuel most of the other candidates. By keeping Rubio and his message not merely consistent, but unfrightening (without going lukewarm, as some have said of Bush), Rubio's stock may rise with people who will regard him as their second choice. If enough people in Iowa and New Hampshire now backing Cruz, or Trump, or Fiorina, or Carson decide at the last minute to go with their best bet, Rubio may benefit mightily from that surge from Republicans who want to reclaim the GOP's core message, a concept and a sentiment which was voiced by Scott Walker in his brief speech to reporters when he withdrew from the race weeks ago.

Related Thursday Review articles:

Carson Rakes-In Record Fundraising Totals; Thursday Review staff; Thursday Review; October 1, 2015.

After Walker: Will the GOP Reclaim its Core Message?;; R. Alan Clanton; Thursday Review; September 22, 2015.