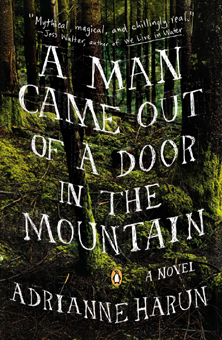 A Man Came Out of the Door in the Mountain; Adrianne Harun
| published December 7, 2015 |
By Kristy Webster, Thursday Review contributor
In this stunning novel, Harun masterfully blends a true crime mystery with mythical and magical elements to create a haunting and unforgettable tale. Leo and his tight knit group of friends who have managed to remain untouched by the disappearances that have occurred over several decades in their isolated corner of British Columbia, suddenly find themselves brushing up against dangers both homespun, and those seemingly supernatural and mystical.

A beautiful, "snow white" girl makes a bee-line into their close group, enchanting each of them, and a card playing stranger entices and beguiles young Ursie, bringing each character closer to an edge you don't see coming. Short-listed for a PNBA award and winner of the Washington State Book Award, A Man Came Out of a Door in the Mountain blends mystery, mayhem and a soulful tone and leaves readers speechless and forever changed.

Related Thursday Review articles:

The Bees; Laline Paull; book review by Kristy Webster; Thursday Review; September 17, 2015.

The Book of Unknown Americans; Cristina Henriquez; book review by Kristy Webster; Thursday Review; March 6, 2015.