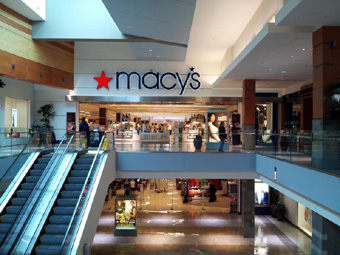 Image courtesy of Wikipedia
Macy's to Layoff Thousands, Close 36 Stores
| published January 7, 2016 |
By Thursday Review staff writers
Like many retailers, Macy's has had a bad year, and its problems persisted even through the holiday season—the time when most stores see their biggest uptick in profits.

This week, Macy's announced that sales had fallen 5.2% in November and again in December, despite some earlier guarded expectations that the Christmas shopping frenzy might give a boost to the iconic chain's otherwise slow 2015. The result was bad news not only for investors and Wall Street, but also for employees; the company says it will begin to downsize immediately, instituting layoffs of as many as 3,000 employees at all Macy's storefront locations. The company also announced it will begin to trim management jobs, cutting approximately 165 senior executives.

Worse for consumers in numerous markets, the chain will close 36 retail locations. Cities and towns where residents can expect to see Macy's stores close include DeKalb, Georgia; Akron, Ohio; North Bend, Oregon; Los Angeles, California; Hagerstown, Maryland; Kailua, Hawaii; Richmond, Virginia. Many of the locations to be shuttered are in malls, though some are in downtown areas.

Virginia will be hit hardest, with some six locations closing. New York State will lose five stores, and California will lose three. All stores marked for closure will be shut down no later than May 2016.

Macy's said that a variety of factors were at work on its bad quarter: a summer which lingered well into the end of fall and a late-arriving winter, all mixed with unusual weather which blunted the store's typically brisk pattern of selling winter clothing—sweaters, coats, hats, gloves, scarves—to gift-givers nationwide. Macy's also indicated that, like most retailers, it is losing business to online sales, especially Amazon and its closest web-based competitors. Unable to compete with Amazon's emerging dominance in consumer purchasing power, Macy's already bad year was capped off by a dismal holiday season as it lost thousands of apparel item sales to the ease and convenience of online buying.

Macy's says it even lost sales momentum at its most famous stores—in Manhattan and San Francisco—locations which frequently draw more dollars from "tourism purchases" than from local and regional consumers. This has spurred the ominous possibility that Macy's top management may be forced to yield to pressure from its biggest and most vocal investors to sell off those premium locations for their real estate value—estimated by some analysts to be worth billions.

In fact, despite promises by CEO Terry Lundgren earlier in 2015 that he would not consider selling iconic store properties simply for the value of the urban real estate footprint, the company this week announced that it will consider exactly that. On Wednesday Macy's officials said they had hired the real estate bank Eastdil Secured to weigh all options and draw up proposals for outside investors.

Macy's will also restructure many of the positions it plans to keep, shifting employees where possible, and streamlining the workforce by reassigning the workload. It plans to close one of its four call centers for credit card activity and customer support, but it may shift some of those employees into other locations.

Despite the company's late arrival to online competitiveness and its losses to Amazon, Macy's announced that ironically its own online sales had increased—the one bit of good news the company can claim. Macy's says its 2015 holiday period online sales increased roughly 25% as compared to 2014.

Related Thursday Review articles:

A 1936 Book Explains Why WalMart Will Have a Bad Year; R. Alan Clanton; Thursday Review; October 28, 2015.

A&P Files for Bankruptcy Protection; Thursday Review staff; Thursday Review; July 22, 2015.