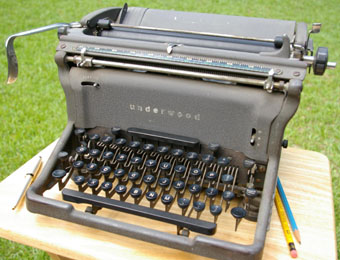 To MFA, or NOT to MFA
By Kristy Webster | published Sunday, January 12, 2014 |
Thursday Review contributor
First, the big question: to MFA or not to MFA?

Since I graduated with my M.F.A. I've had a lot of writers ask for my advice on whether or not I would recommend an MFA program. I can say that it was one of the best experiences of my life. The two program directors were two of the kindest, most humble and supportive people I've ever known. We had speakers and teachers of great note, among them; Kent Meyer, Kevin Clark, Lola Haskins, Anne Pancake, Justin Cronin, Jess Walters, and Brenda Miller.

I deeply treasure the students I met in those three years at residency. I also met a kindred spirit who became my mentor for the last two years of the program. Empathetic, nurturing, and confident, she not only inspired me as a writer, but deeply understood me as an individual.

However, I have some words of advice before you decide to give your time and money to ANY MFA in Creative Writing program, regardless of how great it is. An MFA is a pretty big investment. You need to consider the obvious things of course, like finances, family and work obligations, and what you expect the degree to do for you.

Here's what it won't do:

1. It won't ensure your success as a writer. Your success as a writer depends on how much you, well, write. And read. I've actually heard self-assured writers tell me that they don't read that much because they fear it might take away from their originality. That's pretty ridiculous if you ask me. There's no better education for a writer than reading the works of accomplished, dedicated and intelligent authors, authors you can respect and admire.

2. It won't get you a job. Yes, an MFA may qualify you for a teaching position, but, ultimately it is not enough to get you hired. Most universities also want to see a significant publishing record. The degree alone isn't going to get you a teaching job in most cases. Especially when you think about how many MFA graduates there are out there these days.

3. It won't ensure that you will be published. I know from experience that when submitting stories to different journals and publications, an MFA means nothing. Again, what editors are looking for is well written, articulate, and moving work. A degree doesn't move the human heart and readers could care less what certificate you have hanging on your wall. They want to feel something. They want to be entertained. They want to be immersed in your story, or article. A degree can't do this, your strength as a writer can.

4. It won't "teach" you to be a writer. What I mean is, this isn't a program you take because you think you want to write, and you want to learn more about writing. An MFA is geared towards active writers who have a specific project and goal that's already in motion. Of course, MFA or not, improving as a writer is a lifetime's work. But the purpose of the MFA program, workshops and mentors, is to make you a better writer than you already are. In other words, this is not an entry level program. If you're going to make a huge investment, time wise and money wise, writing needs to already be your passion and practice.

All that being said I don't regret investing in an MFA. However, I definitely don't think it's a necessity to being a successful writer, not by a long shot. Some of the writers I most admire do not have MFA's or any college degree for that matter. I'm addicted to higher education. I love classroom learning. It's where I feel most at home. Not to mention, it gave me three years to dedicate to writing. If it's your writing you want to improve, if writing is your passion, you do not need an MFA. But below are some suggestions that I believe are crucial to the writing life.

Here's what to do:

1. Write, write, write, and read as much as possible.

2. Take advantage of any and all local writing workshops, groups, classes, etc. I was fortunate to become part of a wonderful women's writing group. It's been just as valuable if not more so than workshops at the MFA program. It might take a while to find a writing group that really suits you, it did for me too. I know friends who have advertised on craigslist for writing partners and writing groups. It's definitely worth pursuing.

3. Give yourself permission to be a writer. I say this because it's so easy, especially when you have a lot on your plate in your personal life, to talk yourself out of writing. But even if you just give yourself ten minutes a day you'll be surprised how much you can accomplish, and how good you will feel for giving yourself that time.

The Makeshift MFA:

If you opt to skip the school loans and degree, I've created my own Make Shift MFA Kit. These are some books on the writing craft which I've found indispensable.

One book I like to recommend not just for writers but for artists, musicians, and creative types in general is The Artist's Way, by Julia Cameron. I like this book because it provides structure, a time line, assignments and the tone remains incredibly supportive. Even after you finish the program; it's a book you can always return to that will get you revved up again.

On Writing by Stephen King is without a doubt my favorite craft book for writing fiction. His style is conversational, direct and no nonsense. Even the first half of the book which reads partly as memoir is inspiring and engrossing.

Bird by Bird by Anne Lamott of course is a classic, must read craft book. Lamott and King have a similar sense of humor in their writing that I really appreciate. Their tone and style is far from dry or pretentious. Anne's voice is like that of an old friend urging you and supporting you through each step.

Elements of Style, by William Strunk, Eats, Shoots and Leaves by Lynne Truss and On Writing Well by William Zinsser, are also classic, essential guides for writers, and students, actually. They are pragmatic and written in a clear, readable manner.

Not Feathers Yet: A Beginner's Guide to the Poetic Life, written by my MFA mentor Lola Haskins, is a beautiful, encouraging and practical book for poets. She addresses what she refers to as "heart poetry" and the importance of showing reverence and respect for poetry even when it doesn't meet imposed literary criteria. Her book honors the place where poetry comes from, while also being a very intelligent, articulate guide to writing and editing poetry.

Reading Unless it Moves the Human Heart is like being a part of a virtual classroom as you read the ins and outs of student participation and Rosenblatt's philosophies and observations about writing.

Most recently I read an outstanding, humorous and totally readable book called How to Become a Famous Writer Before You're Dead by Ariel Gore, editor of Hip Mama. There's nothing dry about this one, plus it is blissfully entertaining and informative.

Lastly, stay inspired, take risks, put your writing (and yourself) out there, and don't wait until you get a whole day to write. That day may never come. Take a ten minute break, a five minute break...to write. Take any opportunity you can to do what you love and keep writing.