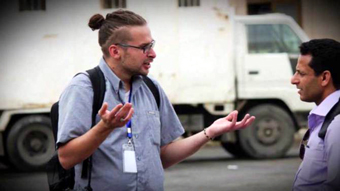 Photo courtesy Global News
American Photojournalist Killed in Yemen
| published December 6, 2014 |
By R. Alan Clanton
Thursday Review editor

Earlier this week, amidst some media pressure to explain what was rumored to have been a failed hostage rescue somewhere in Africa, the Department of Defense released a statement confirming only that there had been a rescue attempt in Yemen. Those sketchy, incomplete media reports had come from equally unclear videos which had been circulating on the internet for days. Other reports of activity in Yemen had been circulating for more than a day—rumors based on the sightings by tribal groups of American military stealth helicopters and frequent drone flyovers in remote areas.

Now, we learn, at least two hostages were killed in a rescue attempt by U.S. forces—a rescue attempt which went awry in Yemen a month ago. Luke Somers and Pierre Korkie were both shot to death by the militants during the rescue operation. Somers was an American photojournalist, and Korkie was a South African teacher working for an international relief organization.

Both hostages were being held by al-Qaeda militants in Yemen—Islamic terrorists part of the larger movement called al-Qaeda in the Arabian Peninsula. Intelligence experts in the United States, along with military analysts in Yemen's army, believed that the lives of both men were in grave danger. Videos released on the internet last week showed militants threatening to kill Somers if certain demands were not met.

Somers, who studied creative writing and journalism in Wisconsin, was working as a freelance reporter and editor—shooting video and taking photographs as well—in Yemen. He was widely known to other reporters and photographers, including those who worked for Temen's major daily, The National Yemen. Somers had also worked part time as an English teacher in Yemen. He was well-liked by reporters from various countries, and had what was reported to be a good rapport with native Yemeni reporters and photographers.

Somers was kidnapped in the capital city of Sanaa as he left a grocery store in 2013.

Korkie was kidnapped in May. His wife was also taken hostage, but she was released weeks later and sent back to South Africa. Al Qaeda had publicly demanded $3 in U.S. dollars for Korkie's release. Several mediating groups had been at work negotiating his release, and it was believed that he may have been set free later this month.

Joint U.S.-Yemeni operations had been under way for many weeks to secure the release of Somers, and there had also been rumors of a negotiated release. The Pentagon has been wary of discussing many of its operations in Yemen, where security and intelligence experts believe some of the most dangerous terrorists operate and an area to which a number of terrorist acts have been traced.

The rescue operation did include some successes, as other hostages were rescued, according to statements by the Pentagon. On Thursday of last week, Pentagon Press Secretary Rear Admiral John Kirby said that Somers was not present at the location where the rescue took place. "Details about the mission remain classified," Kirby said in the statement.

Related Thursday Review articles:

Battling ISIS: Will Air Power Be Enough?; R. Alan Clanton; Thursday Review; November 17, 2014.

The Hunt for ISIS, the Hunt for Jihadi John; R. Alan Clanton; Thursday Review; September 14, 2014.