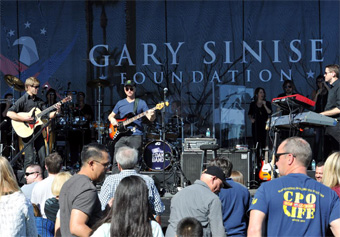 U.S. Navy photo by Mass Communication Specialist 1st Class Elizabeth Merriam/Released
Lt. Dan Band in San Diego
| published February 11, 2016 |
By Thursday Review staff
In addition to being an award-winning and critically acclaimed actor, Gary Sinise is also a musician. His band—the Lt. Dan Band—occasionally performs at concerts in which the proceeds benefit military families, veterans, active service personnel and wounded soldiers.

Sinise and his fellow musicians recently performed at the Fourth Annual Invincible Spirit Festival in San Diego, at the Naval Medical Center. The event included food prepared and provided by well-known chef Robert Irvine, other food vendors, a chicken wing eating contest, and a classic car show. Sinise also tried his hand at flipping burgers at the food preparation area of the event.

Gary Sinise has appeared in hundreds of motion pictures and television shows. Some of his most notable film appearances include Apollo 13 (he portrayed NASA astronaut Ken Mattingly), The Green Mile, Mission to Mars, Path to War (he played the part of Alabama Governor George Wallace), Reindeer Games, Truman (Harry S. Truman, for the film based on the epic biography by historian David McCullough), and Ransom (alongside Mel Gibson). Sinise was also the headline star of the hugely successful TV series CSI: NY.

His band is named for his arguably most iconic and famous role, that of Lt. Dan Taylor in the Academy Award winning movie Forrest Gump, starring Tom Hanks and directed by Robert Zemeckis. In Forrest Gump, Sinise portrays a platoon leader who loses his legs in a brutal firefight in Vietnam, and must overcome a decade or more of resentment and anger that he did not die in battle—as had his father and grandfather before him. He is befriended by Gump, a simple-minded man who as a private in the war saves the lieutenant's life in that life-altering battle.

After his enormous success in Apollo 13 (1995), directed by Ron Howard, Sinise also took on numerous roles as an astronaut, including in several made-for-TV series, and in several productions developed for showings at the Kennedy Space Center in Florida and at other iMax and 3D venues. Sinise was the voice of astronaut Gene Cernan in Magnificent Desolation, a documentary about the U.S. moon landings, and the voice of Capcom in the Disney/NASA documentary Mission: Space.

Related Thursday Review articles:

Wounded Warrior Project: Wounded Confidence; Earl Perkins; Thursday Review; February 3, 2016.

Remembering the Arizona; Thursday Review staff; Thursday Review; December 8, 2015.