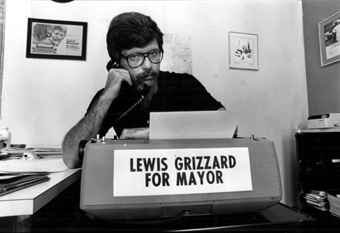 Image courtesy of Atlanta Journal-Constitution/AJC file photo
A Look Back at Lewis Grizzard
| published November 29, 2016 |
By Earl Perkins, Thursday Review features editor
"First, we really don't care how you did it in Chicago. Second, if you miss it so much, Delta is ready when you are." –Lewis Grizzard

The man who became world famous as one of the finest American newspaper columnists and humorists and the pride of Moreland, Georgia did his mother proud as well. A sickly child who eventually trumpeted to the world that he was a momma's boy, Grizzard dreamed of someday matriculating at the University of Georgia and becoming a writer. Oh yes, he accomplished that and so much more.

And then the Lord called home the great Southern humorist at the young age of 47, an event which his numerous fans attributed to him having such a big heart from defending underdogs and the downtrodden. The world had never seen a human being get so much mileage from talking trash about those unlucky enough to live or be from above Mason and Dixon's line. Others might say his career consisted of AC and BC—before his move to Chicago, and after he returned to God's Country.

"I was afraid they kept the hogs in a pen out behind the hospital. I've been prepared for surgery and the doctor says to an orderly, 'Leon, go out to the hog pen and get me a valve.'" That was one of Grizzard's most famous lines from They Tore Out My Heart and Stomped That Sucker Flat.

How many writers can regale you with stories like the time a Chicago doctor told him an operation was urgently needed, and he refused said procedure because he was reticent to expire on foreign soil. Anybody can write about Yankees, the South, their dog, women, sports and food, but how many scribes can compel you to seek out every word they ever wrote? Not many, I would hazard a guess. Actually, he had the ability to make you understand exactly how he was feeling at any given moment, which gave you a window into his soul.

"I'm American by birth, but Southern by the grace of God," he once famously wrote.

Unabashedly proud of being born in the South, and proud of its history, heritage and people, he was also quick to let you know if he felt you'd unfairly characterized individuals or just needed a good dressing down. Technically conservative in many ways, today he would be considered liberal when judged by many of his pronouncements. He tried not to look holier than thou when writing, but he was quick to trot out an opinion if he carried a strong opinion on certain subjects. He would wax eloquent about the South's good ole' days, spurning numerous advances of mankind including the advent of the cathode ray tube. Refusing society's upgrade to computers, the folksy Southern humorist insisted on his trusty Remington typewriter until the day he died. Oh, the pictures he conjured up and placed inside your head to ponder and preserve—just so long as you kept reading.

"Giving Northerners un-buttered instant grits is an old remedy for getting rid of tourists," he once said.

Grizzard spurned the school newspaper for the independent Athens Daily News while attending the UGA, and then jumped to Georgia's capitol where the Atlanta Journal made him the youngest-ever executive sports editor in the nation at 23. His best work rolled off a newspaper press, but was eclipsed by his roles as stand-up comedian, lecturer, celebrity and quasi-actor.

"I have it on good authority that Yankee men are so lazy they marry pregnant women," he once joked.

His time at the Journal's helm was highlighted by his paper's coverage of the Marshall University football team tragedy and Hank Aaron's 715th home run, and he would now be recognized as one of the 20th Century's finest newspaper editors if he'd stayed with the Journal. However, Grizzard was courted by the Chicago Sun-Times, and reluctantly went north to become the executive sports editor at one of the nation's larger dailies—a move he regretted the rest of his life. After spiking several stories penned by a black sports writer, he eventually fired said scribe. Although he replaced the man with another black writer, he ran afoul of a federal arbitrator and many readers.

That's when he heard the beckoning call of Georgia's dogwoods and azaleas, landing a gig writing columns for the Atlanta Constitution sports section in 1977. Within eight months, he would change departments and begin the humor/life column which made him famous with a quickness. Folks throughout the South and those with a keen interest of the region and its people anxiously awaited his columns, eventually buying his books and attending his shows. He even became a minor TV star and made the talk-show circuit, although his mother was not truly impressed until he told her Johnny Carson wanted him on The Show.

And then there were the thousands of one liners to keep you in stitches. Kind of like Rodney Dangerfield with a Southern twist. His take on women and life in general could make you laugh and cry at the same time, especially if his predicaments mirrored times in your life.

"I don't think I'll get married again. Every five years or so, I'll just find a woman I don't like and give her a house."

"I grew up in a very large family in a very small house. I never slept alone until after I was married."

"I have three ex-wives. I can't remember any of their names, so I just call 'em Plaintiff."

"If love were oil, I'd be about a quart low."

"Kinky sex involves the use of duck feathers. Perverted sex involves the whole duck."

"My ex-wives had one thing in common. When they left, they all backed up a truck."

Grizzard got the last laugh on the world, using the money accrued from his fame to purchase 100 acres and a home near Suches, in the North Georgia mountains. A fine place, just a little closer to God, for him, his dog Catfish and hopefully a fine woman to share it all with. They call it the Valley Above the Clouds, just a perfect driving distance from Atlanta and kind of on the road to nowhere. That was why Grizzard fell in love with the entire area. The only reason to go there is to get away from it all. The Indian Summer Festival, windy roads, plenty of farmland for your horses and a short walk to the Toccoa River. What is there not to like?

He may have drank to excess, along with having his heart and billfold being broken by three bad marriages, but No. 4 stood by him and was there until the end. And, fittingly, he even squeezed another book out of his final battle with cancer. You may not get out of this world alive, but at least leave them laughing and sorrowful that you won't be around to entertain them anymore.

Related Thursday Review articles:

A Funny Thing Happened on Our Way to the Mainstream Media; R. Alan Clanton; Thursday Review; April 3, 2016.

Tampa Bay Times Buys Tampa Tribune, Ends Two Paper Era; R. Alan Clanton; Thursday Review; May 4, 2016.