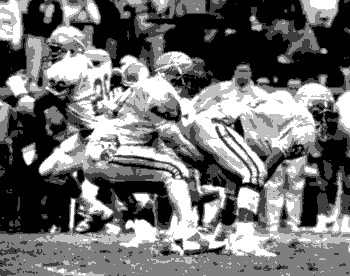 Leroy Butler and the 25th Anniversary of the Puntrooskie
By Earl Perkins | published Monday, October 28, 2013 |
Thursday Review Associate Editor
Leroy Butler grew up in the Blodgett Homes housing projects in Jacksonville, Florida, a place that was beset for decades by so much crime and violence that even the local police feared the area. He and three siblings were raised by Eunice Butler, a single mother who was a secretary and eventually a nurse.

Born so pigeon-toed that doctors were forced to break bones in his feet at eight months old, Butler's doctors hoped merely to improve his chances of someday walking normally. Metal braces were placed on his legs similar to those later made famous by Tom Hanks in Forrest Gump, with the eventual results coming out very similar for both characters.

Not playing sports was a given, so he sat by a window in a wheelchair throughout much of his early childhood, watching the neighborhood children play kickball. So many stories have cropped up about Butler and his amazing life that I'll just try to hit the high points and use the most interesting of my interpretations.

One story worth special note centers around an eight-year-old Butler and his older sister, Vicki. She was running out the door of the apartment one day, accidently knocking Leroy out of his wheelchair and sending the braces across the room. Butler immediately stood up, and after realizing he could walk and run, he ran outside and joined the kickball game that was in progress. The bones and muscles in his legs had evidently been healing steadily, and--like the film character Gump--he was soon running faster than all the children in his school and neighborhood.

Butler would team with running back Edgar Bennett, and they would play football together from junior high through the professional ranks. Both caught the eye of Robert E. Lee High School's Corky Rogers, who would go on to become one of Florida's legendary coaches. Both Butler and Bennett had outstanding careers at Lee, but what makes their story incredible is that they were able to play together for Florida State University and, later, at the Green Bay Packers. Childhood friends just are not able to stick together for that many years, especially in sports. The odds are just stacked against it, just like they were stacked against Butler from the beginning.

After becoming a high school All-American at Lee, Butler arrived in Tallahassee in 1986, where he starred as a defensive back in the same backfield with Deion Sanders. FSU was ranked No. 1 in the nation heading into the season, but lost its opener 31-0 to its arch-rival Miami Hurricanes, then at the peak of their strength. Still, the 'Noles then beat Southern Miss 49-13, placing them 10th in the national polls.

Which brings us to September 17, 1988. Head coach Bobby Bowden and his Seminoles were facing Clemson in a huge game. Danny Ford's Tigers were playing host to FSU at Death Valley, considered one of the most unfriendly confines for visitors in the nation. Their fans are considered some of the nicest but most rabid in America, considering that there's not much more to root for in Clemson, SC. Folks say they travel well, which translates to them purchasing every available ticket to meaningless bowl games every year Clemson reaches the postseason.

The No. 3-ranked Tigers dominated the first half, culminated by a 99-yard scoring drive to give Clemson a 14-7 lead. FSU's offense had been struggling, and Bowden knew his team had to make something happen, but he also knew that trick plays almost never work. Assistant coaches and players always want to run trick plays, but when they fail the head coach is the one who looks most foolish. Bowden had told his team at halftime that he was holding the so-called Puntrooskie in his back pocket—the time just wasn't right.

Sanders, a colorful player, was had been heckled ceaselessly by Clemson's bench and fans throughout the first half, and he'd had just about enough of it. He certainly called attention to himself, calling himself Prime Time and bringing a certain swagger to the team. Soon after opening the third quarter, Sanders fielded a punt and ran it through a gaping hole up the middle for a 76-yard touchdown to tie the game.

The second half was a true battle, but the score was 21-21 with FSU facing fourth down with four yards to go at its own 21 with 1:33 left on the clock. Before overtime in college, it looked as though a tie was all the Seminoles could hope for.

Bowden had other plans. The punt team headed onto the field, and Butler looked over at his coach. "Do it," Bowden said, and the rest is history. Butler was just a junior and he's done incredible things throughout his life, but looking back 25 years there's one thing most fans want to ask about—the Puntrooskie.

FSU faked a bad snap to distract Clemson's punt return team, with the punter reaching up like he was missing the ball. The upback caught the hike, placing the ball between Butler's legs, and Butler—for a fraction of a second—remained motionless as the "fake" play moved around him. One blink of an eye later, Butler finessed the ball into his arms and took off with terrific speed, leaving most of the Clemson players in his dust. One Clemson player was finally able to run Butler down, but not before he ran flat-out for 76 yards. Butler was finally forced out at the one-yard line, setting up the Seminoles' winning field goal, and establishing the reputation and legacy of what may have been Bobby Bowden's most famous trick play.

That play celebrated its 25th anniversary last month, and established Butler's legacy as a great football player who overcame physical limitations and great odds.