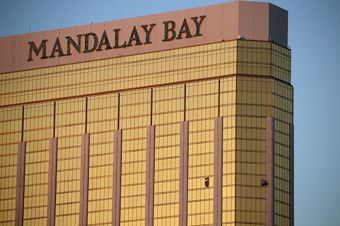 Image courtesy of Reuters
A New Look at the Las Vegas
Shooting Timeline
| published October 10, 2017 |
By R. Alan Clanton, Thursday Review editor
Las Vegas police and FBI investigators now say that they believe Stephen Paddock's horrific October 1 shooting rampage began when he fired at one or more shots at an armed hotel security guard—some six minutes before Paddock opened fire on thousands of people outside the hotel.

Hotel surveillance video and hotel and police communication logs now indicate that Paddock's first shots were fired at security guard Jesus Campos as Campos was responding to a reports of a door left open on the 32nd floor of the Mandalay Bay Resort & Casino. Though it is unclear which door was reportedly open, Paddock apparently fired through his own hotel suite door when—using his recently installed video surveillance system—Paddock observed Campos in the hallway just outside.

Though it sheds no additional light on the motivations behind Paddock's deadly massacre, it introduces a significant change to the overall timeline of events, suggesting—as a few crime analysts have said—that Paddock may have planned to begin his shooting rampage later in the evening.

Adding to the mystery: investigators also believe that Paddock fired several shots at jet fuel storage tanks at nearby McCarran International Airport, tanks only 2 blocks past the area being where an outdoor music festival was taking place—a country music event which was Paddock's primary target throughout his rampage.

Law enforcement officials have not said whether the shots fired at the large fuel tanks were intended to create an explosion as a possible diversionary tactic, or whether those shots were part of some pre-arranged escape plan. Among the other things found in Paddock's room and in his vehicle were bullet-proof vests and body armor—an indication, some have suggested, that Paddock planned to escape after his shooting.

But the Las Vegas police officers who were the first to arrive in the room of Las Vegas shooter Paddock told CBS News investigative reporter Bill Whitaker that after breaching the door to Paddock's room they saw a hotel suite cluttered with dozens of long guns, stocked with thousands of rounds of ammunition, decked out with computers and video monitoring equipment, littered with thousands of spent rounds, and set up for a possible last shootout with police.

Interviewed by Whitaker for CBS's 60 Minutes, the officers said they did not necessarily sense that Paddock planned an escape after his shooting rampage last week in Las Vegas, and they said that several guns that were set up to apparently fend-off police within the room indicate that Paddock's intentions had been to extend his rampage to include a final violent confrontation with law enforcement—possibly inside the hotel suite.

Those same officers also said that among the elaborate precautions Paddock had employed prior to his shooting spree was a steel plate—carefully screwed into the door frame of the stairwell nearest his 32nd floor room—designed to prevent law enforcement from easily entering the hallway from the stairs. As it turned out, one of the first police responders had tools and a pry-bar with him, and was able to force open that partially sealed door.

But despite the competing theories—that Paddock had originally planned to conduct a shootout with police, or that Paddock planned an escape—upon breaching the hotel room door those first police officers found Paddock dead by his own gun.

Las Vegas police are also suggesting that Stephen Paddock's carefully arrayed set of security cameras—placed strategically in stairwells, near elevators, in the hallway, and even in his own room—indicate that Paddock was planning for what he expected to be a siege by police, and may have originally hoped to survive the attack.

These latest developments come days after Paddock's girlfriend returned to the United States after a visit to family and friends in her home country of The Philippines. Though local and federal law enforcement originally stated that Marilou Danley had no connection to the massacre, investigators have spent days grilling her more thoroughly on what she knew about Paddock's intentions. Police and FBI agents are still looking closely into the more than $100,000 Paddock sent to The Philippines only days before his rampage began. Danley has said that she knew nothing of Paddock's plans ahead of the attack.

Police are also still poring over the contents of Paddock's car, found parked near the hotel, which contained a large cache of additional ammunition, back-up gun materials and components, and explosive components.

Within hours of the rampage, which began at 10:05 p.m. on October 1, Las Vegas police, Nevada law enforcement, and federal officials confirmed that the mass shooting had become the worst mass attack in U.S. history, surpassing the grim total set in an Orlando nightclub in 2016.

As of Tuesday, more than one week after the shooting, 58 people are confirmed dead and more than 520 wounded after Paddock opened fire from the 32nd floor of the Mandalay Bay Hotel & Casino near the Las Vegas strip, shooting at people attending the final night of the Route 91 Harvest Festival, an annual outdoor event which attracts thousands of visitors.

According to police, the shooting started with shots fired at Campos, then—shortly after 10:00 p.m.—Paddock began firing into the crowds for at least 10 minutes before the first guards and officers arrived at his door. Witnesses and Las Vegas tourists described the horrific sounds of the shots echoing through the crowded strip and between the high rise hotels as a combination of fireworks and explosions, and the screams of those attempting to flee the scene could be heard for several blocks.

Law enforcement identified the suspect shortly after Paddock killed himself, and more than a week of thorough investigation suggests that he has no links to terror groups or militant organizations. Police and FBI also maintain that Paddock acted alone.

Though many of the badly injured were hit by stray bullets, many more were injured as panicked festival attendees and tourists fled in all directions, triggering stampedes and resulting in some people being trampled.

The gunshots began as country music singer Jason Aldean and his band was performing. Upon hearing the first round of shots, Aldean stopped as a hush fell over the crowd. But within seconds more shots could be heard as witnesses on the ground described seeing rapid-fire muzzle flashes from the upper floor of the Mandalay Hotel. At that point the crowds began to break into a panic, with thousands of people stampeding in all directions. Hundreds of people hid under cars and trucks as others attempted to find shelter behind speakers, the trucks of hots dog and concession vendors, or portable toilets.

Using high-powered weapons, Paddock fired from his upper floor hotel room, which was diagonally across the street from the mostly open property used by the music festival. Police believe that Paddock likely carefully planned the attack, and chose the room for its unimpeded view of the festival grounds, which is only two blocks from the Las Vegas Freeway (Interstate 15) and McCarran Airport.

Ironically, the shooting rampage came just hours after CBS's 60 Minutes aired a lengthy interview with U.S. Representative Steve Scalise, the GOP House Whip who was critically injured in June after a disturbed individual opened fire at a baseball field where Republican lawmakers were practicing pitching and batting. Scalise, shot in the hip during the melee and barely surviving his wounds, made an emotional and triumphant return to the Capitol days ago. In the 60 Minutes segment, he said that lawmakers should make every effort to close the gaps separating the two parties over issues of gun legislation and the control of firearms.

The final night of the Route 91 Harvest Festival was sold-out, and there were tens of thousands of people jammed into the area, which included a large, canopied stage area, two sets of high-rise bleachers, and thousands of folding chairs.



Related Thursday Review articles:

Twitter Faces Lawsuit Iver ISIS-Inspired Terror; Thursday Review editors; Thursday Review; January 11, 2017.

Orlando Shooter Considered Attack on Disney World; R. Alan Clanton; Thursday Review; June 14, 2016.