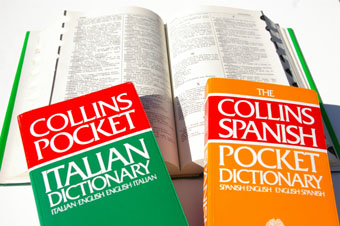 Languages Provide an Edge
| Published Monday, March 10, 2014|
By Earl H. Perkins
Thursday Review associate editor
More people speak Chinese than any other language on Earth, and there are almost 3 million Chinese-speakers in the United States, so it's good to see young students jumping on the bandwagon.

Hillsborough County public and private schools have offered Chinese classes for several years, according to a recent Tampa Tribune article. Corbett Preparatory School class has proven extremely popular, giving a new slant on imparting knowledge.

Teacher Mark Xing is 8,000 miles away at his home in China, while his seven middle-school students learn via Skype webcams, intently reciting sentences displayed on a board at the front of their class in Tampa.

America is attempting to create a global workforce, and seventh-grader Mason Shamley could have a jump on many other students. The 12-year-old has taken Spanish classes at Corbett since kindergarten, but recently chose Xing's class as an elective.

"My mom wants me to learn more languages so when I get older, if I have co-workers from different countries, I can speak to them," he said.

Xing has been a teacher for 30 years and he resides in Shenzhen, located near Hong Kong. He's director of teaching affairs in the middle school department at Second Foreign Languages School of Namshan (Corbett's sister school).

Corbett Headmaster Joyce Burick Swarzman met Xing in Beijing at a 2007 education summit and at Pasco County's International Leadership Fellows Institute, and their brainstorming created the Skype course.

The class has proven extremely successful, and it functions much like a regular course. Xing knows each student by name, but cannot directly supervise their work. Internet, audio and video interruptions can also prove problematic.

"The benefit is to take advantage of modern technology to carry on cross-cultural communication and to cut down expenses," he said. "The downfall is we totally depend on technology. If the facilities or the internet have some problems, we can do nothing."

Xing e-mails work sheets to middle school director Cindy Strickland, who observes the lessons along with his class. Class participation, attendance and grasping lessons are the most important facets of the course.

Students study Chinese characters on their board, while Xing underlines and circles important words. In the beginning, students learned one or two words per class, but were eventually able to communicate.

"He really wants them to understand the pronunciations," Strickland said. "It's been an intense course. They have really stepped up to the plate. I've been impressed with them."

Eighth-grader Jayson Gruden has learned numbers, greetings and state names, and hopes to continue learning Chinese after the class finishes.

"He does help us a lot, which is the most important part," he said.

According to Workforce.com, one of the biggest challenges U.S. companies face is the language barrier, especially in an increasingly interconnected and interdependent global economy. It is no longer rare for even mid-sized and small American companies to have routine business connections to partners or subsidiaries overseas. And almost all major Asian companies do business with the United States on a daily basis.

Workforce cited the cash incentives offered by SoftBank Mobile, the huge Japanese private equity firm which purchased Sprint/Nextel in 2013, to employees who were able to pass a certain level of English proficiency.

Other major companies are offering internal training to better expand their employees' language assets, and some business analysts think that language training may soon exceed other forms of corporate instruction, such as teamwork, time-management and customer retention skills.

And as businesses begin to shift their marketing efforts away from traditional forms of advertising—and toward social media and digital outreach—language skills become ever more critical.

According to Careerealism.com, high school and college students should all strongly consider a second language, especially Asian languages such as Chinese, Korean, Japanese and Indonesian/Malay, or Spanish and Portuguese. Even basic foreign language skills instantly enhance a resume for someone seeking a job.

"For companies that regularly deal with international clients," Careerealism.com says, "bilingualism is an extremely attractive trait in a candidate. Bilingualism also appeals to companies interested in entering new markets, which is becoming increasingly common in this age of start-ups."


Sources cited:

How Speaking a Second Language can Help Your Career: Careerealism


Related Thursday Review articles:

Maximum Wireless Merger: Sprint & T-Mobile; Thursday Review; February 15, 2014.