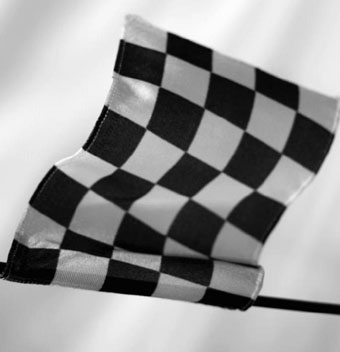 The Billion Dollar Business of Racing Cars
By Earl H. Perkins | published Wednesday, November 27, 2013 |
Thursday Review Associate Editor
It's probably not a good thing when I find myself defending Kyle Petty, but recently I almost felt sorry for him. Twitter has come along at just the right time for him. Justin Bieber, Katy Perry, Miley Cyrus, the Kardashians—they're all driving me nuts.

The world is suddenly infatuated with pompous idiots and the thoughts in their vacuous minds. Whatever conflagration of ideas they envision is immediately bloviated throughout the universe. Publicity is the only thing valued anymore, because it translates into fame and fortune. It seems as though millions of people suddenly have Tourette's Syndrome.

Petty climbed out of a stock car and onto a soapbox, and now he's being lambasted for his public opinions. He recently opined that Danica Patrick is a wonderful marketing machine, but just not much of a driver. You'd have thought he was beating up children for their Halloween candy, according to the Associated Press.

"Sometimes I find myself the lone dissenting voice in this sea of political correctness, and I don't think everything has to be politically correct," he said. "I don't think that any of us—me, the media, the drivers, NASCAR, track owners, we aren't all right all the time. We don't all live in a utopian society where everything is perfect. There are things that need to be examined, that need to be called out, and I seem to be the on only one that says it."

It's kind of unseemly to place your name in a direct quote, but I digress. Petty was born into stock-car royalty with his grandfather Lee (three-time champion) being one of the sports first superstars, and his father Richard was arguably the best driver of all time (seven-time champ and 200 NASCAR wins), certainly the most well-loved. Both are Hall of Fame members and Richard's cousin Dale Inman was the first crew chief voted in. Richard's brother Maurice will probably be inducted next year. All three would never have reached the pinnacle of their careers without the engines Maurice built. Kyle also has a strong following because his son, Adam, died in a crash at New Hampshire Motor Speedway in 2000. Adam's talent, drive and energy could have made him the best there ever was.

I've got to say Petty showed a lot of guts dissing Patrick, considering that his career was less than stellar. He paid his dues with 829 Sprint Cup starts in 30 seasons, but he just didn't seem to burn with desire. But at least he reads his press clippings. He received 250 tweets per hour the day following the Patrick comments, and he studied every one of them.

"After a full day, it was A. I have a ponytail; B. I'm a never was; C. I suck; D. I rode my dad's coattails—none of which is a valid argument. You can't just go junior high and go personal."

And then there's the flap over a heated debate between Petty and driver Denny Hamlin. Petty evidently heard secondhand that Hamlin claimed he was the face of Joe Gibbs Racing, which turned out to be incorrect. Hamlin actually said he was the face of Fed-Ex and the No. 11 team. Petty countered that Hamlin shouldn't have said that and he needed to quit the season and worry about rehabbing his ailing back. But at least Petty was man enough to apologize.

"If you are going to run your mouth, if you are going to dish it out, you gotta take it, and the bone of contention here is that Denny is 100 percent right," Petty said. "I can take it, I can say that I'm wrong and that I misinterpreted what Denny said."

NASCAR is a multi-billion dollar operation, and there are certainly more meaningful topics out there which Petty could research and publicize. I'd appreciate a nice, long story on the late Adam Petty. If Adam's father Kyle did some long and involved research on safety in all sports, not just auto racing, I think he'd increase his profile and possibly save lives. With his platform, this coverage could easily be dovetailed with football concussions and various other sports, possibly getting the world's attention.

Men have been addicted to fast cars since their invention, and Daytona Beach, Florida, was the place to set land speed records. Many agree that one of the most important records was set on the beach course at Ormond Beach in 1903, just north of Daytona, and the racing has never stopped. Bill France and his family moved there in the late 1940s with a mission—organizing stock-car racing. Back then the sport was primarily a group of hard-driving bootleggers who sought a legal way to drive fast cars and get paid. Men back then worked hard, and they partied even harder. And promoters in the South were famous for accepting gate money, then leaving town before the race finished. France, a few other businessmen and a fistful of drivers met at a Daytona motel in 1948 and formed the National Association for Stock Car Racing. He wrote the point system on a bar-room napkin, and his family has been in charge of the industry ever since.

NASCAR trails only the National Football League in terms of television ratings in professional sports franchises in the United States. The sport was built on the backs of dead people for half a century, and many say the primary cause was pursuit of the almighty dollar.

Despite a slight decline in TV ratings during 2011 and 2012, and the loss of a few big sponsors, NASCAR remains a cash machine, and a never-ending source of sought-after sports content for the major networks and cable companies. In 2012 Fox paid NASCAR a record $2.4 billion for its slice--the lions' share--of the auto racing goodies. Billions more flow into NASCAR from other networks as well. And the sponsorship value of the individual teams is staggering as well: according to Forbes magazine, four of the top teams (Hendrick Motosports; Earnhardt Ganassi Racing; Gibbs Racing; Richard Childress) have a combined value of over three quarters of a billion dollars.

Now there's the Sprint Cup, Nationwide Series, Camping World Truck Series, Canadian Tire Series, Toyota Series, Whelen Euroseries, Regional racing series and iRacing.com series. NASCAR generates approximately $3 billion in revenue annually. With that much money hitting your bank account each year, you would think they could hire several bright young people with fresh ideas to make the racing environment safer.

Petty had a mediocre driving career, eventually giving up on racing. He never really came across as one of them, whether it was a lack of talent and drive, or just being too well spoken. The Frances might not care for his attitude, but they understand that all publicity is good. Petty has used NASCAR as a platform to launch himself into a career as media spectacle. Think of him as the new PT Barnum, as opposed to Curtis Turner or Dick Trickle. Even if you're a fan, you probably don't even know who those guys are. Do yourself a favor and hunt down stories on their fascinating lives.

You don't hear about Turner, the Flock Brothers, Junior Johnson, Buddy Shuman, and these are the stories Petty should be talking about. The incredibly colorful characters who truly built the sport, race by race, but didn't fit into the history books. The powers that be decided you will be perfectly satisfied with neat, well-spoken and upwardly mobile folks who are photogenic.

Weatherly, Fireball Roberts—Daytona isn't the kind of place they put your name up on walls in the curves because you're a nice guy. You might remember NASCAR deaths in the last few decades because of massive television coverage—Dale Earnhardt, Kenny Irwin, Neil Bonnett, Gary Baston, Grant Adcox. The names go on and on, and some of these guys were already legends, but folks don't say much about them anymore—Tiny Lund, Cotton Priddy, Gwyn Staley, Bobby Myers. Now some of the tracks they died at aren't even on the circuit.

The sport has been such a large part of the world's entertainment for so long that spending money to make racing safer seems to be an attempt to stave off lawsuits. You can go look it up in the history books and on You Tube—Pierre Levegh and 83 spectators at Le Mans, Formula One's Ayrton Senn, Gilles Villenueve, Roland Ratzenberger and Bruce McLaren, Can am Champion Mark Donahue, Indy racer Eddie Sachs and NHRA's Scott Kalitta.

I don't have the answer, but it's certainly not continuing business as usual. The people in charge need to start making meaningful changes before they have to start renaming speedways for litigants.