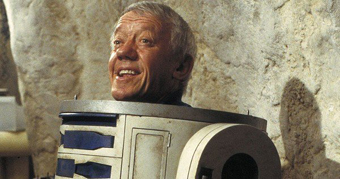 Image courtesy 20th Century Fox/Lucasfilm
Kenny Baker, R2-D2 Actor Dies
| published August 14, 2016 |
By Keith H. Roberts, Thursday Review contributor
The arguably smallest cast member of the iconic and hugely successful Star Wars films has died at the age of 81, only about a week prior to his 82nd birthday.

Kenny Baker, who played the role of the small, lovable and big-hearted robot R2-D2 in six movies, from 1977 to 2015, died this weekend in his home in Preston, Lancashire, England from complications from pneumonia after a long illness.

Baker stood just 3 feet 8 inches in height. Born to parents of average height in Birmingham, England in August of 1934, Baker was drawn toward show business at an early age after being invited by a stranger on a Hastings street to join a troupe of performers—dancers, actors, comedians, singers—made up mostly of dwarfs and midgets. Baker learned to ice skate and roller skate, and perfected a number of circus stunts. Baker also earned a modest living as an ice skater in a variety of ice shows in Britain and Europe. Later, teaming up with comedian Jack Purvis, he formed a comedy routine called the Minitones.

It was during one of these lively comedy routines when director George Lucas discovered Baker and invited him to join the cast of what Lucas hoped would be a success—the original Star Wars film (later rechristened Star Wars: Episode IV, A New Hope). Star Wars was indeed a hit: it earned more than $461 million in the U.S. and Canada between May 1977 and December 1977, making it the biggest money maker in Hollywood history, and not surpassed in income until E.T. 1982. In addition, the Star Wars franchise, which now includes eight films total, remains the highest grossing film series in history.

Kenny Baker's small part—literally, but also oversized in importance to the plot structure—played a key role in that huge success. Baker would reprise the role of R2-D2 five more times over a 38 years period.

Baker also appeared in more than 30 other movies and scores of television shows. Besides Star Wars, his film appearances include Amadeus, Time Bandits, Labyrinth, Willow, The Elephant Man, Flash Gordon, and the acclaimed BBC films series The Chronicles of Narnia.

Related Thursday Review articles:

Star Wars: The Force Awakens; Michael Bush; Thursday Review; December 26, 2015.

Star Wars: The Force Awakens; R. Alan Clanton; Thursday Review; January 8, 2016.