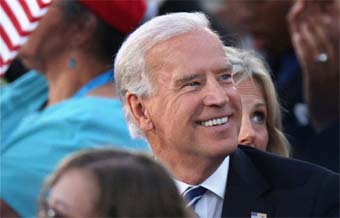 Image courtesy of Draft Biden 2016
Biden Considering 2020
Presidential Run
| published December 6, 2016 |
By Thursday Review staff writers
Yes, the next U.S. Presidential elections are just under four years away, but that doesn't mean it is too early for at least one high profile politician from testing the waters with blunt talk of a candidacy.

Vice-President Joe Biden, the Democrat who was frequently discussed as a possibly Presidential candidate in the run-up to the 2016 primaries and caucuses, told NBC News and other reporters that he will run in 2020.

Biden made the comments on Monday, but failed to elaborate on his plans other than to suggest that the timing would be right in three years, when the next cycle will be going full swing. When reporters nudged Biden—wary perhaps that Biden may have been joking to those journalists present—to be more specific about his intentions, he seemed momentarily certain.

"Yeah, I am," he said of the possibility that he would enter the Democratic race sometime in 2019, "I am going to run in 2020." But Biden also added an important caveat.

"I learned a long time ago," Biden added, "that fate has a strange way of intervening," a reference, most agree, to the death of his son Beau in 2014, an event which gave him pause to enter the contest in late 2015, when talk of a Biden candidacy was at its fever pitch. At the time, Biden said he was emotionally unprepared for the task of running for president.

Biden would be 76 years old at the time he would likely enter the presidential race in 2019 (for the 2020 elections), and if elected he would be 77, making him by far the oldest person ever to hold the highest office in the U.S.

Talk of a possible Biden run began in earnest in mid-2015 after scandals regarding former Secretary of State Hillary Clinton's use of email accounts and a private server began to gain traction in the media.

Related Thursday Review articles:

Biden Says No to 2016 Candidacy; R. Alan Clanton; Thursday Review; October 21, 2016.

Trump's Huge Win: How the Pundits and Pollsters Go it Wrong; R. Alan Clanton; Thursday Review; November 11, 2016.