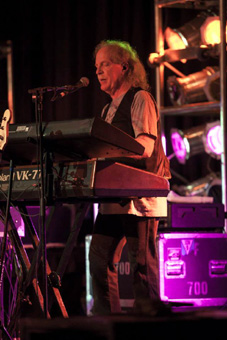 Image courtesy Three Dog Night
Jimmy Greenspoon, Rest in Peace
| published March 13, 2015 |
By Thursday Review staff


A key member of the classic rock band Three Dog Night passed away this week—succumbing to skin cancer at his home in North Potomac, Maryland.

Jimmy Greenspoon was one of those people born into show business.

His mother was the silent screen actress Mary O'Brien, who starred in hundreds of silent movies, including some in which she performed alongside Buster Keaton. Jimmy grew up in Beverly Hills, took classical piano lessons as early as age seven, and counted among his high school classmates Richard Dreyfuss and Bonnie Franklin. One of his best buddies in his youth was Michael Lloyd, who would later become an award-winning composer, songwriter, arranger, and producer.

Greenspoon hung around the most famous of the early 1960s rock and roll music clubs in Los Angeles: The Whiskey, Stratford on Sunset, The Trip, Ciro's.

By the time he was an older teen, he was already moving in serious music circles. At the tender age of 16, he and Lloyd were writing and performing with a surfer band called The New Dimensions. It was the beginning of a prodigious life of songwriting, singing, performing, and serious hit-making. Though he had worked with—either on stage or in the studio—alongside America, Eric Clapton, The Beach Boys, Leon Russell, Linda Ronstadt and scores of others, it was his 40 year stint with Three Dog Night that made him into a rock and roll legend.

He joined the group, as a sort of founding member, in 1968, not long after he bumped into Danny Hutton. They became best friends. Adding vocalists Corey Wells and Chuck Negron, and later rounding out the lineup with Floyd Sneed on drums, Joe Schermie on bass, and Mike Allsup on guitar, the musical team quickly became one of an elite school of group bands rightfully deserving of the label supergroup.

Three Dog Night achieved enormous success, creating at least 21 Billboard Top 40 hits in less than a decade—almost as many as were crafted by The Rolling Stones or The Eagles. Among their biggest hits were "Joy to the World," "Out in the Country," Mama Told Me (Not To Come)," and "An Old Fashioned Love Song." Though Greenspoon was one of the band's principal writers, many of Three Dog Night's biggest hits came by way of the writing skills of people like Paul Williams, Randy Newman, and Hoyt Axton. The band was known for their rich and harmonious recrafting of others works, often with great success.

Greenspoon served as a writer, vocalist, keyboardist, and often as musical shepherd for the band, remaining with it through personnel changes and the deaths of other members. His own back-up vocals can be heard on numerous songs, as his keyboard work was a staple of the band's remarkable and diverse sound for decades.

Danny Hutton told reporters that the band's sound would not have been possible without Greenspoon's work and thumbprint.

"He was like a brother to me," Hutton said via his publicist, "…he was my oldest friend in the band. Also, Jimmy was a critical part of our early history , bringing a sound to the band that helped develop our style; he left an indelible mark."

Three Dog Night co-founder Cory Wells—one of the group's lead singers—said that Greenspoon's love of music, and his classical training, was part of what fueled the band's creative energies.

"Jimmy cared so much about excellence in the music," Wells told reporters, "and always made sure we had what we needed on stage and in the recording studio."

Aside from his keyboard performances and other instruments, Greenspoon's backing vocals can be heard on many Three Dog Night songs, including two of the group's biggest hits, "Never Been to Spain," and "Black and White."

Three Dog Night was one of Dunhill Records biggest acts. In the seven or eight years between embracing the group's name in 1968 (they were originally known as Redwood) and the middle 1970s, they produced 12 albums that went "gold," meaning the album sold at least half a million units. Most of those albums went gold within the first year, and music historians and critics say it was the band's magical abilities with vocals, harmonies, and lively arrangements that made that happen.

In the early days the group sold almost as many 45 rpm singles as any of the top British bands—The Beatles, The Rolling Stones, Elton John—while also easily outselling the majority of their American counterparts. Only The Eagles would maintain supremacy in both categories, and only later in the 70s. In fact, in the five year span from 1969 to 1974, Three Dog Night achieved more Top Ten hits than any other rock group, and according to the band's website, 3DN sold more concert tickets than anyone else as well.

Greenspoon died at home after a long battle with melanoma.

Related Thursday Review articles:

Rock's Most Impressive Saxophone; R. Alan Clanton; Thursday Review; December 3, 2014.

Joe Cocker Dies at 70; R. Alan Clanton; Thursday Review; December 24, 2014.