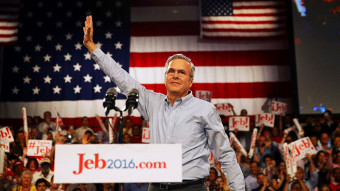 Photo courtesy of Right to Rise.
Is South Carolina Jeb Bush's
Last Stand?
| published February 20, 2016 |
By R. Alan Clanton, Thursday Review editor
The road has been tough and challenging for Jeb Bush since the start of 2015.

Thirteen months ago, the former Florida Governor was the Republican Party's de facto front-runner, and the very face of the party's brand—a conservative with a background in reform politics and a resume which showed his ability to work with Democrats and liberals in his beloved Sunshine State.

Bush entered the crowded GOP field (some say too late to scare off additional competitors) with a last name that carried substantial weight among Republicans (but also reticence), and he did so with a fundraising machine already primed to exceed those of all other candidates combined. His PAC, Right to Rise, quickly began to rake in millions of dollars, and within weeks polling showed Bush was at the top of that crowded slate, in some polls tied with Wisconsin Governor Scott Walker, Bush's closest presumptive rival.

But his stint at the top of the top tier ended abruptly in the days following the announcement by billionaire Donald Trump that he, too, was entering the Republican race. Trump shattered the template, and smashed all expectations about how the GOP works and thinks. Trump also sparked arguably the biggest voter backlash against "establishment" and "traditional" politicians since the arrival of Ross Perot in 1992, and some would argue since the emergence of George Wallace decades earlier.

Since then, Bush has struggled to remain relevant in polling which has been ruthless in its effects, pushing the former governor from the mid-20s, down into the teens, then eventually into single digits, where he was often happy—on the surface at least—to stay a notch or two above the other single digit warriors. Bush's meager showing in Iowa actually revealed a slight bounce, landing him somewhat above the others in the complex fray, ahead of New Jersey Governor Chris Christie, former HP CEO Carly Fiorina, and former Arkansas Governor Mike Huckabee. Texas Senator Ted Cruz was the big winner that night, with the other surprise being Marco Rubio's strong third place finish, which was within one point of Trump.

Bush hauled-in a meager 2.8% and a single delegate in Iowa, but that was enough for him to fight another day. In New Hampshire, he pulled in a stronger 11%, much better than had been expected and a respectable fourth place half of a point behind Cruz. Trump re-solidified his role as front-runner, and instead of Cruz being the surprise, it was Ohio's John Kasich, who pulled-in a remarkable 16% and landed in a solid second place.

But the mathematical good news for Bush was also bad news. Kasich, with that robust second place win in the Granite State, may have shifted the prevailing belief that it would be Bush or Rubio who would eventually form the magnetic center of the party's conflicted voters. Some experts had warned us all along that it was Kasich who was the party's true stalking horse for the heart of the party, and indeed—for Bush—it meant that some potential followers would perhaps inevitably shop for an alternative among the anti-Trump candidates. Worse, Bush's ability to leverage support away from Rubio has produced mixed results. Some of Bush's gains in New Hampshire came as a direct result of Rubio's famously poor debate performance only days before the primary commenced.

South Carolina thus became Bush's firewall, now some say his Alamo. The Palmetto State has always been Bush country, good to both Bush's father, George H.W. Bush in 1988, and again to brother George W. Bush in 2000, when Bush fought a bitter battle with rivals John McCain and Alan Keyes. That primary was noted for its relentlessly negative ads, a benchmark which some have said skewed the tenor and tone of primary campaign advertising for the next decade or more; indeed, South Carolinians have seen some of the most negative ads ever during the past weeks (including ads so negative candidates are threatening to sue one another in court).

But this year Trump's dominance in the polls has made in effectively impossible for Jeb Bush to gain the higher ground, or to convince conflicted primary voters to give his candidacy a fresh look. South Carolina may become his last stand, as reports continue to circulate within media circles that his campaign is running frightfully low on cash.

The rumors began early in the week, and despite pushback by Bush and his campaign spokespersons, including disclosures and revelations about cash-on-hand and spending (all of which seemed solid), talk has persisted that if Bush does not perform well in South Carolina—meaning perhaps at least a respectable third place—he may be forced to take stock no later than Monday of next week. Bush has told reporters that such talk is nonsense, and that he intends to soldier on. And several Bush campaign spokespersons and surrogates have placed the blame for those rumors squarely on other candidates—especially Rubio, whose own press people have been blamed for scripting the chatter of a Bush meltdown, and who have been the most eager to circulate the news.

Bush supporters worry that such loose, unfounded talk has repercussions—even when it is patently false—since the GOP has already seen what can happen when misinformation gets into the hands of voters in the hours before voting commences. Bad blood still exists between Cruz and Carson after Iowa, when it is alleged that Cruz operatives spread deliberately fake reports of Carson's imminent withdrawal from the race. Phone calls were made, text messages sent, and posts spread on social media—all touting the "news" that Carson was returning to Florida and would announce his campaign's suspension within days. Untold hundreds, perhaps even thousands, of caucus-goers may have switched their allegiance at the last moment, voting for Cruz instead of Carson, and giving Cruz what may have been a pivotal last-minute surge past front-runner Trump.

Bush has fought intensely to avoid that same trap, even as he maintains his game face in South Carolina. His cash numbers look good, but what may be more critical is the fact that some of his new giving has dried up almost completely. A campaign without cash is not likely to travel very far, and Super Tuesday requires a campaign staff and advertising spread out over entirely too many states and TV markets to make it possible to create a firewall there—at least not without many millions in the war chest and lots of momentum.

If Bush lands below third in South Carolina, it could be a matter of days before his cash flow begins to hit bottom—or, so those conflicting reports indicate. Bush has tried to shrug those rumors off, then, by late Thursday and early Friday, was getting visibly irritated by what he feels is baseless talk and meaningless chatter. Bush says he has the cash to keep going, and the stamina to boot.

His hopes in South Carolina were buoyed by support from family members, including brother George W and mother Barbara, both of whom are extremely popular in the state. But Bush lost the support of one potential key ally this week when Governor Nikki Haley chose to endorse Rubio over Bush. And Bush's Super PAC has unloaded a trove of cash in the Palmetto State, some $13 million on television and radio, almost all of it packed into the last 21 days. Conversely, Bush received te support of South Carolina Senator Lindsey Graham, who called Bush "the best guy for the times in which we live."

Bush's hope: polls have taken a serious beating since the start of 2015; maybe he can pull of a surprise in South Carolina after all.

In reality, the polling organizations have suffered mightily through much of 2015 and even more in 2016. GOP front-runner Trump, and quasi-socialist Democrat Bernie Sanders, have each shown that anger and frustration runs high among voters—of all ages, all colors, all educational and economic backgrounds. The angst and anger is so high, and the uncertainty levels so…well, uncertain…that it has spawned arguably the most fluid and unpredictable election years in generations, and has a made a mockery of the once-impregnable metric fortress known as scientific polling.

Speaking to supporters and visitors at a rally in Rock Hill, South Carolina on Thursday, he asked that potential GOP primary voters give him a closer look, and implored them to ignore the rumors of meltdown. He also said he can still win the nomination, though it will be a long fight.

"I hope that you believe that it's possible for us to do this," he said, "I hope you don't really think the end is near."

Related Thursday Review articles:

Question of Cruz Eligibility to be Heard in Chicago Court; Keith H. Roberts; Thursday Review; February 19, 2016.

Republican Candidates Engage in Explosive Debate; R. Alan Clanton; Thursday Review; February 14, 2016.