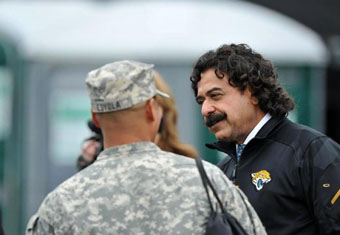 Shad Kahn at a recent Jaguars practice at which active duty military personnel were invited and honored;
photo courtesy of Jacksonville Jaguars.
First Rate Car Parts, Last Place Team
By Earl H. Perkins | published Monday, November 18, 2013 |
Thursday Review Associate Editor
Until the last few weeks of their 2013 season, the Jacksonville Jaguars were on one of the worst runs in NFL history, and their owner, the smiling man with the dapper suit and the handlebar mustache, is not the sort of fellow used to being in last place. At least not in the last few years.

Shahid "Shad" Khan came to the United States from Pakistan at age 16 to attend the University of Illinois at Urbana-Champaign, spending $2 his first night to stay at the university YMCA.

He had $500 to his name and his first job paid $1.20 an hour washing dishes, but his lot has improved considerably in the interim. Wikipedia lists his net worth at $3.8 billion, give or take a dollar or two, and in 2012 Forbes magazine ranked him as the 163rd among U.S. billionaires . He owns auto parts supplier Flex-N-Gate, the Jacksonville Jaguars National Football League team and Fulham FC (a British soccer team) in the European Premier League. He also co-owns a bio-diesel firm with a Beta Theta Pi fraternity brother he's known for 40 years.

Khan joined the fraternity while at Illinois, forcing himself to get out, blend in and meet people. He attended Fighting Illini games and soon became a huge football fan. And then there was the girl, according to a 2012 Sporting News article.

Many students hung out at the Wit's End, a bar located near the campus, and a pretty, young blonde was playing on a pinball machine. Although the two young people had mutual friends, they had not yet been introduced.

"You're waiting for an introduction, you're doomed," he said.

Those words pretty much sum up Khan's approach to life. He introduced himself to Ann Carlson, they eventually married and now have two grown children. Tony is a bio-diesel executive, along with working for the Jaguars in analytics, and Shanna is district aide for a congressman.

Right before Khan's 20th birthday in the summer of 1970, he was going door to door looking for a job. One day he took a job in the morning as manager of a sit-down ice cream restaurant. What young guy wouldn't be thrilled hanging around pretty young women and eating all the ice cream you could want?

Then he received another offer later that day. He called the shop owner back, telling her he was taking the other job. He came to this country to become an engineer, and this was the opportunity of a lifetime.

Flex-N-Gate was a "hole in the wall," and Khan would be working in an environment with welding sparks everywhere—not a very glamorous job.

"Whenever I've gotten to a fork in the road, the hard way, for me, has almost always been the right way," he said.

After graduating from Illinois in 1971, he became the company's engineering director, purchasing the company quite a few years later. He would go on to design a special bumper with anti-rust welds, which was initially rejected by the big three in Detroit. Several years later, Flex-N-Gate would receive General Motors' Supplier of the Year Award. Southeast Toyota of Jacksonville gave Khan his big break when he was in his 30's. The company representatives were impressed with the snappy dresser and his handlebar mustache, but especially with Khan's design background and ability to deliver a workable product in a timely manner, according to the Florida Times-Union.

Southeast purchased thousands of bumpers through Flex-N-Gate during the mid-'80s and early '90's, bringing his story full circle. Less than two miles down Talleyrand Avenue from the port where Khan installed bumpers for Toyota, he now sits in his office at Everbank Field. Khan's bumper business generates approximately $3 billion a year in sales, which afforded him the opportunity to purchase the Jaguars for $770 million in December, 2011.

But the Jaguars—in their past life a perennial favorite for playoffs and wild card status—have fallen on hard times, and this season it looked like they might finish winless. The team had dropped 13 consecutive games, including the final five last season—50 consecutive weeks of not winning. Then along came the Tennessee Titans, whom the Jaguars finally beat on the road at Nashville 29-27.

The team's outlook in the near future is also not very bright. The Jaguars lack depth at almost every position, and quarterback is probably their most glaring weakness. The new general manager and coach didn't have much to work with, and the new players have gotten off to a rocky start.

Most teams in the league must draft well, retain a good core of players and not overpay for talent. It also helps if you can avoid drug and alcohol problems, which has been an Achilles heel for Jacksonville for quite a while. Their only hope is the draft, but there's a fair chance it's going to take two to five years to develop a quarterback, and retaining a strong offensive line is a must. Overpaying for somebody else's rejects is probably a risky option, and the defense is steadily getting beaten. Most of the players who looked promising have been cut, traded, injured, or removed from service through failed drug and alcohol tests. It also helps if your players don't set out to deliberately irritate the police.

However, Khan has his sights set on a much larger picture. His purchase of Fulham FC, combined with signing a four-year contract to host a Jaguars' home game in London, has NFL Commissioner Roger Goodell dancing in the streets. Fulham's only EPL match on this season's schedule was broadcast to 160 countries and 400 million rabid soccer fans.

The NFL, Khan and Jacksonville could see more exposure than just about anything else this country has to offer in a positive light. And think of all the goodwill and money that would generate. And it beats going to war to get out of debt.