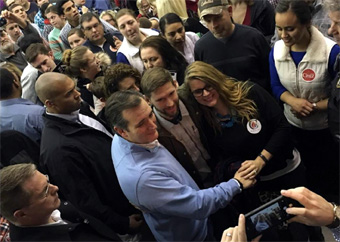 Image courtesy of Ted Cruz for President
Iowa: The Art of Raising Lowering Expectations
| published January 31, 2016 |
By Thursday Review editors and staff
Businessman Donald Trump has had a good week, at least by the now strange and surreal standards within the Republican race for President. With the start of the Iowa caucuses now only hours away, Trump still leads in several major polls, though other polls show Trump in a close race with Texas Senator Ted Cruz, for the moment his closest rival for the GOP nomination.

All other Republican candidates, including Florida Senator Marco Rubio, former Florida Governor Jeb Bush, retired neurosurgeon and author Dr. Ben Carson, New Jersey Governor Chris Christie, and Ohio Governor John Kasich, are locked in a complex battle for third and fourth place in the Hawkeye State, which holds its first-in-the-country test of candidate strength starting early Monday.

In Iowa, the race has come down to expectations over the size of Trump's win as compared to how close Cruz places behind him.

Trump skipped last week's Republican debate—angry that Fox News refused to remove correspondent and anchor Megyn Kelly from the line-up of moderators on stage in Des Moines. Trump instead held his own mega media event across town in the Iowa capital, and though his event was hastily organized and according to most critics low on surprises or content, he managed to siphon off millions of TV viewers who might have otherwise tuned-in to Fox News for the Big Show.

Only the days ago, Cruz had closed the distance with Trump so quickly that Iowa had become a virtual dead heat, with Marco Rubio pulling in a distant third place. But that was before Trump recrafted his stump speech to include lots of broadsides against Cruz, including calling into question Cruz's eligibility to run for President, and Cruz's likeability (or lack thereof) in the Senate and in Washington.

Despite dozens of hard-hitting barbs aimed at Cruz, the Texas Senator has generally avoided taking the bait by responding to Trump's insults and jabs. Cruz has also been seeking to relax expectations about his final tally in Iowa, a typical move by candidates who want to control the post-caucus narrative—win or lose—but also in recognition of the fact that there are scores of states on the calendar and the primary season is merely at its start. Some political insiders are suggesting that the buzz from within the Cruz camp is that the nomination fight could take many months to reach its conclusion. Iowa is but the first of many steps.

For Trump, the stakes may be higher than he is letting on to reporters and analysts. A loss for Trump in Iowa, so the thinking goes, could reveal a weak hold by the businessman on the heart and soul of the average GOP voter. Trump told NBC News that he wasn't worried about winning or losing in Iowa, suggesting a win there would be important, but not the be-all and end-all of his campaign. Cruz is also attempting to lower expectations, pointing out that only months ago he was still stuck in the middle of the pack of candidates in terms of polling, and is now being described as Trump's chief rival.

Trump has been sniping at Cruz for days now, on Saturday calling the Texas Senator "an anchor baby," a generally derogatory term sometimes used to describe a situation in which a person travels into the United States to give birth on U.S. soil, thus making the child a U.S. citizen. The concept is also called "birth tourism" or "birth traveling."

"Ted Cruz may not be a U.S. citizen, right? But he's an anchor baby," Trump told an audience at a rally in Nashua, New Hampshire. "No, Ted Cruz is an anchor baby in Canada. But Canada doesn't accept anchor babies."

Legal scholars are not in agreement over what the U.S. constitution defines as citizenship. Cruz was born in Calgary, Canada to an American mother and a Cuban-American father who were both working as contractors at the time. Cruz has secured the opinions of several legal experts who feel that he meets the criteria set forth within the constitution of citizenship, though clearly Trump does not share that belief.

The campaign teams for both Cruz and Trump hope to pull off the unexpected in Iowa. A larger-then-expected win by Trump could propel him easily through the next series of primary and caucus contests. A better-then-expected second place finish by Cruz—or a win, however narrow—might quickly convert undecided GOP voters in upcoming primary states to consider Cruz the only viable anti-Trump. Likewise, a strong third place finish by Rubio, Bush, Kasich or any other candidate, will favorably position those campaigns to take advantage of a coalescing of the "establishment" vote. For several candidates, Iowa may result in rapid marginalization. Poor showings could have the effect of drying up cash and resources, making campaigning in more states too costly to be effective. Bush in particular must show he can go the distance in the crowded field.

Trump also got a bit of good news in a pending case in Virginia, where the state GOP has dropped its efforts to require all voters in the state's primary sign a so-called "loyalty pledge," wherein the voter agrees to the phrase "I am a Republican." Virginia is one of several states which have what is known as an "open primary" in which voters can choose—at the time of the voting—which party's selection process in which to vote. Virginia's GOP was hoping to blunt Trump's primary impact in that state by limiting voting to only those with a traditional pattern of voting for Republicans—an effort to blunt crossover voting. Trump and his supporters complained that the move, if implemented, would disavow the preferences of independent and third party voters, as well as the preferences of some Democrats who might be leaning toward Trump.

The move by the state's Republican Party was seen as something of a victory for Trump, who hopes to counter "establishment" GOP voters in some states by attracting independent voters and those registered with third parties. Trump was also seeking to attract younger voters, some of whom have not yet registered to vote and may not have formed a loyalty to any party.

Related Thursday Review articles:

New York Times Endorses Kasich, Clinton; Thursday Review editors; Thursday Review; January 30, 2016.