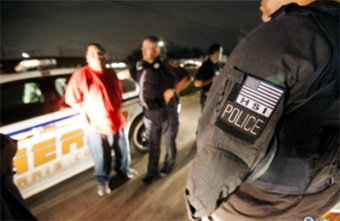 Homeland Security agents question a detainee in Houston, TX/
photo ICE agents
ICE Agents Arrest More Than 1,000
| published March 28, 2016 |
By Keith H. Roberts, Thursday Review contributor
According to officials with the U.S. Immigration and Customs Enforcement Agency (ICE), a division of the Department of Homeland Security, an intensive five-week operation has led to the arrests of 1,133 individuals suspected of gang involvement or organized crime activities, including narcotics and drug smuggling, human trafficking, sex slavery, racketeering, and the illegal sale and distribution of weapons.

Project Shadowfire, as the operation was called, began in earnest in early February and concluded last week, according to officials with ICE. Among those arrested in the program were members of various street gangs—Bloods, Nortenos, Surenos, MS-13, and several prison-related gangs.

Though the operation covered nearly every state in the U.S., the majority of the arrests took place in Los Angeles—and its surrounding communities—Atlanta, Houston, El Paso, and San Juan, Puerto Rico. Of those 1,133 arrests, more than 900 were individuals with direct connections to gangs operating in scores of U.S. cities and towns. Though more than 1,000 of those arrested were charged with serious crimes, 132 of the arrests were of the "administrative" kind, which is to say immigration violations.

Along with the arrests came the confiscation of the tools-of-the-trade in gangland violence and operations: weapons, drugs, and $70,000 in cash. At least 150 weapons were seized in the raids and arrests.

Though many of those arrested were U.S. citizens, at least 239 were foreign nationals—many from Central and South America, but some from Asia, Europe and the Caribbean region.

ICE and Homeland Security officials say that the operation was conducted with the assistance of state and local police departments, as well as with the cooperation of several federal agencies.

Related Thursday Review articles:

Is Drone Program on Border Wasting Millions?; R. Alan Clanton; Thursday Review; January 13, 2015.

Major Drug Cartel Tunnel Found Near San Diego; R. Alan Clanton; Thursday Review; October 23, 2015.