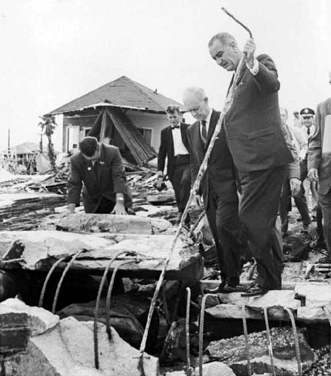 President Lyndon Johnson and Florida Governor Farris Bryant
examine hurricane damage in 1964;
Photo courtesy Associated Press/Jacksonville.com
"Jacksonville Doesn't Get Hurricanes": Remembering Dora, September 1964
| published September 8, 2014 |
By Kevin Robbie
Thursday Review contributor

I have many memories related to growing up as a child in Jacksonville. Because of my age and Baby Boomer status, I am, of course, referring to pre-consolidation, pre-Jaguars Jacksonville. "River City," then, as now, occupies the northeast corner of Florida between Saint Augustine and the border of Georgia, where the mouth of the St. Johns River meets the Atlantic Ocean.

Jacksonville's history, character and identity have been shaped by its geography, specifically, its relationship to water. The city's location on the Atlantic Ocean coast has been a draw for tourists and locals who flock to the beaches in the summer. Jax, as locals sometimes abbreviate it, is also a port city with the St. Johns River flowing through its middle and making it an important conduit for shipping in the area. In addition, the U.S. Navy has had an important presence in Jacksonville for many years because of its location and proximity to water. Up through the 1970's, the Jacksonville Shipyards were located on the river and the company was one of the city's biggest employers.

Some of my own earliest memories also involve water. I can remember sitting in the back of the family car with my brother as we rode over one of the city's bridges en route to another part of town. I could always see the river underneath the bridge and thinking how big it looked and watching it flow lazily into the horizon. We never took many trips to the beach as a family but I can also recall going occasionally to Jacksonville Beach and my father driving right up onto the sand. The ocean looked immense and seemed to stretch forever. But, being a little kid, I never gave the river or the ocean a lot of thought. They were just there.

There's an old expression in Jacksonville, "Jacksonville doesn't get hurricanes," which I remember hearing as a small child, not realizing what people meant by the word "hurricane." That changed in September, 1964, when a one-time visitor to northeast Florida made a distinct impression on me. The visitor's name was Dora, and she hit the state bringing water and wind the likes of which Jacksonville had never seen before. In fact, Dora was the first hurricane to make direct landfall in northeast Florida since 1880. According to the National Hurricane Center, 40% of all hurricanes that arrive in the United States hit Florida. Yet, Dora is unique as the only hurricane to directly hit Jacksonville and make landfall in extreme northeast Florida in the twentieth century. She also hit the coast at an almost perfect perpendicular angle, a rarity for a hurricane.

At this time, my father worked at WJXT, Channel 4, what was then (and for decades) Jacksonville's CBS affiliate. In the few days leading up to Dora reaching Florida, I can remember my dad talking about a hurricane that was being tracked over the Atlantic Ocean. He was telling my mother and brother that no one was sure what the storm would do but it was expected to veer away from northeast Florida. Dora was officially "born" on August 28, 1964, as a broad low pressure area off the west coast of Africa.

As of September 1, Dora, under observation by aircraft and a TIROS satellite (television infrared observation satellite), was upgraded to a tropical storm with sustained winds of sixty miles per hour. The following day, Dora reached hurricane status, and would have been classified a category 2 on the Saffir-Simpson hurricane scale. The scale was developed in 1971 by engineer Herb Saffir and meteorologist Bob Simpson to measure the intensity of tropical cyclones stronger than tropical depressions and tropical storms.

Most meteorologists were expecting Dora to miss Florida altogether. They were predicting that she would be steered toward the open ocean by a trough associated with Hurricane Cleo. A trough is defined as an elongated region of low atmospheric pressure, typically associated with weather fronts. However, Dora did the unexpected and missed the trough altogether. Despite a widespread belief among many hurricane-watchers, one meteorologist in Jacksonville, George Winterling, accurately predicted that Dora would maintain a direct course to Jacksonville. On September 6, she headed west and intensified, achieving sustained winds of 135 mph. Those winds would have rated her as a category 4 storm on the Saffir-Simpson scale.

As Dora continued on a westward trajectory, she was described as a fat and lazy storm, meandering around the western Atlantic while growing bigger. Her movement became erratic. As late as September 9, the storm made three loops, keeping forecasters off balance. It seemed as if Dora had a mind of her own and couldn't decide where to go next. At the same time, Dora slowed down slightly, as if she had downshifted gears. At 1:00 p.m., on the 9th, the U.S. Weather Bureau pinpointed Dora 65 miles east of St. Augustine. Hurricane warnings were then posted from Vero Beach, Florida, north to Charleston, South Carolina. At 11:00 p.m., Dora was 10 miles from St. Augustine. Northeast Florida was now the bullseye of a hurricane. The Matanzas River began overflowing its banks and flooding nearby streets with up to 3' of water. Tides in the area and in Jacksonville were being recorded as 10 feet higher than normal.

Dora made landfall 6 miles north of St. Augustine at approximately 12:20 a.m., on September 10. Her sustained winds were clocked at 125 mph. At 7:48 p.m. on the 9th, winds of up to 82 mph were recorded at the Weather Bureau Station at Jacksonville's airport. Those were the first hurricane force winds observed in the area since the weather bureau was established.

The beaches of St. Augustine were experiencing waves of 20 feet. People later reported scores of roaches and lizards in their homes and yards, scurrying up walls en mass, apparently trying to escape the rising waters. Dora destroyed three piers in the city and completely knocked out its electricity.

After her bashing of St. Augustine, Dora crept up the coast and then inland at 7 mph, crossing into Jacksonville before dawn. By that time, my father had been required to report to work at WJXT. He had made arrangements for my brother, my mother and me to stay with our next door neighbors, who were glad to oblige. Jacksonville was already feeling the effects of the wind and rain and our neighbors had stocked their house with food, water and other essentials and they had enough for us as well. I remember not being too frightened until the power went out and then I began clinging to my brother as he tried keeping a battery powered radio tuned, without much luck. All we could really do was sit and listen to the high-pitched winds and the rain battering the windows of the house. At one point, our neighbor stepped onto his porch to quickly retrieve something and my brother followed him. A huge wind gust came up at that moment and through a window I could see the two of them grabbing onto the steel pole which held up the porch overhang. They were okay but came into the house drenched. My brother said he "wanted to see what Dora looks like." My mother, more frightened than angry, told him "If you want to see what the hurricane looks like, do it from inside the house."

Over the next several hours, Dora dumped over six inches of rain on Jacksonville, including seven inches downtown where the river flowed between bulkheads and tall buildings. Many parking lots on the river bank were flooded. A newly constructed boardwalk and the Ferris wheel at Jacksonville Beach were demolished, and several houses washed into the sea. Flooding in the beaches and in areas close to the river was significant and stranded people in their homes. Trees were uprooted, windows were shattered and signs scattered. Dora left $250 million worth of damage in northeast Florida. But, she wasn't done.

The storm continued west into the Florida panhandle. The highest rainfall amount was recorded in Mayo, ninety miles from Jacksonville, inundating the town with 24 inches of rain. By the 11th, Dora was as far as Tallahassee. Then, she made an unusual move, a sort of U-turn. She headed back in the direction of Jacksonville but then made an arc and moved into southeastern Georgia at 8:00 a.m. on the 12th. By this time, Dora was weakening and her winds had fallen below hurricane strength. Twenty-four hours later, Dora re-entered the Atlantic Ocean off the coast of South Carolina, eventually dissipating over the warm waters that had spawned her.

Most of Jacksonville was without power for six days in addition to the physical damage already described. Other areas were without power even longer, especially where towering pines oaks or massive old oak trees had fallen. Standing water would remain a persistent problem in many neighborhoods for weeks. President Lyndon Johnson came to town, declared the city a disaster area, and released federal funds for the city's recovery. Five fatalities were recorded as a result of the storm. However, the spirit of the city wasn't destroyed—in the aftermath of Dora, over 20,000 screaming fans went to the Gator Bowl football stadium to attend a concert by a wildly popular new band called the Beatles.

I don't care to see the likes of her again, and I've often wondered about any significance in the fact that Hurricane Dora is the earliest memory I have of my childhood. Did it leave a lasting imprint on me? I wondered the same thing in 1992, when I experienced Hurricane Andrew while living in Miami. It stirred up old memories of Dora. Even though she was a violent force of nature, a literal storm in my life, I can now look back on Dora with a sense of having lived through a unique event that no longer frightens me. So, Jacksonville doesn't get hurricanes?