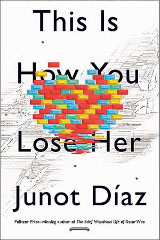 This is How You Lose Her; Junot Diaz
Book review by Kristy Webster | published Monday, October 1, 2013 |
Thursday Review Contributing Writer

Junot Diaz is the Pulitzer Prize-winning author of The Brief Wondrous Life of Oscar Wao. His latest novel This is How You Lose Her, however, is my first voyage into this great author's mind. Told in a series of short stories all centered around Yunior, the youngest son of a Dominican Republic immigrants, it makes for a kaleidoscopic view of the immigrant experience, the gritty realism of coming of age in America and the transcendent power of literature and knowledge.

Diaz's voice is a powerful force-raw, brutal, raunchy, street-smart and scathingly poetic. His story, Yunior's story, is beyond compelling, delving into a culture perhaps unfamiliar to many readers, it's a revealing portrait of a family acclimating to a new world, while maintaining the spirit of their roots.

Yunior is a flawed but richly developed character, whose struggle to overcome the tradition of infidelity modeled by both his father and older brother, lead to inevitable heartache but also self revelation. Yunior's love of literature as well as his gift for writing serve as an anchor as he grapples with his inner demons as well as family tragedy.

Diaz hooks the reader in no time with his biting even crass observations. If you want an electrifying literary experience, look no further.