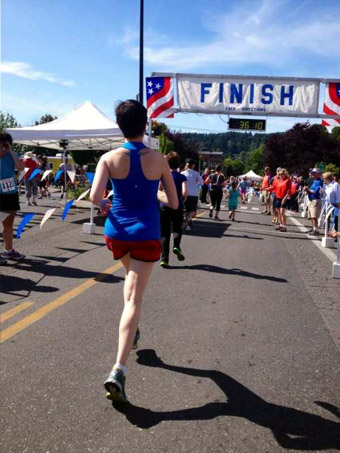 How to Become a Runner
| published Sept. 14, 2014 |
By Sarah Herrin
Thursday Review contributor

At only nine months in, I am still a newbie, but running has improved my life in numerous ways. It's changed the way I feel about myself and my limits, the way I feel about my community, and the way I enjoy the neighborhood I live in. Like countless others, I began running in January as a New Year's Resolution to inject some cardio into my life. Having just turned 30 and finding that yoga was not quite enough, I had extra motivation. Luckily, I discovered I was surrounded by other runners – friends and family whose secret hobby I'd never known—and received sound advice to try out the Couch to 5k app. Being a beginner and not at all brave enough to run outdoors, I signed up at a gym and began my training on the infamous Dreadmill.

Predictably perhaps, at first, running even a mile was a challenge, but the app made it easy to learn and I found myself progressing quickly. Motivation came from within, the wish to improve my health, and from the fact that, hey, I might actually be enjoying this. Friends and fellow runners encouraged me and the app allowed me to post my progress online to keep me honest.

Three months later, Spring had arrived and it was time to take my trainers outside. Despite the fact that the app said I was ready to run 5k without walking, it was not easy. I found out very quickly that running on solid ground was not the same as running on a moving treadmill. I took walk breaks as often as I needed them and slowly, I continued to make progress. As a side note, I must mention that a huge burst of motivation came from my friend Amy in Hawaii who mailed me an entire box full of her old Lululemon clothes. It was like putting on a uniform—a super cute uniform that made me feel good about my body—and it forced me to get out there and get going. Pretty soon, I found myself looking forward to the next run day and was actually integrating it into my schedule just like anything else that held priority. By July 4th, I was ready to run my first 5k: the Bainbridge Island (near Seattle, WA) 4th of July Fun Run.

On the morning of the 5k, as my partner (who just happened to be an Ironman) and I walked down to the park, I was wondering if I was going to get nervous. Thanks to my six months of training, I already knew I could do this. I had eaten a normal small breakfast of yogurt and a little coffee, drank some water, and done my morning yoga. I was ready. As we arrived at the starting line, hundreds of people in festive red, white, and blue, were stretching, warming up, and chatting excitedly with friends. I found my cousin and her husband (both also Ironmen) and the energy from the crowd was palpable.

We took off! One of the most important things to remember in a race is to keep your pace. With all the excitement around, I wanted to sprint along with the forerunners, but I would have burned out quickly like so many others.

Like the newbie I was, I jogged at a steady pace for the entire race – with only one short walk break up a very steep hill – and finished at a better than average time. The rest of the afternoon was spent enjoying the festival and hanging out with friends and family, knowing that I had made a huge accomplishment that day.

Runner's high is a real thing and it's true that you cannot make yourself do something that you don't enjoy. In many ways, running has helped me grow in confidence and determination. Nine months prior, I never knew I was even capable of running a mile, let alone reach the four-something miles I am consistently running now. The running community has been nothing but welcoming and supportive in giving advice. I am able to explore my neighborhood and really appreciate the cool breeze, the dappled shade on the sidewalk, and the beautiful flowers as I run past. Not very long ago, I was a sedentary being, a quiet artist who was best at watercolors and poetry, but I have found a new passion in addition to those and know I will continue to smash my running goals and push my limits. And, I hope that you will, too.


Sarah Herrin is an artist, runner, Thursday Review contributor, and an author at Run-On Sentence Blog.

Related Thursday Review articles:

Walks With Dawn; Jeanne Piraino Sigler; Thursday Review Archives; July 11, 2013.

Wild, by Cheryl Strayed; book review by Kristy Webster; Thursday Review Archives; March 3, 2013.