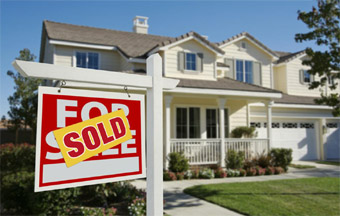 Image courtesy of Fotalia.
Home Sales on Rebound
| published August 28, 2014 |
By Thursday Review staff


In another tentative sign that the economy is finally gaining forward momentum after years of deep recession, the National Association of Realtors reported that its index of pending home sales rose 3.3 percent in July, hitting the 105.9 mark. The index, which is based on a national analysis of pending and signed contracts, has reached its highest mark since its previous peak in August 2013.

Sales of existing homes—and new homes—fell after last summer, worrying some economists and business analysts that recovery was sluggish. New home construction then took a beating during the winter period when weather conditions brought construction to a halt in more than 40 states. Buyers also were reluctant in many states to venture out to look at homes, new or existing.

Late March finally brought home shoppers out, but the surge has been slow and uneven. The surge in July is being interpreted by many economists and market analysts as a sign that the economy is on the right track for full recovery. Home prices appear to be stabilizing further, though there are signs in some regions that it is still a buyer's market.

July's surge in home contracts was strong in all regions except the U.S. Midwest, where home sales have been more sluggish than in other areas of the country.

Less than two weeks ago, the Commerce Department reported a variety of figures which also showed that new home construction was hitting full stride again—another sign that the economy is showing strength. Large retailers specializing in home improvements and building materials, such as Home Depot, showed surprisingly positive numbers for the first time in several years. Previously, Home Depot was suffering from slow home sales last fall, and from the severe winter, in which heavy snow and icy conditions shut down construction and repairs in many states.

Home Depot's rebound is significant for its indications of home and construction-related activity. Home Depot reported that its quarterly sales rose by more than 14 percent, far better than what analysts had predicted, and well ahead of its own projections for late spring and early summer. Its sales figures also reveal growth in the two streams of activity: consumers buying home improvement materials to enhance existing homes, which adds value and demonstrates confidence by Main Street; and contractor and subcontractor activity, much of it in lumber, plumbing, electrical and insulation—a powerful indicator that builders are busy completing construction.


Related Thursday Review articles:

The Future's So Bright (I'll Have to Buy Nails); Thursday Review; August 20, 2014.

New Home Sales Stuck in Recession?; Thursday Review staff; Thursday Review; July 24, 2014.