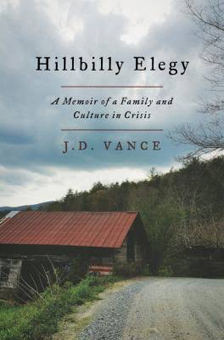 Hillbilly Elegy:
A Memoir of a Family & Culture in Crisis
| published August 22, 2016 |
Book review by Pamela Pitman Brown Thursday Review contributor
J.D. Vance has been making the talk show circuit with his book, Hillbilly Elegy, as someone who has insider knowledge on why people are supporting Donald Trump for President. His book is currently No. 1 on the NY Times best seller list of non-fiction.

The majority of the book takes place in Middletown, Ohio, located in Butler/Warren counties in the southwestern part of the state. To understand the context of the book, you should know that much of Middletown and nearby Hamilton are often called "Middletucky" or "Middleholler," and "Hamiltucky," in reference to those who immigrated from the Kentucky hills and Appalachia via U.S. Route 23 (the "Hillbilly Highway" between Kentucky and Ohio) to find work in the steel mills or other industry.

Vance writes of his dysfunctional family in a non-judgmental way, but lays bare the sins of the parents, grandparents, other family members, and society. It is a modern-day tale of rednecks, hillbillies, and crackers, poor whites that are decidedly not middle-class, working-class white American's and most likely Scots-Irish ancestry, who have no college education. Early pregnancy, drug and alcohol abuse, child neglect/abuse, multiple marriages/divorces, broken down cars, broken dreams, and trying to make it out of that life. Vance credits his ability to escape the dysfunction with the love and support of his grandparents (Mamaw and Papaw), his older sister, the Marine Corp, and a few teachers and professors along the way. Woven within his story are references to academic studies, which shed light on the region and its people.

While reading Vance's book, it struck me that these hillbillies live across the United States, not just in the southeast, in Greater Appalachia, or in the Midwest Rust Belt. They are our friends, our neighbors, our families. They are us. In reading it, you may find yourself, or you may begin questioning those within your family whom you see within the pages of the book:


the relative who sits outside his house at night, drinking beer from the beer cooler on the carport, in his recliner, watching television;
the cousins who were taken-in by your grandparents because their father was an abusive alcoholic and their mom left;
family members who are in and out of jail, who have multiple marriages/divorces, who abandoned/abused their children, and who show up to a family dinner with a black eye.
For those of us who were born in Appalachia, and who currently live in Appalachia, you may find some solace within the book, realizing that there are others out there just like you. Some of us escape, and some of us don't. For the rest of you, maybe reading it will give you an understanding of us, and our people.

Related Thursday Review articles:

Between the World and Me; Ta-Nehisi Coates; book review by Kristy Webster; Thursday Review; December 7, 2015.

The Absolutely True Diary of a Part Time Indian; Sherman Alexie; book review by Kristy Webster; Thursday Review; August 25, 2015.