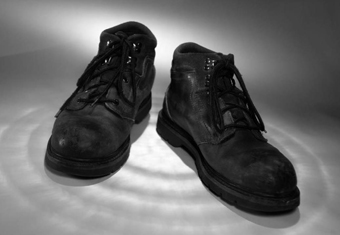 Image courtesy Microsoft.
The Special Gift of Shoes
| Published April 19, 2014 |
By Earl Perkins
Thursday Review associate editor
Sometimes when you find a cause you really believe in, you have to do what it takes to help—no matter what wacky antic you must perform.

Brothers Carey and Brian Hepler decided to collect shoes for poor people in need, but their approach to the problem is more effective than being carnival barkers, according to the Associated Press.

They set up a collection booth at Jacksonville, Florida's annual Gate River Run, then haul the booty to the St. Francis Soup Kitchen downtown. This was the 12th time they worked the March event. The brothers also sometimes run the race wearing hula skirts, Hawaiian shirts and leis.

Several weeks after the run, the scene is similar to Santa Claus at a Christmas Party as hundreds of shoes are distributed to the homeless.

"Shoes are like gold," said Carey Hepler. "They're excited. Dudes are waiting on you in the parking lot. 'Got any 12's?"

Contributions are also not confined to running shoes, because all shoes are accepted, along with numerous T-shirts. The items certainly come in handy, because Jacksonville is located in Northeast Florida, which can be very hot in the summer and fairly cold in wintertime.

St. Francis accepts the men's shoes for its clothes closet, while the City Rescue Mission distributes the women's shoes. This was the first year T-shirts went to Rethreaded, which is a non-profit that recycles donated shirts into new products. The group employs women who are escaping addiction, violence, human trafficking and prostitution.

Brian Hepler, 53, usually mans the booth, while his brother, 51, runs the race.

Carey is part of group that runs while wearing the flashy shirts, skirts, straw hats and leis, lobbying for donations the whole way. Their times may not be world beaters, but you can only imagine how many insist on donating after seeing the crazy outfits. Last year they passed along 1,000 pairs of shoes, with 600 pairs going to St. Francis, along with 1,000 T-shirts.

Carey hit upon the idea years ago at a garage sale, where he met a woman seeking shoes for St. Francis. He offered to donate shoes, and later matched those from his River Run venture.

Competitive running shoes have only so many running miles in them, but they're still perfectly fine for walking. Many runners remember the booth each year, bringing donations to the Runner's Expo or the race. Others donate the shoes they ran in following the race.

The brothers are thrilled when they see the looks on the faces of the recipients as they hand the shoes to their new owners.

"It's amazing," said Brian Hepler. "This is something we take for granted...It's something people throw away."

Old running shoes are a major step up for those entering the soup kitchen with duct-taped shoes or bare feet, according to Diane McVety, who runs the St. Francis ministry with her husband, Jim.

"These have a little wear on them. They may have a grass stain, but we can cope with it," she said.

Handing out sneakers, food and clothing to the needy is very fulfilling to the McVetys because the recipients are so grateful.

"We cry a lot down here," she said. "But it's all good."