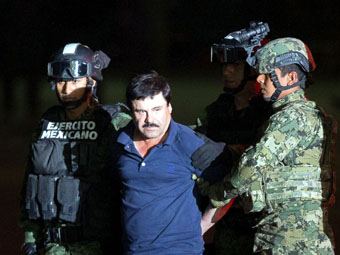 Photo by Eduardo Verdugo/
Associated Press
Guzman Faces Extradition to U.S.
| published May 22, 2016 |
By Thursday Review staff
The governments of Mexico and the United States reached an accord this week to allow the extradition of drug kingpin Joaquin "El Chapo" Guzman to the U.S. for prosecution, a move which had previously been resisted by Mexico, which had wanted to prosecute Guzman in its own country.

According to Mexican officials, Guzman and his attorneys were informed of the decision on Thursday, and under the arrangements reached by all sides, Guzman will be transported to Texas where he will be remanded in the custody of American law enforcement, and where he will be prepared to be processed before the U.S. District Court of West Texas.

U.S. officials in Texas and neighboring states have a long laundry list of charges to throw at El Chapo, including narcotics smuggling, human trafficking, money laundering, bribery, extortion, obstruction of justice, weapons smuggling, and murder. Guzman also faces similar charges in California and in Illinois, where the reach of his gang activities penetrates even street-level drug sales of cocaine, marijuana, and heroin.

According to law enforcement officials, the FBI, and the U.S. State Department, Guzman's Sinaloa Cartel—one of the largest criminal organizations in the world—has been at times responsible for as much as half the cocaine and one third of the heroin smuggled into the United States. The Sinaloa Cartel also rakes in billions of dollars in a variety of other illegal activities, including human trafficking—much of it conducted by way of the cartel's many sophisticated tunnels along the border between Mexico and the U.S.

The accord between Mexico, the U.S., and Guzman's legal team, according to some media reports, came about as a result of an agreement by U.S. officials not to press for the death penalty for Guzman, at least according to some media reports, and based on emails obtained by Bloomberg. Guzman and his lawyers had resisted moves to extradite him to the U.S. for fear that American officials would insist on his execution.

American officials have been frustrated by El Chapo's legal team and its ongoing strategy of filing injunctions and filing formal protests—all stalling tactics, according to the DEA and the FBI.

The U.S. had wanted Guzman extradited from Mexico to American soil years ago to—among other things—insure that the powerful drug lord did not escape from prison. El Chapo has a flair for evasion and escape: his last incarceration in Mexico's most modern and secure prison at Altiplano ended in embarrassment for Mexico City when he escaped last year via a sophisticated tunnel which stretched for nearly three miles. Months later, after assistance from the DEA, FBI and a host of international law enforcement agencies, Mexican authorities recaptured El Chapo at one of his many hideouts.

Related Thursday Review articles:

Arrests Made in Guzman Escape Caper; R. Alan Clanton; Thursday Review; July 18, 2015.

Mexican Officials: We Were Warned of Guzman Escape; Thursday Review staff; Thursday Review; July 17, 2015.