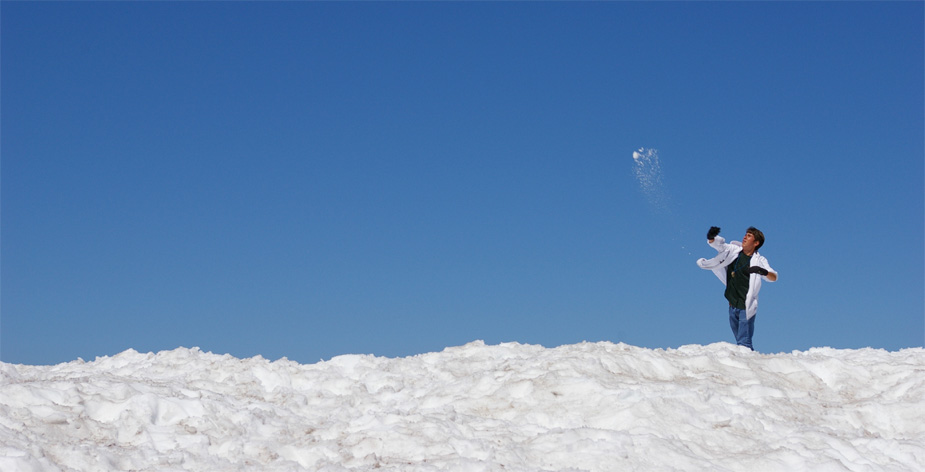 Photo courtesy of R. Alan Clanton
Welcome to the Groundhog Day Blizzard
| published February 1, 2016 |
By Earl Perkins, Thursday Review features editor
For all you superstitious people out there, I'm unsure which direction the winds will blow on predictions for the next six weeks, but rest assured that February is shepherding in snow and slippery travel across the central United States, followed by dangerous blizzard conditions falling right on Groundhog Day, according to AccuWeather and other weather services.

Not much chance of Punxsutawney Phil seeing his shadow for a few days as a storm strengthens, gathering snow and wind while rolling across the Southwest states into Monday, reaching the central Plains and Upper Midwest Monday night and into Tuesday night.

This Monday evening through Wednesday morning, road closures, near-zero visibility, blowing-drifting snow and dangerous travel conditions are cutting a 1,600-mile path from Flagstaff, Arizona, to Sault Ste. Marie, Michigan. To a degree, it's an unwelcome replay of Winter Storm Jonas, which in late January dumped record levels of snow on some dozen states, shutting down interstate highways, leaving thousands of motorists stranded on roads, forcing airports to close for days, and triggering the cancelation of more than 13,000 flights in less than four days.

This winter storm is named Kayla, and she will also pack a heavy punch for millions of Americans on the very day when Punxsutawney Phil makes his brief but world-famous appearance.

"A swath of 6- to 12-inch snowfall with areas of 12-18 inches are expected from parts of Arizona, northern New Mexico, Utah and Colorado to portions of Kansas, Nebraska, Iowa, Wisconsin, northern Michigan and southern Minnesota," said AccuWeather meteorologist Brett Rathbun.

To quote the old political adage of Chicago's Richard Daley and his political cadres, you may want to vote early and often, because the winter storm arrives in parts of Iowa Monday evening, where caucuses for the 2016 Presidential Election are being held. Hundreds of thousands of caucus-goers will be making their way out to cast their vote for their presidential preference. Iowans are a hardy folk accustomed to tough winter conditions, but the snow may be heavy in some places as the caucuses kickoff, and travel on some roads may be difficult.

Although much of the snow will remain north and west of Chicago, wind and rain may cause some airline disruptions at O'Hare International Airport, along with General Mitchell Airport in Milwaukee, Wisconsin.

"Blizzard conditions will develop as the storm strengthens, so residents should keep that in mind as they make preparations over the weekend," said AccuWeather meteorologist Becky Elliott.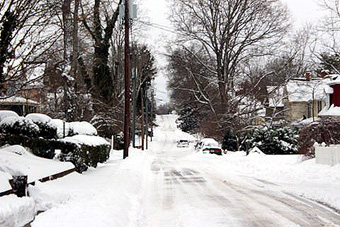 Heavy snow on a suburban street in Virginia/
photo courtesy of Kelly Harris
At the storm's height, winds could gust to 50 mph bringing sleet and rain mixed with snow, making travel extremely slippery and difficult. Major highways may be shut down, because blowing and drifting snow will cause poor visibility, effecting portions of Interstates 25, 29, 35, 40, 70, 80, 90 and 94. The inclement weather will almost certainly cause airline and flight cancelations from Denver to Omaha, Nebraska, Minneapolis and Green Bay, Wisconsin, as the northwestern edge of the snowstorm grazes Minneapolis. Wind and rain may also cause delays in the Detroit area.

"The threat for snow will begin along portions of the Front Range from New Mexico to Colorado and Wyoming by Monday morning," Elliott said.

The storm could last 36 hours or more along portions of the Front Range (the southern Rockies in Colorado and southeastern Wyoming). The National Weather Service has posted a winter storm warning into Tuesday for almost all of Colorado, including Denver, Fort Collins, Fort Morgan, Grand Junction, Durango, Colorado Springs and Pueblo. This could lead to Denver's biggest snowfall of the season. The largest snowfall this season was 7.7 inches recorded December 15, with 4.4 inches falling so far in January.

Surging warmth to the south and east, coupled with a charge of cold air to the north and west and strong winds aloft are helping to energize the storm. Temperatures over the middle Mississippi Valley region should surge into the 60s (degrees Fahrenheit) and possibly near 70, with temperatures plunging into the teens and 20s over parts of the central northern Great Plains early this week.

The dangerous storm brings a wide range of weather, including possible violent thunderstorms in the warm sector, over the lower Mississippi Valley and Deep South on Groundhog Day.

Related Thursday Review articles:

Winter Storm Kayla: What to Expect; Thursday Review staff; Thursday Review; January 31, 2016.

Winter Storm Jonas Clean-Up Proceeds; Earl Perkins & Alan Clanton; Thursday Review; January 30, 2016.