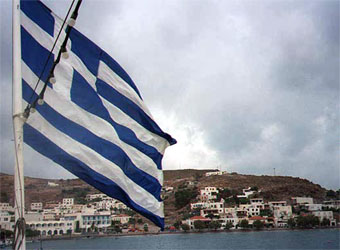 photo by Lisa Whitten
Greek Default Threatens European Economy
| published April 18, 2015 |
By Thursday Review staff
Greece's fiscal crisis is troubling U.S. markets and investors, and Wall Street analysts say that last week's stock prices drops are linked directly to worries that Greece will default on its substantial debt and dissolve its relationship with the European Union.

The Greek problem spilled into almost every part of U.S. investment: the Dow Jones industrial average fell roughly 1.3 percent last week; the Standard & Poor's index lost 21 points; and the NASDAQ lost about 70 points, or 1.4 percent.

Within Greece, there is little political consensus for a solution to its mounting problems, and there are bitter arguments about where to make reforms and how deeply to cut into the country's spending. Many analysts say that the chances that Greece will work out a solution are now remote, at best, and international banks and investors are now insisting on much higher rates for any loans to Greece.

Greece may be unable to make it next scheduled payment to the International Monetary Fund—a payment which comes due in early May. Greece owes more than $7 billion to the IMF. The worry for Europe and the United States is that a default by Greece will spill over into scores of other economies, causing a ripple effect across Europe, the United States, and dozens of other countries still struggling with the after-effects of the Great Recession.

In Washington, Treasury Secretary Jacob Lew has publicly implored Greek politicians to come to an accord to avoid default. Lew has met in person—or talked by phone—to dozens of the key players in any potential deal, and he said that some form of compromise will be required by all parties. Lew also stressed that a Greek default will have catastrophic effects on Greece's own economy, possibly sending it spiraling in a deep recession.

The other risk for Greece is that it may run out of cash—its own, or foreign—and become unable to make payments for social services, complete payroll for government employees, or keep its various pension funds afloat.

The effects of the recession have lingered longer in many European countries than in the United States. The U.S. economy, still haunted by underemployment and falling wages, has nevertheless struggled back onto relatively secure footing—boosted over the last eight months by falling oil prices and low inflation. But in some parts of Europe, unemployment is still extremely high, and global economic factors are still weak. Economists worry that a Greek default on its debt payments will trigger a cascade of problems for Europe, and create a huge setback for its chances for full recovery.

Related Thursday Review articles:

Oil Prices May Continue to Decline; Thursday Review staff; Thursday Review; April 14, 2015.

Good Deflation, Bad Deflation; Thursday Review staff; Thursday Review; January 28, 2015.