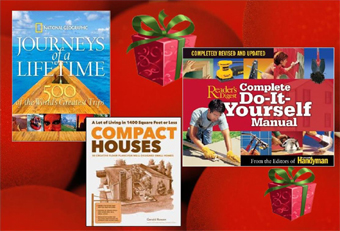 Give the Gift of (Used) Books
By Earl H. Perkins | published Saturday, December 21, 2013 |
Thursday Review Associate Editor
If you're considering books as Christmas gifts, why not be practical and thrifty at the same time? At gift-giving time I usually visit a used book store about a mile from my house, which houses millions of books. And you say "Yuck, you are being cheap and thoughtless." Not exactly. Hundreds of thousands of incredible books are in perfect condition, and he has every subject you can imagine. And you know that every city and town has stores just like this one.

I know—you're in a big hurry and want to hand something to your friend or relative. After all, Christmas is only a few days away now. So give them a nice card saying their gift is en route in the mail, or at least spend a little time hunting something that will stimulate their mind. People recognize when you expend a major effort in choosing a gift.

Thomas Jefferson attempted to read every book available in the known world during his lifetime, but people aren't wired that way anymore. There are tons of wonderful books out there, but most folks just grab the first shiny object they trip over at a big box store.

Many books have useless information with pretty pictures, or pointless stories from people whose only goal is to spew words on a page and collect a paycheck. Have you ever really studied a book, from front to back? The misspellings, pandering to the lowest common denominator, and some books that must have taken several minutes to throw together. Between television, books and magazines, I'm not surprised that people have switched over to the internet for information.

But let's give it one last try for those literati in you circle of friends and relatives. Buy something that might potentially help people in their daily life or in the future.

Aquaponic Gardening by Sylvia Bernstein advocates a system for growing plants by fertilizing with waste water from fish in a sustainable closed system. A combination of aquaculture and hydroponics combine to form the aquaponic system, a productive gardening technique that grows organic vegetables, greens, herbs, and fruits. It also provides the added benefit of fresh fish as a safe, healthy source of protein. If your giftee is a big tree hugger, it's a key solution to mitigating food insecurity, climate change, groundwater pollution and impacts of overfishing on the oceans.

This book will give you the ability to enjoy healthy, safe, fresh and delicious food all year round. It starts with an overview of the theory, benefits, and potential of aquaponics, followed by what you need to buy and how start run your system.

Compact Houses: 50 Creative Floor Plans for Well-designed Small Homes by Gerald Rowan could send you off the grid and change your life forever.

Building or retrofitting a small house will allow you to ignore those pesky neighbors, because you won't really have too many. Upset about high utility bills and rude neighbors? Then buy this book.

It includes 50 innovative floor plans, making the most of less than 1,400 square feet while focusing on creative ways to use every inch of space. Special emphasis is placed on closets, decks, porches, bathrooms, attics and basements. Artist renderings show each home's exterior, along with detailed interior drawings illustrating special space-saving features. Included are one- and two-floor designs, along with plans for one to three bedrooms, so what are you waiting for?

Maybe you're broke, and all your friends and family have destroyed the abode you live in. Don't worry, just buy the Complete Do-It-Yourself Manual. Reader's Digest and Family Handyman Magazine are pushing it, but every home should have a copy. They've sold 10 million copies since 1973, and each year it's revised, updated, rewritten and redesigned. It includes rich informational and photographic archives, new illustrations and photographs, and information from more than 150 experts. The liner notes say it's written in a very accessible, conversational tone for easy, user-friendly assistance, which means a 10-year-old can use this book. Instructions and materials are updated to address current codes (electrical, plumbing and building), along with materials, tools, and technology upgrades.

It also features more than 3,000 photos and illustrations, 1,500 full-color photographs and 100 new technical drawings. There are chapters on landscaping and storage projects, including material and cutting lists, but also note sidebars entitled Shop Smart, Handy Hints, Go Figure and Safety First.such as "Shop Smart," "Handy Hints," "Go Figure," and "Safety First," provide readers with helpful information.

There are yellow highlighted notes of caution with important points to remember that are cross-referenced at the top of pages, and a metric conversion chart is included at the back.

Oh, who am I kidding—either buy a couple drones or just purchase the biggest and heaviest tome you can find, and call it a day. That way your giftee won't be forced to say they don't read, and they'll still have a mighty fine doorstop. I knew this guy that won the Heisman Trophy when he was young, and that's what he used it for. Said it was perfect for his purpose.

National Geographic probably produces some of the best coffee table books, and everyone is always impressed. Hard to argue with the world's finest photographers and wonderful layout.

Try Journeys of a Lifetime: 500 of the World's Greatest Trips; Simply Beautiful Photographs, In Focus NG Greatest Portraits; 100 Days in Photographs or Four Seasons of Travel. They're all interchangeable because National Geographic spends thousands of hours gathering and sorting millions of images seeking perfection.

You can't go wrong, and if you buy off the internet, you can probably have your opus drop shipped to their doorstep. Or head to your nearest used book dealer and browse around. Good luck on your holiday quest.