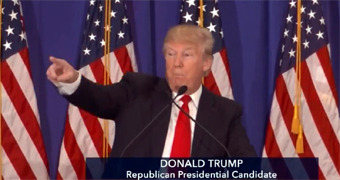 Donald Trump at press conference Tuesday, March 8/
image courtesy of C-Span
Trump Inches Closer to
GOP Nomination
| published March 9, 2016 |
By R. Alan Clanton, Thursday Review editor
Businessman Donald Trump may be inching close to securing the GOP's nomination, despite a ferocious and now well-funded attempt to derail his dominance in the primaries and caucuses.

Republican Presidential candidates battled in several states on Tuesday, with Trump emerging the victor in Mississippi, Michigan and Hawaii. Rival candidate Texas Senator Ted Cruz won in Idaho. The wins mean that Trump marches ever closer to his goal of avoiding a brokered convention and securing the Republican nomination before summer. Trump collected some 65 additional delegates on Tuesday, winning even in liberal Hawaii, which did not report its results until Wednesday morning.

Despite an intense last week effort by John Kasich to overtake Trump in Michigan, a Midwestern state believed to be ripe for a Kasich win and a prime target of the anti-Trump GOP forces, Kasich placed a distant third, a fraction of a point behind Ted Cruz. Rubio, who had campaigned in Michigan, landed in a distant fourth place with only 9.3% of the vote. Trump will walk away with 25 delegates from Michigan, leaving Kasich and Cruz to split the remaining delegates with 17 apiece.

Likewise in Mississippi, Trump easily secured a first place finish despite a robust effort by Ted Cruz to close the gap. With 99% of the votes counted, Trump won the Magnolia State with about 47.3% of the vote, with Cruz in second with 36.3%, delivering Trump at least 24 delegates and leaving Cruz with 13. Kasich and Rubio landed in single digits, so low that they will not receive any delegates in Mississippi.

Hawaii, which only reported 100% of its returns early on Wednesday, delivered Trump another big win, where he pulled-in more than 42% of the vote, with Cruz coming in second with 32.7%. Rubio and Kasich each took a modest 13% and 10.5% each, but not enough under the rules to win any delegates.

Only Idaho broke with the Tuesday night stampede toward Trump, delivering a surprise win to Ted Cruz. Cruz won big in the Gem State, pulling-in a whopping 45.4% of the votes, and leaving Trump with 28% and Rubio with 16%. Cruz will walk away with roughly 20 delegates to Trump's 12.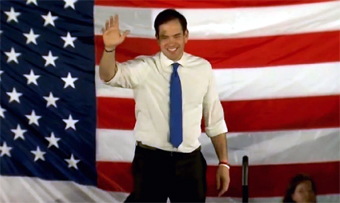 Marco Rubio at a rally in Ponte Vedra FL/

image courtesy of C-Span
Rubio's meager 16% score in Idaho was his best showing of Tuesday, and it puts the Florida Senator under even more pressure to pull off a substantial win in Florida, the next state to vote in a primary and caucus season which has seemingly become Trump's to win or lose. Rubio has set-up what may be his last firewall in the Sunshine State, where he hopes to pull off an upset despite polls showing that Trump still maintains a lead. The wide disparity in polling data also confounds the experts as GOP voters fluctuate in their opinions in what has become the most fluid Republican nomination battle in recent history.

Some polls—including a recent Monmouth University Research survey—have shown Rubio closing in on Trump in Florida, edging to within a statistical tie with the billionaire, roughly 37% to 32%. But a new CNN/ORC poll shows that Trump maintains a 16 point lead over Rubio in Florida—about the same gap that existed ten days ago. Since Sunday night, after his win in the caucuses in Puerto Rico, Rubio has campaigning almost non-stop in Florida, hitting events and rallies from Jacksonville to Sanford to Orlando to Sarasota and back to Jacksonville. Rubio is also spending much of what is left in his cash reserves on television advertising in the Sunshine State, battling with Trump and Cruz for ad space in what has become this week airwaves saturated with political ads—many of them negative. The anti-Trump groups have also spent millions on anti-Trump TV advertising in both Florida and Ohio.

John Kasich, who hopes to pull off a surprise win in Ohio, lost in neighboring Michigan despite a valiant attempt to convince Republican voters to give the fellow Midwesterner a shot at stopping Trump. The same groups backing Rubio in Florida backed Kasich in Michigan, and millions more will be spent in Ohio in an effort to halt Trump's progress.

Former GOP nominee Mitt Romney has lent his authority and his voice to a series of robo-calls now going on by the thousands each day to registered Republicans in both Florida and Ohio. The calls are identical in their distaste for Trump and in every other way, expect that in Florida voters are being urged to cast their vote for Rubio, where in Ohio they are being asked to vote for Kasich. According to the new CNN/ORC poll just released, Trump leads Kasich in the Buckeye State by about six points—close enough, many experts suggest, that the outcome could go either way. The Kasich campaign says it will now concentrate all its resources and firepower in Ohio in an effort to deny Trump the state's rich bounty of delegates.

All eyes now turn to Rubio's challenge in Florida, where he seeks to further close the gap with Trump. A Rubio win there, some experts say, could force Trump into a stall, and provide an opening for the other three candidates to begin to selectively target Trump state-by-state and based solely on who can best defeat the billionaire. The plan would, theoretically, starve Trump for the delegates he needs to secure a nomination on the first round of balloting in Cleveland. But most political observers suggest that if Rubio loses to Trump in Florida, it is unlikely in the extreme that Rubio's campaign can move forward.

Cruz, the only other Republican who has consistently beaten Trump in multiple states, has lobbied hard for both Rubio and Kasich to retire from the race. Cruz says he if alone can challenge Trump in the remaining primaries and caucuses, the GOP has a better-than-average chance of derailing what has become a seemingly unstoppable train for the real estate tycoon turned politician.

Florida votes on March 15, only days from now. Despite reports on CNN that dissenters within the Rubio camp want him to drop out of the race before Tuesday, Rubio and his top spokespersons and surrogates suggest that CNN's reporting is false. A few people close to Rubio concede that there has been discussion only of what Rubio might do after Florida and in the event he were to lose, but that the rumors of a withdrawal prior to Tuesday make no sense, and can be blamed in disinformation campaigns waged by advocates for the other candidates. Besides, they say, Rubio is performing far better than expected among those who have engaged in early voting in Florida, which began last week.

But other experts suggest that the entrance-exit polling of early voting—whether in Florida or in previous primary states—overlooks that fact that Trump outperforms his rivals on election day, normally pulling-in the votes of many who have waited until the last minute to make a decision. This paradox may work to Rubio's disadvantage, even if he is able to further close the gap—some six-to-16 points, by Tuesday. Several GOP analysts and strategists not aligned with any particular candidate suggest that if Rubio is not able to pull off a win in Florida, even a narrow one, his campaign is effectively dead in the water.

Likewise, Kasich's last stand is in his home state of Ohio. A Kasich win there might—just might—prove a pivotal moment in the effort to slow Trump. But a loss by Kasich in Ohio will not only effectively end the Governor's valiant effort to run a clean, issues-based campaign, but it may also signal the inexorable rise and inevitability of Trump.

Related Thursday Review articles:

Rubio Blasts CNN Reports of Campaign Shutdown; R. Alan Clanton; Thursday Review; March 8, 2016.

Republican Battle: Front Lines Florida; Keith H. Roberts; Thursday Review; March 8, 2016.