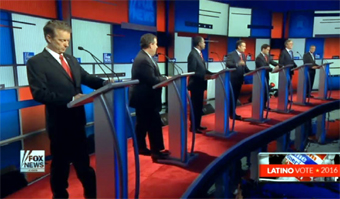 Images courtesy of Fox News
Republican Debate Versus Trump Event: Who Won in Des Moines?
| published January 29, 2016 |
By R. Alan Clanton, Thursday Review editor
A host of top Republican candidates for President debated the issues on Thursday night despite the fact that the GOP front-runner, Donald Trump, was not in the room.

Trump, feuding with Fox News and its chief Roger Ailes, and angry about his perceived treatment by Fox News' moderator and reporter Megyn Kelly, made good on his promise to boycott the Republican debate, and instead orchestrated his own major made-for-primetime political event to compete with Fox. Late that night, Trump declared victory and insisted that his event, which included undercard debaters Rick Santorum and Mike Huckabee, was the real show, not the room of second tier candidates across town.

But despite the general feeling that Trump's much ballyhooed event—streamed online to millions of viewers—fell short in terms of fireworks or substance, Trump remained the 500-pound gorilla in the room for the other Republicans in a highly watched debate conducted in the massive Iowa Events Center in downtown Des Moines, Iowa, and hosted by Fox News and Google.

The boycott by Trump, who remains the GOP's front runner despite a highly fluid field and rapidly shifting poll numbers for those in second, third and fourth place, created an odd, almost unprecedented political split-screen for viewers and political junkies. Trump's event fell flat for most who watched it and for those who caught it in replay form later in the night. Still, Trump managed to do what he does best: dominate the news, the conversation and the airwaves—simply by refusing to compromise with Fox News (despite several eleventh hour appeals and attempts to broker a solution).

Meanwhile, in spite of the drama played out between Trump and Fox News, seven candidates appeared on stage in Des Moines, pitting the underdogs against those jockeying for position behind Trump in the final days before Iowans go to their caucus locations to cast their votes. The debate was not without fireworks or contentiousness, but by the standards set during 2015, Thursday's debate was relatively tame.

Without Trump in the room, top runners-up Ted Cruz and Marco Rubio took the brunt of the hits, but may have also landed the majority of punches—often on each other. Each slammed the other hard on the contentious issue of immigration, and several candidates in the room—including former Florida Governor Jeb Bush and Ohio Governor John Kasich—were blasted on occasion for their own more moderate views on immigration and border control. The topic sparked a long, complex debate, often centered on the semantics and context of the candidates' past statements and past votes.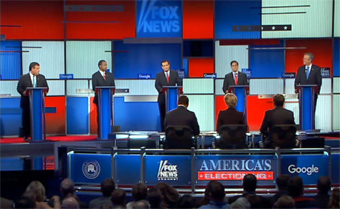 The often intense war of words over immigration, border control, and who gets to call themselves an American was also deeply interwoven into the issue of terrorism and ISIS. Fox News commentators and producers—armed in several cases with carefully edited television outtakes of the candidates' past statements on immigration, border control, and the screening of people entering the U.S.—challenged those at the podiums to defend and explain those recorded comments. Moderators Megyn Kelly and Chris Wallace each sought to pin down Cruz and Rubio of specifics on the issue which has again moved to the forefront of the GOP conversation, and now inextricably part of the conversation about terrorism.

Kelly challenged Rubio on some of his past statements. Rubio had once been a key co-sponsor of an important bipartisan 2012-13 bill on immigration reform brought forth by the so-called Gang of Eight. The bill—which would have created a pathway for citizenship—died for lack of support from GOP legislators, and later Rubio carefully and delicately stepped back from the package, at least under those terms. Kelly asked whether voters could trust him on an issue on which he had caved-in under pressure.

Rubio avoided a direct answer, but gave what many viewers felt was a reasonable explanation of his current position, and one which scored well with some focus groups watching the 2-hour-plus debate.

"We're not going to round up 12 million people," Rubio said, in reference to proposals by Trump to deport everyone in the country illegally. "But we're not going to go around handing out citizen cards either. There will be a process, and we will see what the American people support. But it will not be [through] unconstitutional executive orders."

Cruz also took hits on immigration, but delivered jabs as well. Cruz was particularly combative with Rubio on the same issue, and has in effect accused Rubio of taking a muddled approach with his once public support of the reform bill authored by the Gang of Eight—one member of which is New York Senator Chuck Schumer. Schumer has angered some conservatives in those states—such as Arizona and Alabama—which began to enforce their own interpretations of federal immigration laws; during the Republican debate in Des Moines Schumer's name was often attached in a pejorative manner to discussions about the 2013 bill, which was also sponsored by John McCain (r-AZ), Lindsey Graham (R-SC), and Bob Menendez (D-NJ).

"My friend Senator Rubio," Cruz said, "stood with Barack Obama, Harry Reid and Chuck Schumer."

Bush, too, pounced on Rubio for what he suggested was a deliberate policy switch on a key issue.

"I'm a little confused," Bush quipped, pointing out that he had also supported both the content of the bill, as well as Rubio's co-authorship of it. "He cut and run because it wasn't popular among conservatives, I guess." During the debate, Bush frequently tried to offer moderated views on issues of immigration, declaring that it is as much an economic issue as anything else. Bush jokingly plugged his book Immigration Wars (2013), which he indicated covered his proposals but also sold in such poor numbers as to make it a bargain on Amazon.

Cruz defended his record on immigration, again in spite of video slips showing him advocating amendments to previous immigration reform bills—add-ons and amendments deemed by some as relatively popular with the Latino community in Texas at the time. Despite challenges from Fox News commentators, Cruz defended his bona fides, and pointed out that his amendment was very short—only one sentence. Cruz also defended his position be explaining—as he has in the past—that his support of the amendment was actually a "poison pen" add-on, intended to kill the bill rather than strengthen it. This led to a complex and at times circuitous argument between Rubio and Cruz over the precise context and semantics of the Senate legislation.

Cruz suggested that it was the others in the room which had at one time or another supported some form of amnesty. This brought the ire of Kentucky Senator Rand Paul, who blasted Cruz for suggesting that others in the room were weak or misguided on immigration—and nearly every other aspect of the discussion, calling Cruz's tack "insulting." Rubio, too, pounced, indicating that Cruz's campaign narrative was built on the false notion that other Republicans running for President are imposters and closet liberals.

"He's the most conservative guy," Rubio said, gesturing to Cruz, "and everyone else is a RINO." (RINO is political parlance for a person who is a "Republican in name only," and often deployed as means of challenging the credentials or heartfelt beliefs of other Republicans).

New Jersey Governor Chris Christie injected that the complicated, often byzantine arguments between Cruz and Rubio were a perfect example of why voters should "send someone from outside of Washington to Washington."

Gesturing toward Rubio, Cruz and the others, Christie joked "I feel like I need a Washington-to-English converter."

Cruz has been locked in what had been an extremely close fight with Trump for the lead in Iowa, though over the weekend and early this week newer polls show Trump reclaiming his substantial lead over Cruz. What had looked like a two-candidate battle has now reformed into the race we saw most of last year: Trump at the top of the polls with others fighting ferociously for second and third place.

On Friday, Fox News reported that the debate drew a massive TV audience, the second largest of the debate season so far, and far more than the previous debates on CNN and MSNBC. CNN had chosen to air portions of the Trump rally during the same time bloc. Online viewership of the Trump event was apparently large, but not as large as the total viewership for the GOP debate on Fox.

Fox News also said that the Republican debate drew the most activity on Twitter on Thursday night, with approximately 1 million tweets and 162 million hits.

Related Thursday Review articles:

Fox News Versus Donald Trump, Part XIV; Keith H. Roberts; Thursday Review; January 26, 2016.

Trump, Cruz: Attacks Increase as Iowa Nears; National Review Blasts Trump; R. Alan Clanton; Thursday Review; January 22, 2016.