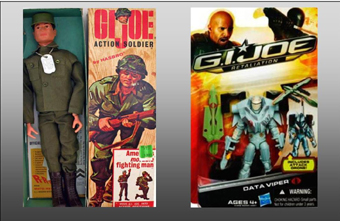 Size Does Matter: Happy 50th Birthday GI Joe!
| Published Monday, April 7, 2014 |
By Kevin Robbie
Thursday Reviewcontributor
Passing the half-century mark in age is supposed to be a milestone of sorts. Having passed that mark myself, I guess I can look back on the years with a certain amount of satisfaction and realize that the years have been kind, overall. Hopefully, I've acquired some wisdom along the way and have learned a thing or two, like how to adapt and survive, for example.

G.I. Joe, "America's movable fighting man," has been adapting and surviving now since 1964, reaching the 50-year mark as one of the world's most iconic toys. Joe was introduced onto the toy market by Hasbro in 1964, during the opening stage of American involvement in Vietnam. Targeted at boys, G.I. Joe was called an "action figure" in the belief that boys wouldn't play with a "doll." Standing 12" tall, Joe was marketed as an articulated, generic military figure available with different uniforms and a wide array of military gear, based on U.S. forces in World War II and Korea. Accessory sets were available for each branch of the armed forces. Popular from the outset, Hasbro patented G.I. Joe in 1966.

However, as the 1960's progressed, the Vietnam War became increasingly unpopular. So, Joe adapted. In 1970, Hasbro marketed the line as "The Adventures of G.I. Joe," which morphed into "Adventure Team" as Joe was moved away from his original military posture. At this time, Joe developed his "life-like hair" and powerful "kung-fu grip." Joe's uniforms, equipment and other gear were developed with the adventure theme in mind. Play sets were introduced which put Joe in various types of terrain, such as jungles, mountains and deserts.

In 1982, in another major adaptation, G.I. Joe lost significant physical stature when Hasbro released Joe as a 3.75" figure. The popularity of the Star Wars movie series had made action figures more popular then ever. Hasbro, in essence, re-branded G.I. Joe as a much smaller, multi-articulated 3.75" figure and matched him with a wide array of vehicles, sets, gadgets, etc. Though many youngsters, myself included, lamented Joe's "reduction" the re-launching of the product was highly popular and led to a lot of spin-off merchandise. In spite of his shrunken physical stature, Joe again adapted well. Hobby World magazine named G.I. Joe the top-selling toy in 1985.

Joe regained his missing inches in 1994 when Hasbro cancelled the smaller version of the figure and reinstated him to a full 12" in recognition of Joe's 30th birthday. Since then, there have been numerous re-releases of the smaller figure based on various themes. Those themes have included the "Real American Hero" collection and "G.I. Joe vs. Cobra." In 2003, for Joe's 40th anniversary, Hasbro produced reproductions of G.I. Joe uniforms and gear originally released in 1964.

Joe has even been adapted to movie and cartoon format. "G.I. Joe: The Rise of Cobra" was released in 2009. In 2010, the "G.I. Joe: Renegades" cartoon was introduced and aired until July, 2011.

As a kid, I remember the original, 12" G.I. Joe more fondly than his smaller alter ego. The taller Joe just seemed more robust, soldier-like and impressive. I recall many Saturday afternoons with Joe and his mobile support vehicle hauling his equipment through the living room or yard. Joe endured some tough training in my care. He became adept at parachuting off the bookcase, gliding smoothly down to the carpet below. He also dove for treasure in the bathtub while fending off imaginary sharks. Joe was in his element outside as well. He clambered and crawled over dirt mounds in pursuit of food and water and secured himself behind the azalea bushes to avoid a pounce from the giant, man-eating beast sitting only a few feet away (actually our family cat, Sam). Joe even found time for girls when he was introduced to a lithesome blonde named Barbie.

But he was always ready for duty the next Saturday, when a new round of adventures began in a boy's backyard. Happy Birthday, G.I. Joe!