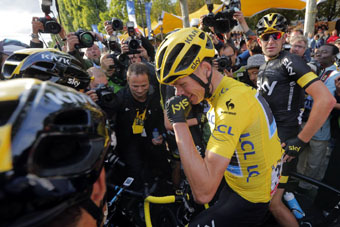 Photo courtesy Tour de France
Froome Wins Tour de France
| published July 27, 2015 |
By Keith H. Roberts Thursday Review contributor
British cyclist Chris Froome has won the Tour de France, becoming the first U.K. racer to win the event twice. Froome won the final stage of the long, challenging course easily; he had established himself as the front runner earlier in the event by opening up a relatively wide lead over his next nearest competitors, among them Columbia's Nairo Quintana Rojas, widely considered the only cyclist able to challenge Froome.

On Saturday, Qunitana had managed to cut Froome's lead by 32 seconds, but was not able to ever overcome the distance between himself and Froome. Most European and U.S. cycling analysts say that Froome essentially secured his solid victory by midday on Saturday, and all that was left was for him to safely hold onto his lead. At the end, Froome edged out Quintana by one minute and 12 seconds.

Froome had safely established his trophy, some say, in the Pyrenees during Week Two, building a substantial edge in one of the most grueling legs of the race. By the time Froome reached the Stage 10 checkpoint at La Pierre-Saint-Martin, a pass perched at an altitude of 5,794 feet (1,766 m) in the ski country of the Pyrenees Mountains, Froome had opened up an impressive lead over his challengers.

From that point forward, it was Froome's race to win or lose. Qunitana placed second overall, third place went to Alejando Valverde of Spain (another potential challenger to Froome in the steep Pyrenees), and fourth place went to Italy's Vincenzo Nibali.

The 6'1" 157 pound Froome was born in Kenya, but has lived most of his life in the U.K. He races for Team Sky. His big win, and his legacy of becoming the first Briton to win two Tour de France titles, has elevated his popularity in the United Kingdom, where there had been intermittent skepticism of his skills and stamina. Froome first won the Tour de France in 2013.

According to the BBC, the British fielded a record number of cyclists this year—ten total. Froome is the first cyclist since 1970 to win both the overall title, and the mountain stage title in the same year.

Related Thursday Review articles:

The Sunshine State Meets the Ice; Earl Perkins; Thursday Review; February 26, 2015.

Baseball's Shifting Future; Kevin Robbie; Thursday Review; April 20, 2015.