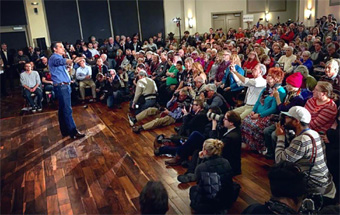 Image courtesy of Ted Cruz for President
Down to the Wire in Iowa
| published February 1, 2016 |
By R. Alan Clanton, Thursday Review editor
The advantage of being a political front runner also brings with it tactical perils and travails. Such is the case as Iowans begin their trek to polling places all across the first-in-the-nation caucus for the 2016 nominations for President.

Businessman Donald Trump, the Republican front runner, and Texas Senator Ted Cruz, his closest rival, are engaged in an epic battle for the hearts and minds of Iowa voters. A half dozen other candidates are battling to remain relevant by working feverishly to place third, fourth or even fifth in a still crowded race.

Among those hoping to have good news by the end of the night: Florida Senator Marco Rubio, who hopes to emerge as the favorite of the deeply divided "establishment" voters, and numerous other candidates striving for a respectable finish, such as former Florida Governor Jeb Bush, New Jersey Governor Chris Christie, and retired neurosurgeon and author Dr. Ben Carson.

For Iowa Republicans looking ahead to a November election in which the likely Democratic opponent will be Hillary Clinton (barring a major surprise and breakout by Vermont Senator Bernie Sanders), there are two top shelf choices: conservative ideological purity in the form of Ted Cruz, the firebrand and uncompromising insurrectionist, or what seems to be the proven brand success of Trump, a billionaire with buckets of crossover appeal on a national level.

Some pollsters are pointing out what has been increasingly obvious over the last few months—Trump's drawing power is reaching far beyond the normal boundaries and traditional allegiances of voting blocs, and it may prove to be The Donald, not Cruz or Rubio or Bush, who has the real ability to attract wide swaths of disaffected Democrats. Trump rallies in places as diverse as Alabama and Florida have been attracting larger and larger numbers of minorities, a fact not lost on the Clinton camp as they seek to shore up support from African-Americans, a few of whom are defecting to Sanders, and some of whom are now openly backing Trump in a dozen states.

Cruz, on the other hand, is unapologetic about his intense fidelity to conservative principles and values—and so unrelenting is his self-guided narrative of theological purity that nearly every other GOP candidate gets irked each time Cruz claims to be the only genuine article in the field. Cruz's insistence that he alone occupies the high moral ground on key issues—spending, takes, immigration, budget, Obamacare—rankles Rubio, Bush, Ohio's John Kasich and others who feel Cruz has been systematically attempting to marginal all other Republican hopefuls as fakers and imposters. In last week's debate in Des Moines, Rubio, Bush and Kentucky Senator Rand Paul all bashed Cruz after a series of responses in which he seemed to suggest his form of conservatism was a glittering diamond among a pile of rhinestones and fugazis.

The battle has kept Trump and Cruz top of mind and top center in the Iowa headlines. Ten days ago Cruz had closed the gap with Trump, and was even leading in some polls in the Hawkeye State, but after an intense 12 days of direct verbal attacks by Trump, and some negative ads run by Trump and the other candidates, Cruz saw his fortunes fall slightly. Both candidates have been systematically lowering expectations in an effort to blunt any surprises. Still, each campaign's top people are hopeful that Iowa's results will gel the impression for voters in later states that the race has now come down to a simple decision between Cruz and Trump.

Not unexpected, both candidates getting hit this morning with some eleventh hour bad news. A former staffer has accused Trump of pay discrimination based on her gender, and has filed a lawsuit in Davenport, Iowa accusing the Trump campaign of paying women less than men working the same jobs on the campaign. Elizabeth Mae Davidson, 26, recently a field organizer for Trump in Iowa, also says that Trump's campaign deliberately shunted important duties and responsibilities away from female workers, giving those assignments instead to males.

Davidson also says that Trump complained about her appearance—and the appearance of two other women working as volunteers—by suggesting that stay out of sight or off stage at events. "You guys could do a lot of damage," she alleges that Trump said to them in front of witnesses.

Reporters asked Trump about the allegations over the weekend, but Trump says he recalls only that Davidson was dismissed from her paid role for poor work performance. Trump also said he does not recall any conversation with Davidson or women volunteers about their looks or appearance. Officials for the Trump campaign shrugged off the complaint, and told reporters that neither the campaign nor Trump had even been officially informed about the lawsuit. Still, one top campaign spokesperson, Hope Hicks, told reporters that the charges were groundless, and represented the views only of a disgruntled former employee.

Political analysts suggest that the fracas will have little impact on voting in Iowa on Monday, where tens of thousands of caucus-goers will make their selections at meeting all across the state. Iowa is the first state to cast votes in either major party for the nominations for President in 2016.

Cruz and his team have been hammered by accusations that the campaign has sent out deeply misleading direct mail pieces to voters in Iowa. The mailer in question appears to be official, and cites governmental agencies within its text. The card is labelled "Voting Violation" near the top in all capital letters, and purports to show evidence that the registered voter whose name appears alongside other neighboring voters has a "low score" based on "official records." The direct mail piece looks like a report card, and pressures the recipient by suggesting that the Iowa Secretary of State was tracking the voting diligence of Iowans by comparing one voter's "score" with that of others, typically neighbors or family members. The mailer also says that voting "scores reflect participation in recent elections" and encourages the voter to "improve" their score by attending a caucus on Monday.

The implication, some voter fraud groups have pointed out, is that voters might think that by skipping the caucus on Monday night their right to vote might be suspended or impeded by the Secretary of State. Tens of thousands of registered Iowans received the cards beginning late week. The only clue that the mailer is not officially from a government agency in Des Moines is the return address in Houston, Texas, which appears in tiny print on the outside of the "Voting Violation" form.

Iowa Secretary of State Paul Pate, a Republican, told reporters that the flier is misleading and borders on fraud.

"Accusing the citizens of Iowa of a 'voting violation' based on Iowa Caucus participation, or lack thereof," Pate said, "is false representation of an official act. There is no such thing as an 'election violation' related to frequency of voting Any insinuation or statement to the contrary is wrong…" Pate added that the mailing was not in keeping with the spirit of the Iowa caucus process.

Analysts have suggested that the Cruz campaign may have been motivated by studies which show that if an individual voter believes that members of his or her community can monitor or view specific voting behavior, that person may feel more compelled or socially pressured to participate (even if no such actual pressure exists). The use the "report card" with a bad score implying poor participation and linking lack or participation with a "violation" may heighten anxiety on the part of some voters, prodding them to their place of caucus.

Cruz himself, when questioned about the mailers, offered no apologies, and said that any tactic which increases voter participation is fair game, and may even be serve the democratic process by nudging people to their polling places. Some Cruz staffers went further, pointing to past direct mail campaigns used by liberal and progressive organizations and get-out-the-vote groups, such as Acorn and MoveOn, both of whom used almost identical mailers sent to carefully targeted areas in urban areas and targeting mostly African-American or Latino households.

At any rate, the fracas is not likely to impact Cruz negatively, save for the possibility that a few caucus-goers may react to the flier with disgust or anger, and vote for someone other than Cruz. Trump's campaign team has offered no immediate comment, but recent emails and press releases—not to mention Trump's own words at campaign events—continue to imply that Cruz is not likeable or flexible to become the sort of President able to negotiate with Russia's Vladimir Putin or to negotiate with Democrats in Congress. Trump also continues to pound the question of Cruz's eligibility, pointing out many times that Cruz was born in Calgary, Canada.

Cruz senses that by sticking with the basics which have taken him this far—ideological fidelity to conservative principles, and an uncompromising, even unyielding belief that he alone carries the conservative banner—will position him as the only sensible alternative to Trump, even if Cruz comes in a respectable second place in Iowa. Many of the candidates have already boarded planes for New Hampshire, happy to let Iowa play out on the news feeds tonight and ready to move their firewall to the Granite State, which votes next Tuesday.

Recent polls by CNN/WMUR show Trump still leading the GOP pack in New Hampshire with support from 30% of likely primary voters. Among Democrats, Bernie Sanders leads Hillary Clinton and Martin O'Malley, carrying a whopping 57% support from among likely primary voters in the Granite State.

Related Thursday Review articles:

Iowa: The Art of Raising and Lowering Expectations; Thursday Review editors; Thursday Review; January 31, 2016.

New York Times Endorses Kasich, Clinton; Thursday Review editors; Thursday Review; January 30, 2016.