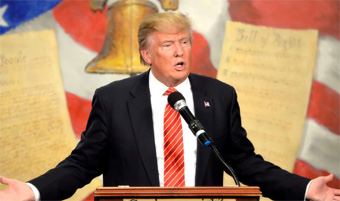 Donald Trump at a January rally in South Carolina;
photo courtesy of Trump for President
Fox News Versus Donald Trump,
Part XIV
| published January 26, 2016 |
By Keith H. Roberts, Thursday Review contributor
It's the political drama series that just keeps giving, and giving. Or maybe it's more like that old Yogi Berra quote: this is déjà vu all over again.

Donald Trump may make good on a recent threat to boycott an upcoming Republican debate, and it has some people nervous. Very nervous.

Trump and his campaign team have expressed reticence to participate in a GOP candidates' debate planned for this Thursday on Fox News. Their concern: Fox News host and commentator Megyn Kelly is scheduled to be a part of the team on stage, and Trump's longstanding feud with Kelly—which goes back to early last summer—is still a hot item to Trump's sensibilities.

Asked just this week by CNN's Wolf Blitzer if the businessman was planning to attend the debate if Kelly was part of the team officiating, Trump hedged, saying he was "not 100%...I'll see."

"If I think I am going to be treated unfairly," the billionaire businessman said, "I'll do something else. But, I don't think she can treat me fairly, actually. I think she's very biased and I don't think she can treat me fairly."

Fox News chief Roger Ailes has this week, as in the past, stood firmly behind Kelly, saying he backs her up completely, and telling media sources that he does not particularly like Trump using bully tactics or threats in advance of televised debates. According to several news sources, Trump has sought to pressure Ailes into sending in a substitute for Kelly, going as far as to open several backchannel conversations between his campaign staff and Fox News in order to negotiate a solution.

Trump also told the Boston Globe that Kelly "should recuse herself" from the debate stage, citing what he feels is her inability to remain impartial, especially in the context of their long-simmering spat which began last summer in Cleveland.

Back in August, Kelly had questioned Trump about his often harsh and disparaging words about women. Though he did not immediately deny using the words cited by Kelly, only hours after the debate Trump began waging a relentless anti-Megyn Kelly campaign, calling into question her journalistic fairness. Despite several attempts by Ailes and others to negotiate a cease fire, the feud has been going strong ever since.

Most political analysts believe that Trump will make his appearance on stage as planned Thursday night, just as most Fox insiders agree that Ailes is not likely to back down. Still, Trump has remained unpredictable ever since declaring his candidacy last spring. And despite frequent dust-ups with the media, he has emerged generally unscathed, and has remained the GOP front-runner for the vast majority of that time. Some at Fox News are worried that if Trump makes good on his promise to "be somewhere else" Thursday night, much of the debate allure will be lost.

On the other hand, Trump's rivals may prefer a stage without Trump's presence, since it may—for once in the last year—clear the room of the persistent influence of Trump's candidacy. For those candidates struggling to remain relevant in the crowded race, and in the scant few days remaining for the Iowa caucuses, a venue without Trump could prove to be strategically useful for getting their message to voters.

Related Thursday Review articles:

Trump, Cruz: Attacks Increase as Iowa Nears; National Review Blasts Trump; R. Alan Clanton; Thursday Review;January 22, 2016.

Is Cruz Eligible to Serve as President?; Keith H. Roberts; Thursday Review; January 13, 2016.