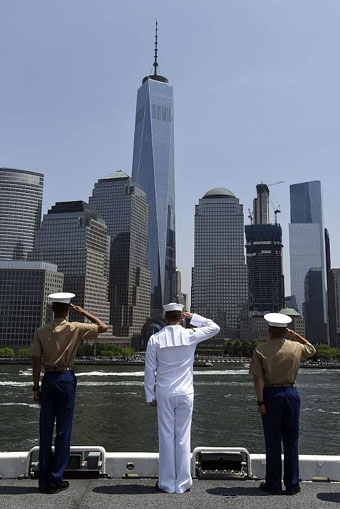 Photo courtesy U.S. Navy
Fleet Week:
A Salute to Freedom Tower
| published May 26, 2016 |
By Thursday Review staff
In this photograph, U.S. Navy sailors salute New York City's Freedom Tower—built on the site which once held the World Trade Center—at the start of the annual Fleet Week in New York. Fleet Week is now a grand old NYC tradition, dating back decades. It is a celebration of the American service men and women who serve in the Navy, Marine Corps, Coast Guard, and other military maritime roles.

This U.S. Navy photo was taken by mass communications specialist 1st class Julie Matyascik.



Related Thursday Review articles:

Somewhere North of the Arctic Circle ; Keith H. Roberts; Thursday Review; March 29, 2016.

The Big Guns of the Future; Earl Perkins; Thursday Review; February 17, 2016.